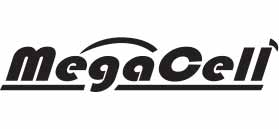 Mega Cell
Cellular, electrical, and audio products

Company's Profile
| | |
| --- | --- |
| Established: | 2009 |
| Line of Business: | Cellular, electrical, and audio products |
| Address: | 28 Jabotinsky St., Ramat Gan |
| Phone: | 972-3-5106026 |
| Fax: | 972-77-4448554 |

Company Executives
Yaniv Bender

Founder and Owner

Mega Cell
Leading Executives
Amir Hodorov Operational and Commercial Director
Katy Hazut Chief Administrative Director

About Mega Cell
Mega Cell Communications is a longtime leading company specializing in cellular telecommunications, electricity, and audio, with respect to products such as speakers, headphones and sound emitters. It distributes these products both to major retailer chains and private stores.
Mega Cell imports cellular telecom and electronics devices and is the exclusive concessioner for the Altec Lansing brand, one of the leading companies in the USA for the production and Celle of audio products, speakers, and headphones.
Mega Cell, which enjoys a vast experience in import, imports products of the best quality, with stress on promoting the Israeli consumer's accessibility to the technological riches produced by leading companies worldwide, while taking care to maintain attractive pricing.
Vast experience and unique advantages
Mega Cell was established in 2013 and quickly became one of the leading companies in cellular device import into Israel.
The company was established by Yaniv Bender, who ventured into cellular telecommunications further back, in 2007.
The cellular market in Israel grows by 15-20% yearly, and Mega Cell has played a great part in that. It has accrued vast experience in the field, a field which requires professional excellence and a great deal of knowledge.
Mega Cell aspires to branch out and deepen the variety of leading brands beyond the cellular world for which it is well known.
The company works towards the goal of expanding and maximizing service value to end-users since it sees its clients as central to its activities and its customer service as a leading value generator.
Since cellular devices have nowadays become an inseparable part of our lives, concentrating all of our data and the details we need, Mega Cell takes particular care to keep itself updated, innovative, and at the vanguard of technology, in order to offer its clients the best and most up-to-date products on the market.
Among its clients, one may find leading chains such as Office Depot, Rami Levi Communications, Pelephone, Hot Mobile, Azrieli Ecommerce.
In addition, the company engages in marketing and Celle to hundreds of private stores.
Exclusive concessioner for Altec Lansing
Mega Cell, which is constantly growing, also serves as the exclusive concessioner for American-made Altec Lansing products in Israel.
Altec Lansing was established in 1936 and specializes in audio.
Altec Lansing is at the forefront of technology and currently allows millions of users worldwide to enjoy a rich world of quality audio, wherein every sound is heard with maximum clarity on wireless headphones or mobile speakers which can be used as smartphones chargers.
The company's different devices are woven into the musical history of the USA: In 1973, Altec Lansing speakers were chosen to be the official speakers for the historic Woodstock festival.
The largest recording studios in the world use the company's devices on a regular basis.
In addition, the first docking stations for iPods and iPhones were developed by the company.
Yaniv Bender – Expert in the Israeli cellular market
Since the Israeli cellular market is vastly different from other markets around the world, and the rate of advanced devices and smartphones is considerably higher compared to other countries, people working in this field in Israel, like Yaniv Bender, are required to acquire many professional abilities including maneuverability, knowledge of the Israeli consumer's tastes, understanding exchange rates, and comes great responsibility.
Yaniv Bender is the CEO and owner of the company. He is a senior marketer in the Israeli cellular industry.
Engaging in the cellular market requires vast knowledge and market adaptation, since it is considered very volatile, and as evidence, 1.7 billion devices were sold only in 2016.
Yaniv, who entered the field about ten years ago, accrued his vast cellular experience along the years including two years of residence in the far east, where he further deepened his knowledge in the field. Later in his career, he started importing cellular devices into Israel, until he became one of the leading cellular telecommunications importers in the country.
After several years in the field, Yaniv established Mega Cell, which grew rapidly and is now considered one of the leading cellular telecommunications and electronics importers in the Israeli economy.

Photo Gallery