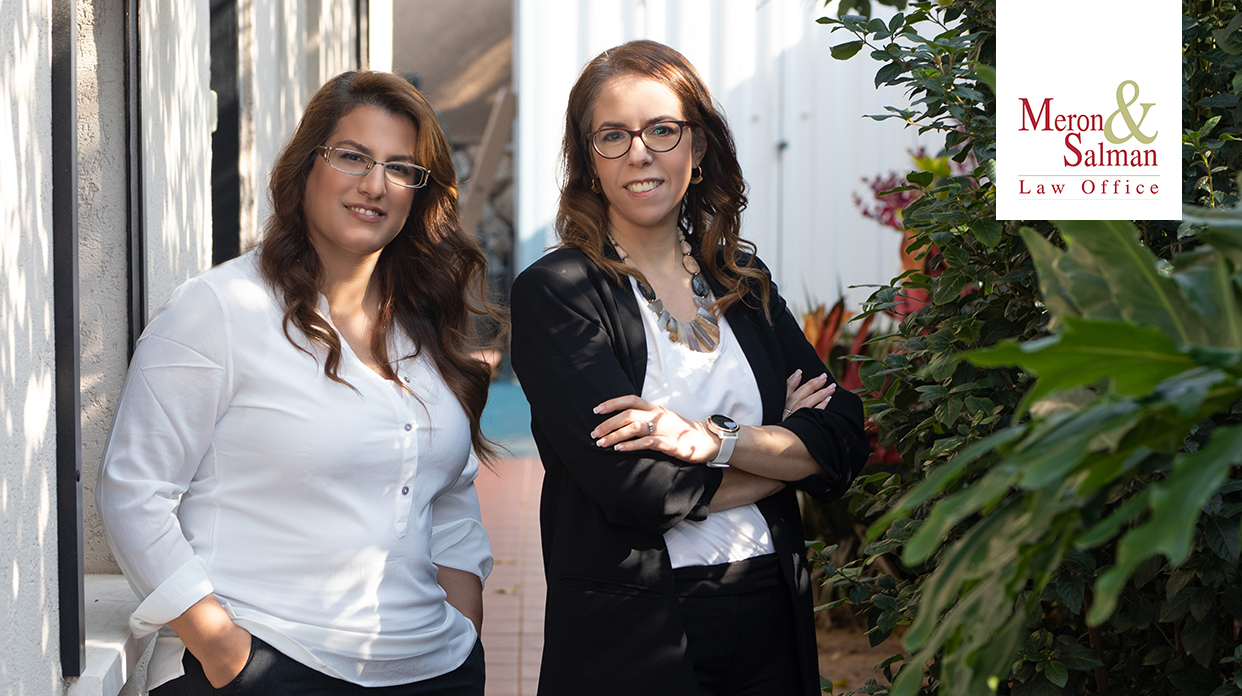 Company's Profile
| | |
| --- | --- |
| Established: | 2012 |
| Line of Business: | Family law, Mediations, Real Estate |
| Address: | A4 Berkowitz St., Tel Aviv |
| Phone: | 972-3-5234506 |
| Fax: | 972-77-5611063 |

Company Executives
Adv. Neta Cohen Salman

Founding Partner

Meron & Salman, Law Office

Adv. Meron Tal

Founding Partner

Meron & Salman, Law Office

About Meron & Salman, Law Office
Meron & Salman, Law Office and Notaries is a boutique firm specializing in real estate law, family law and mediations. The firm was founded 10 years ago by Advocates and Mediators Tal Meron and Neta Cohen-Salman, who believe in high standards in all aspects of client service, from the moment the clients walk through the firm's door and even after the management of their cases are completed. The two handle the legal interests of their clients thoroughly, attentively and respectfully, with a warm and intimate attitude, and comprehensive and immediate legal responses. Advocates Meron and Salman also emphasize community service in its various frameworks. In addition, they lecture on their practice areas, mainly in the various government ministries, when the ministries request them to.
Tal Meron, Lawyer, Mediator and Arbitrator
Adv. Tal Meron manages the firm family law department and has vast experience in this practice area, and in particular in managing complex family mediations. Over the years, she handled complex and intricate cases in every topic of family law, and she has legal precedents in the fields of paternity, alimony and common law spouses. By education she has an LL.M. from Tel Aviv University and an LL.B. and B.A., Business Administration (specialization in real estate) from IDC Herzliya. She also a mediator certification and an arbitrations certification from the Israel Bar Association.
Neta Cohen Salman, Lawyer, Notary and Mediator
Adv. Neta Cohen Salman manages the firm real estate practice, and has extensive experience in this field, including in real estate taxation. Over the years, she counseled and accompanied numerous real estate transactions, including complex sale transactions, accompanies large companies in the Israeli economy as well as unique transactions in the district of Judea and Samaria, related-party sale transactions and urban renewal transactions. By education, she has an LL.B. from the College of Management with a specialization in real estate law and in commercial law, and she also participated in numerous real estate trainings, particularly in real estate tax trainings. Adv. Cohen-Salman is licensed notary on behalf of the Ministry of Justice.
Practice Areas
Family Law and Mediation
The firm specializes in all aspects of family law including divorces proceedings and agreements, distribution of parental responsibility, custody and visitation times, child support, guardianship, division of properties, marital harmony agreements, spousal agreements, joint living agreements, pre-nuptial agreements, paternity, representation in the rabbinical courts and the family courts, drafting nuptial agreements, wills and inheritances. Advocates Salman and Meron are certified mediators and in cases where this is possible, they recommend their clients to conduct a family mediation that would conclude the marriage agreements amicably and mutually, without being dragged into the courtrooms. The team works with great sensitivity, tolerance and empathy, identifying with the special situation of spouses who undergo divorce proceedings, and works to clear the atmosphere, particularly when the spouses are also parents of children. The firm believes that parties who chose the solutions which are drafted in a divorce agreement voluntarily, would naturally be more committed for such an agreement, and thus family mediations can prevent a lot of future anguish and repeating applications to the court. However, when the parties are unable to reach an understanding, the firm fights relentlessly for the spouse whom it represents, in order to reach a court victory for them.
Real Estate Law
The firm provides a broad and holistic solution in every real estate segment for private clients, developers and contractors, including managing and accompanying sale and purchase transactions for new and second hand apartments, accompanying real estate developers, accompanying rental transactions (residential and commercial), real estate taxation, purchasing properties in receiverships, correspondence and discussions with the tax authorities, local authorities, land registration chambers and others, rights transfer, registration in the land registry, counseling and representing house delegations in urban renewal transactions, and more. The firm aims to express the wishes of its represented clients throughout the entire transaction, and in particular in the preparation of the sale agreement. The firm emphasizes thoroughness and attention to details from the initial formulation of the transaction, up to its completion, and even afterwards. Before every representation in every transaction, the firm's clients receive a detailed "property file" which actually presents the transaction from start to finish and contains all of the details which are required for the client and for concluding the deal successfully and securely.
Real Estate Transactions in the Judea and Samaria Area
The area of Judea and Samaria covers around 5,800 sq.m., with more than half a million Jewish inhabitants in 127 different settlements. The enormous size of this district turns it into the fifth-largest district in Israel, and it is a unique real estate pearl for those seeking a proper solution for buying an apartment in Israel at a reasonable price, receiving all of the municipal services for the citizens and their families and mainly benefiting from a high quality of living. The firm is one of the few firms in Israel that provide legal services for residents of this area in all aspects of real estate law, with a specialization in selling and buying properties in this area, proficiency in all of the laws and details which are unique for this area, familiarity with the various distinct authorities of this area and experience in registering and formalizing properties in Judea and Samaria.
Homecoming Ltd.
Advocates Meron and Salman provide a unique service that enables foreign residents in general and returning residents and relocated families in particular to buy a house in Israel. This service is provided through the company Homecoming that they established for this purpose, which mission is to help in all of the processes of telebuying a house, and when they wish to return to Israel and mainly, but not only, in the processes of searching for a home and a neighborhood that would match the needs and the budgets of the returning citizens. For this purpose, the company works with numerous entities with the aim of helping clients find their dream home, desired living environment, relevant education frameworks and embracing community, all in accordance with their requirements and needs. This is a modular service that can be adjusted by the clients and in accordance with their needs and includes, inter alia, close personal support from the start and up to the selection of a house and neighborhood as well as notarizations, engineering and appraisal reports, mortgage consulting, architects, renovation contractors, transportation and more. The company serves as the clients' "hands", "legs" and "eyes" when they are unable to come to Israel and wish to receive the full range of services that are required for buying properties in Israel.

Company Rankings