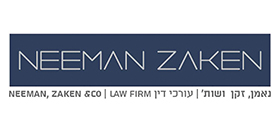 Neeman, Zaken & Co.
Insolvency, Commercial Litigation, Debt Enforcement

Company's Profile
| | |
| --- | --- |
| Established: | 2004 |
| Line of Business: | Insolvency, Commercial Litigation, Debt Enforcement |
| Address: | 12 Yad Harutzim St., Tel Aviv |
| Phone: | 972-3-5251270 |

Company Executives
Adv. Keren Zaken

Founding Partner

Neeman, Zaken & Co.

Adv. Eran Neeman

Managing Partner

Neeman, Zaken & Co.

About Neeman, Zaken & Co.
Neeman, Zaken & Co. is one of Israel's most prominent law firms, with close to 20 years of experience in the fields of insolvency law, commercial litigation and debt enforcement. The firm's young, dynamic atmosphere promotes rapid, efficient and accessible service to its clients. The firm's experienced attorneys are experts in predicting outcomes and using legal tools in the most effective manner, avoiding unnecessary expenses, stress and time.
Fields of Operation
The firm specializes in counseling companies, settling commercial disputes, managing insolvency processes, debt enforcement, lawsuits, commercial litigation and financial and regulatory agreements for companies that provide non-bank credit. The firm supports its clients' ongoing business operations as far as conforming to regulations is concerned with regards to registration and managing risks according to legal requirements.
Counseling companies – The firm's staff has all the necessary tools, business ties and legal experience necessary for providing everyday counsel and management services to its clients. The firm provides continuing counsel to companies regarding the preparation of diverse commercial agreements, including for property sales or rentals, marketing and distribution, financing, selling business operations, licensing agreements, etc. The firm has extensive ties to all of the top law firms in Israel, and, in complementary fields of taxation and regulation, the firm collaborates with first-rate firms that specialize in these fields. As a result, Neeman, Zaken & Co. serves as a one-stop shop for its clients, enabling them to receive the most comprehensive legal services.
Settling commercial disputes - The firm works with determination to solve commercial disputes by counseling and representing its clients in negotiations with clients, suppliers and various authorities. The firm strives to achieve agreements that are acceptable to both sides, while avoiding litigation processes that not only take a long time but also involve expensive and unnecessary costs.
Managing insolvency proceedings - The firm has many years of experience leading insolvency proceedings (liquidations, stay of proceedings, debt arrangements and bankruptcy) and its legal team is experienced in finding creative solutions even in cases that appear to be doomed in advance. The team conducts hundreds of bankruptcy proceedings, liquidation cases, debt arrangements and stays of proceedings; and at the same time acts as a creditor in hundreds and thousands of bankruptcy cases, representing defaulters in complex cases.
Counseling for debt collection - The firm has extensive experience collecting debt on behalf of clients and adopts a healthy economic approach that results in the debts being paid while sparing its clients high costs. The firm's debt collection model is divided into three arms: office collection prior to trial, the case's legal management, and making the most of actual enforcement practices. The proceedings are managed in a completely transparent manner, so that the clients can receive real-time updates through the firm's reporting system regarding the status of the debt collection. The firm's professional pre-trial collection department works with determination in order to reduce as much as possible the need to conduct legal proceedings against debtors and to collect the debt to the clients' satisfaction.
Commercial litigation and lawsuits - The firm's expert legal team specializes in conducting civil proceedings, financial claims, suits to impose injunction orders and incentives for declarative steps and intermediary proceedings, as required. The firm knows how to adapt its legal strategy for each client according to their needs at any given time, in a rapid, clever and efficient manner.
Financing regulatory agreements for non-bank credit companies - In recent years, the firm has counseled entities and companies with licenses to provide credit services, as well as platforms for credit brokering based on the Supervision of Regulated Financial Services Law. In this context, the firm developed an expertise in counseling these companies during their establishment, as well as with regards to their operations and regulations to which they are bound by their license. This includes assistance with the management of credit risks and money laundering risks.
The Firm's Management
Adv. Keren Zaken, Founding Partner
Adv. Zaken is a partner and the firm's founder. She has extensive experience in the field of debt collection and enforcement, and has handled tens of thousands of cases on behalf of clients in a range of sectors. She is responsible for managing the firm's collection proceedings in an optimal manner both before a trial and during legal proceedings through bailiff offices.
Adv. Eran Neeman, Managing Partner
Adv. Neeman has 20 years of experience in the field of commercial law, insolvency law and debt collection. In the past, he served as legal counsel and partner in the establishment of Bank Discount Ltd.'s collection department. In addition to practicing law, he is the owner and director of two companies that provide credit to businesses and private individuals. Adv. Neeman is the firm's acting manager and he is responsible for its commercial and insolvency cases. He counsels clients on drawing up commercial agreements, as well as on commercial litigation, settling business disputes, and managing all aspects of insolvency cases. He holds a law degree from the University of Sheffield in England and also studied financial report analysis and company evaluation at Tel Aviv University.
The Firm's Clients
The Neeman, Zaken & Co. law firm focuses on establishing a deep understanding of the businesses it represents and offering optimal legal solutions that are specifically tailored to each client. The firm's clients include large corporations, medium-size companies and small businesses from a variety of sectors, including banking, non-bank financing, insurance, credit cards, leasing and automobile financing, real estate development and construction, government agencies, and cellular and internet companies. The firm's past and current clients include Bank Discount, Migdal, Clal, Alber, UMI, Alber Credit, Direct Finance (Mimun Yashir), Pama Automobile Financing, Carasso Real Estate, Bezeq International, Bonei HaTichon, Y.H. Dimri, Yes, Opticana and others.

Company Rankings