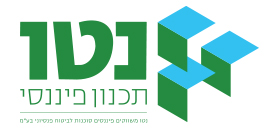 Neto Financial Planning Insurance Agency Ltd.
Holistic Financial Planning

Company's Profile
Established:
1993
Line of Business:
Holistic Financial Planning
Address:
Main Office
18 Ba'alei Melacha St., Haifa
Ramat Gan Office
2 Jabotinsky St., Ramat Gan
Tel: 972-3-6209344
Fax: 972-3-6209347
Phone:
972-4-8608000
Fax:
972-4-8640007

Company Executives
Ilan Ben Ishay

Chairman

Neto Financial Planning Insurance Agency Ltd.

Idan Katz

CEO

Neto Financial Planning Insurance Agency Ltd.

Karin Bozly

COO and CCO

Neto Financial Planning Insurance Agency Ltd.

Nadav Scharwtz

Deputy CEO, V.P. of Finance and Agents Manager

Neto Financial Planning Insurance Agency Ltd.

Mike Lavi

Tel Aviv office manager

Neto Financial Planning Insurance Agency Ltd.

About Neto Financial Planning Insurance Agency Ltd.
Neto Financial Planning (Neto) is Israel's largest financial planning company. The company provides holistic (comprehensive) financial planning for thousands of clients across Israel, through a network which includes more than 80 financial planners who are licensed pension advisors and an administrative and professional support staff. The company operates from its headquarters in Haifa and an additional office in Tel Aviv. Neto was founded in 1993 as an income tax refunds company. Its success in this operation led to an expansion in its operations, with the establishment, in 2001, of the company's insurance and finance arm, which was based on the company's existing customer base and increased its value proposition. In the years that followed, the company demonstrated fast growth both in the extent of its operations and in its profitability, and in 2020 its assets under management will reach a total of NIS 10B. The company's significant scale and experience enable its clients to benefit from a wide variety of investment opportunities, income tax planning and reduction, handling retirees, wills, medical committees, loans, mortgages, review and analysis of their insurance files, elementary insurance, lower costs and access to current and comprehensive knowledge and technologies, in the management of their entire financial lives.
The Human Resource at the Heart of the Company
Neto views the quality of its human resource as a critical factor in its success. The company implements an in-house growth model for its agents and executives, whereas most of the agents and executives started their career in entry-level jobs in the company and climbed through the professional and executive ranks due to the recognition of their talents, drive and contribution to the company. The company takes care to maintain the high professional level and up-to-date knowledge of all of its employees in all aspects of the financial planning universe and the pension regulations. Financial planning is a broad field, which relates to every life aspect of individuals and their families and requires one to have a broad professional understanding and remain constantly abreast of all of the professional and regulatory changes. Neto makes the best lecturer in Israel and globally available for its agents, takes cares of financial planning training and courses, and hold meetings and development interactions with leading investments managers, in order to verify that its agents are at the cutting edge of the financial planning field in Israel.
The company's operational model relies on independent agents who benefit from Neto's platform, including the high professional level of the support staff, the bargaining power, the advanced technological systems and the well-known brand on the one hand, and from responsibility, a strong motivation to succeed and the opportunity to research and develop expertise in new areas on the other hand. Owing to its investments in the human resource and its warm atmosphere, Neto benefits from the loyalty and stability of its talented agents workforce and their high identification with the company, its executives and its values, all of which support the company's high professional level, integrity and managerial effectiveness.
An Efficient, Well-Organized and Technologically-Advanced Management
Neto's experienced executive team, which is headed by the Chairman Ilan Ben Ishay, Its CEO Idan Katz and its COO and CCO, Karin Bozly, grew through fieldwork and is well familiarized with all of the levels of the Israeli finance universe. The company is managed through organized work procedures and all of the work processes are structured and organized, and supported by advanced management technologies and computer interfaces. From the regulatory aspects, the company is supported by the Law Firm John Geva, one of Israel's leading firms in this field, and meticulously imparts the current instructions of the Supervisor of Insurance to its employees.
Areas of Operations
Financial Planning - Neto provides holistic (comprehensive) financial planning that encompasses the full range of financial needs of every household in Israel. The comprehensive solutions are based on a detailed needs analysis process which leads to an understanding of the client's goals, ambitions, personal and family plans, available resources and funds, situation, age and risk level. From this in-depth understanding, the company's experienced agents construct a through and customized financial plan which would serve as the household's roadmap to a peaceful financial future, growth and financial security.
Savings and Investment Portfolios - Neto offers its clients with access to a variety of savings and investment channels, including provident funds, study funds, portfolio management, alternative funds and financial saving policies, with professional planning, effective and prudent management and ongoing reports of the portfolios' performances and significant events, with considerable saving in the management costs.
Retirement Planning - a key part of a person's financial plans, retirement planning is tailored to the needs of seniors and retired individuals facing this important cross-road. These financial decision carry significant weight on expected quality of life as a retired individual. Neto's professional retirement planning includes, among others, fixed rights and amendment 190, handling retirement grants before the tax authorities, and inheritance management for the next generation.
Premium Department - At Neto we provide a home for Accredible Investor. Accredible Investors are high net-worth groups of investors that were given this definition from the ISAs. This definition allows you to consider Accredible Investors as entities, thus enabling them to be part of such investments that other individuals can't be part of. Neto's Premium Department focuses on providing solutions to this specific part of the population, granting them exclusive access to unique and attractive opportunities, along-side top-tier services.
Financial Protection - Neto offers a wide variety of insurance and financial protection products which are aimed at protecting individuals from unexpected financial events including life, health, long-term care and elementary insurance.
Alternative Investments - In order to improve the diversification in the clients' portfolios and enable them to participate in the global trend whereas the share of alternative investments is increasing in the investment mix of both institutional and private clients, Neto offers its clients a variety of alternative investments that are not directly sensitive to capital markets swings in Israel and globally. Thus, the company makes sophisticated investment channels accessible also for "The Average Joe". The operations in this area are conducted through a subsidiary (Wealthstone Holdings, 50% ownership), which serves as Neto's alternative investments arm.