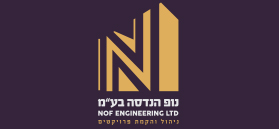 Nof Engineering G.G. Ltd.
Construction, Management, Development, Urban Renewal

Company's Profile
| | |
| --- | --- |
| Established: | 1996 |
| Line of Business: | Construction, Management, Development, Urban Renewal |
| Address: | 132 Menachem Begin Road, Tel Aviv, Azrieli Towers - The Square Tower, 24th floor |
| Phone: | 972-74-7038514 |
| Fax: | 972-74-7038456 |

Company Executives
Tzachi Ginsburg

CEO and Owner

Nof Engineering G.G. Ltd.

View Profile

Tzachi Ginsburg

About Nof Engineering G.G. Ltd.
Nof Engineering G.G. was founded in 1996 by Tzachi Ginsburg, a civil engineer who graduated from the Technion and has more than 20 years of experience in building large-scale projects. Nof-Engineering champions the values of reliability, professionalism, and attention to every customer, which created its vast reputation in its field.
The company's operations are also based on quality standards, attention to detail, smart planning, compliance with schedules and an optimal level of service. All of those, along with the company's financial strength and the support the projects receive from large banks and a leading law firm, provide its clients with peace of mind from the knowledge that their investment is materializing, in the most professional and loyal hands.
First-Class Professionals
Throughout its years of operations, the company initiated and build a wide variety of residential projects in high-demand areas in Israel, and for the actual construction, it carefully selects first-class execution contractors and supervises the construction from start to completion including finishing works. To support the projects, the company employs advisors, engineers, designers and architects, all highly experience and knowledgeable. The company complies with all of the construction quality standards.
The company's headquarters includes, in addition to its CEO Ginzburg, also a resident service manager, a civil engineer who supervises the construction in the field and an office manager. Ginzburg's background as a civil engineer whose entire professional career and broad academic education revolve around the engineering realms provide the company with unique engineering capabilities and the ability to successfully handle complex and challenging projects.
Tzachi Ginsburg, CEO, and Founder
The company was founded by Tzachi Ginsburg, the company's CEO, who has a B.Sc., Civil Engineering, and an M.B.A. Tzachi has extensive experience in managing and building large projects and throughout the years he built thousands of apartments across Israel, for both the public and the private sectors. Over the years, Ginzburg served in senior positions in the real estate industry, including VP, Engineering of Gindi Holdings, Director of Residential Operations of Gav Yam Ltd. and other civil engineering positions. He currently serves as an active entrepreneur in the Israeli Building Center and Member of the Presidential Board of the convention Real Estate City - Urban Renewal, and he participates in various real estate related expert commissions.
Focusing on Urban Renewal
As aforementioned, the company has been active in real estate and engineering for more than 20 years, with some of the time spent, inter alia, in residential construction and also in public construction. For example, the company was responsible for a huge project of rehabilitating around 1,000 bomb shelters in the northern frontier, rehabilitating bomb shelters in the Gaza Envelope area, construction of advanced air-pollution-reducing refining facilities in the Ashdod and Haifa refineries and management of the construction of 70-dunam logistics park in Modi'in's new industrial zone. The park includes an 11,500-sq.m. logistics center and additional structures with an area of about 10,000 sq.m. From 2012 and upon the entry into effect of Amendment 2 (Demolition and Reconstruction) of the Tama 38 Program, the company decided to focus on urban renewal, and it is currently considered to be one of the pioneers of this vibrant field. Nof-Engineering has great faith in Tama 38/2 as a program for renewing aging urban centers, and the company benefits from proven capabilities to receive building permits relatively quickly and to handle local and district planning commissions appropriately.
Prominent Projects
Nowadays the company is active mainly in urban renewal and it is responsible for the initiation of dozens of Tama 38/2 projects in central and northern Israel, some of which are in execution and others in advanced planning stages. These projects include:
12 Eilat, 40 HaHagana, Givatayim: A project that is being populated. This project entailed the company evacuating 2 old 3-story buildings with 14 apartments and built an 8-story upscale residential tower with 40 apartments. The apartments mix includes 3-,4- and 5-room apartments, a duplex and a penthouse. In addition, the company built subterranean parking for the residents. It should be noted that this is the last 8-story project to be built in the neighborhood, meaning the upper apartments would benefit from a completely open view.
16 Eilat, Givatayim: In this project, the company would evacuate an old 3-story building with 9 apartments construct a modern 7-story building with 18 apartments. The apartments' mix would include 5- and 6-room apartments, all with sun balconies and private subterranean parking. Construction is due to begin in the beginning of 2022.
3 Gat, Haifa: In this project, the company would evacuate an old 2-story building with 6 apartments and construct a 6-story boutique building with 14 apartments in its place. The building is located at the center of the Ahuza neighborhood in Haifa so that some apartments 4-room and penthouse would benefit from an open sea view.
60 Ha-Tishbi, Haifa: As part of the project, the company will construct a 3-story building and 6 apartments. And in its place will build a luxury boutique building of 13 apartments at the corner of Ha-Tishbi and Ha-Hursha Street. The building will face southwest with a sea view. And will include underground parking and storage for each resident. Construction is due to begin in the beginning of 2022.
8-10 Gnessin, Givatayim: This project will entail the evacuation of 2 buildings and 12 apartments, and the construction of one 7-story joint building of 25 apartments. Every apartment will have underground parking and storage. The project is located in the coveted Givat Rambam, in a green and lovely tree boulevard.
6 Ashtori HaParchi, Tel Aviv: A project near Bazel Square, in the old north of Tel Aviv. This project will entail the evacuation of 4 stories and 16 apartments, and the construction of 7 stories and 24 apartments. The building will include an underground parking lot.
3-5 HaSar Moshe, 137-139 Uziel, Ramat Gan: At the heart of Ramat Gan, an evacuation and construction project is planned, in which 4 buildings and 24 apartments will be evacuated, and 2 luxury towers of 9-14 stories and 72 apartments will be constructed. The residents of the project will enjoy underground parking, storage, an open view, luxury and innovation.