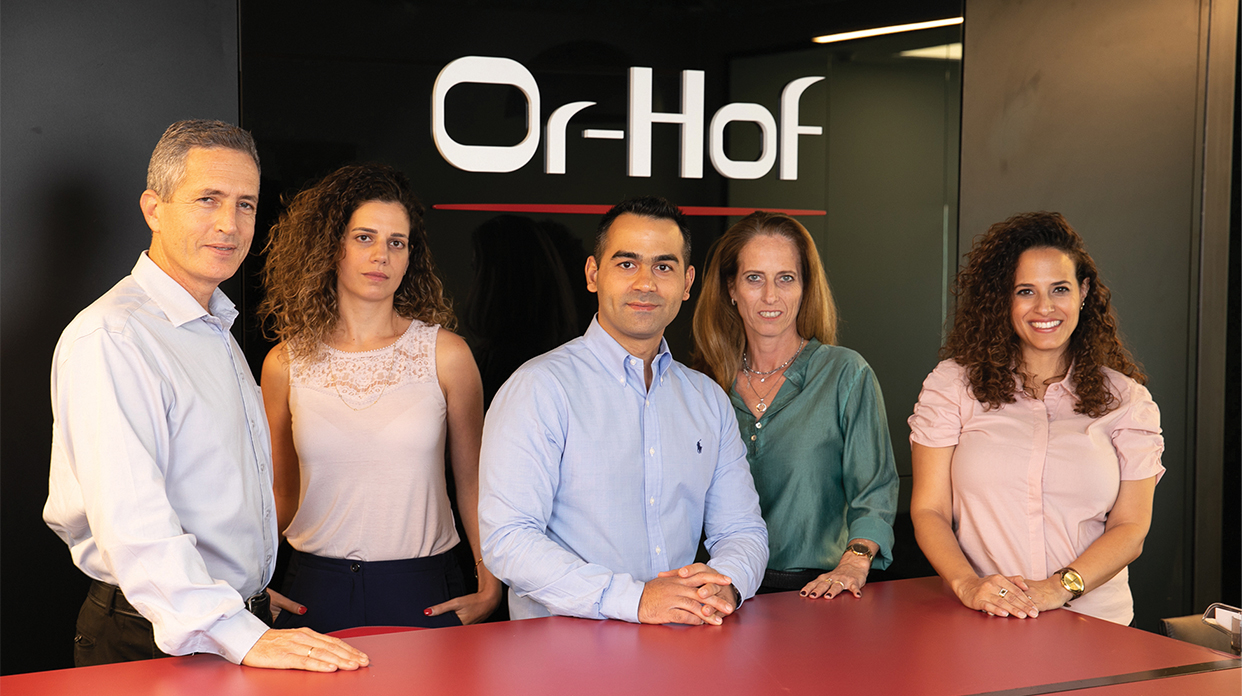 Company's Profile

Company Executives
Or-Hof Dan

Founder and Owner

Or-Hof Law Firm

View Profile

Or-Hof Dan

Rotem Perelman

Senior Associate

Or-Hof Law Firm

Eliav Boaron

Senior Associate

Or-Hof Law Firm

Hadar Kolberg

Associate

Or-Hof Law Firm

About Or-Hof Law Firm
Or-Hof Law Firm is a boutique firm exceptionally skilled in the fields of technology and innovation, international trade, privacy, and high tech. The firm was founded in 2013 by Adv. Dan Or-Hof, a prominent practitioner in the field of technology and IP Law, privacy, and data protection.
Or-Hof Law was named a Leading CyberLaw Firm for 2018-2019, and a prominent firm for Commercial IP, International Commerce and High-Tech by Duns100 and BDI. The firm's methodology focuses on its foresight and unorthodox approach, which is led by Dan's vision and stems from the team's extensive knowledge and experience, thereby providing clients with a unique user experience and significant added value.
The firm serves both domestic and international companies of all sizes; start-ups, technology-driven companies, innovation platforms, cybersecurity service providers, financial services, pharmaceuticals, health care and clinical trials service providers, manufacturers of robots, drones, unmanned aircrafts and spacecraft, municipalities and local government economic services, water supply and water treatment companies, retailers and eCommerce platforms.
The firm is renowned for its high responsiveness, its careful attention to clients' specific needs, serving as a port-of-call for corporate and commercial technology businesses, and delivering ideal results for the clients' business ambitions.
The firm's team is highly proficient as they were meticulously chosen and then educated to attain their level of distinctive comprehension and aptitude. The firm's fields of expertise include Data Protection, Privacy & Cybersecurity, High Tech and International Commerce, of which the firm maintains extensive knowledge in the Data-Legal operations and strategic advice fields.
Foresight and Innovation as Methodology
Working daily with clients in the fields of spacecraft, robots, AI and unmanned ariel vehicles (UAV) renders a highly innovative and unique point of view possible for the firm's team, regarding both the development and the realization of ideas, as well as methodology pertaining to the firm's legal expertise. As the Data and Big-Data fields face a revolutionary reform, the firm's business development grows in this direction, thus the firm will maintain its status as market leaders in the next decade. This requires business development which understands the processes that are taking place right now, in addition to foresight, using innovative tools such as a paperless work environment and cloud services, alongside legal work structures based on quality, rather than quantity.
Globalization Market Leaders
The firm's forte is its international focus, which stems from the understanding that the raison d'être of present and future legal, regulatory work is based upon global work. The firm develops a comprehensive perception of its work, regarding both its daily practice, the nature of its clients, and the business development processes, in order to create true global activity, utilizing initiatives, processes, and collaborations. While daily work includes work with U.S. and Europe, the firm is also involved in matters pertaining to the global processes in countries such as Brazil, Japan, the Cayman Islands, Canada, Australia, New Zealand, South Africa and more.
The Firm's Unique Professional Ecosystem
The firm's ecosystem is comprised of several vectors: its business development, its technological development, its collaboration with leading law firms worldwide and its governance relations, ties to the academic field, alongside contribution to the community.
Governance relations include Dan's membership to the Privacy Protection Public Council of the ministry of justice appearance as a special advisor before the Knesset's (the Israeli parliament) Economic Affairs and the Constitution Law and Justice committees, as well as the justice and finance ministries. Alongside, Dan formed and chairs the Israeli Data Protection Professionals Forum (IDPF) and is one of the first Israeli people who is a member of the International Association for Privacy Professionals (IAPP), since 2007. In the academic field, Dan is a Lecturer of Law, teaching Privacy and Data Protection at Tel Aviv University in the Cyber Interdisciplinary Program and a privacy and ethics seminar at the Interdisciplinary Center. He previously taught the Law of Information (2009-2013) at Colman College of Management and law and technology at Bar Ilan University.
Contribution to the community - This vector of the firm's ecosystem includes IDPF – the Israeli Data Protection Professional Forum, a cyber and privacy professionals forum which the firm founded three years ago, which brings together the field's top professionals. In addition, the firm is proud to contribute to space- IL, the first Israeli spacecraft to the moon, for the past 7 years, since their beginning, thereby also contributing to the science and space education of children.
A Prompt Professional
The firm's reasonable size and its lack of hierarchy, bureaucracy, and politics enable it to be a fast competitor who provides its clients with top-notch prompt solutions to their business needs. As a firm that focuses on the technological field, the team fully understands its core field of expertise, providing its clients with professionalism and expertise at the fast pace of today's innovative technology field.
Adv. Dan Or-Hof, Founder & Owner
Dan is a distinguished and esteemed lawyer in his field. His practice and skills, being both academic and practical, meet his experience as the former head of an international Israel based law firm's IT, Internet and Copyright dept., resulting in his unique understanding of the technology and innovation industry. Dan is a Certified Information Privacy Professional, a member of the International Association for Privacy Professionals, a member of the Public Council for the Protection of Privacy, Chairman of the Israeli Data Protection Professionals Forum (IDPF), and a university lecturer on data protection and privacy. Dan writes professional reports for both legal and economic platforms and contributes to renowned international publications, such as Data guidance and the IAPP Privacy Advisor. Over two decades of daily experience in the field of technology and IP Law have made Dan a "Knowledge center" for matters such as the IoT, Big Data, Cloud environments, authentication, and digital signatures, proprietary and Open Source licensing, Data Protection and Information privacy.

Photo Gallery