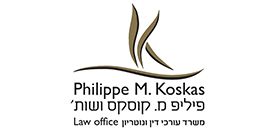 Philippe M. Koskas & Co., Law Office and Notaries
Civil Law - Civil Litigation, Real Estate, Wills and Inheritance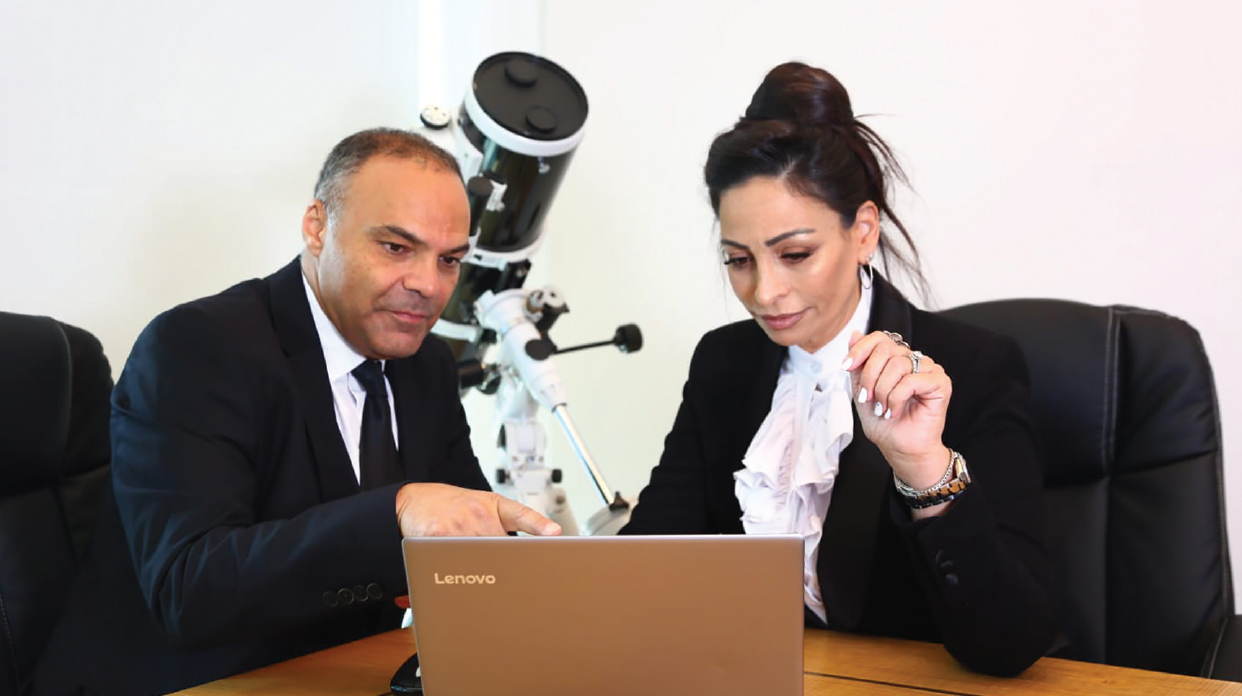 Company's Profile
| | |
| --- | --- |
| Established: | 1985 |
| Line of Business: | Civil Law - Civil Litigation, Real Estate, Wills and Inheritance |
| Address: | 28 HaArba'ah St., Northern Tower, 16th Floor, Tel Aviv 6473925 |
| Phone: | 972-3-3732150 |
| Fax: | 972-3-7233063 |

Company Executives
Adv. Philippe Koskas

Founder and Owner

Philippe M. Koskas & Co., Law Office and Notaries

Adv. Galia Moyal Koskas

Owner

Philippe M. Koskas & Co., Law Office and Notaries

About Philippe M. Koskas & Co., Law Office and Notaries
Law Office and Notaries Philippe M. Koskas & Co., is one of Israel's leading firms, providing legal services to foreign residents. This boutique firm practices real estate, civil-commercial litigation, corporate law, real estate taxation, and all aspects of taxation.
The firm handles foreign residents in Israel, with an emphasis on French residents, including wills and inheritance matters in Israel and France, as well as all matters relating to the French-Israeli interface.
Philippe M. Koskas & Co. has more than 3 decades of experience in handling real estate and civil litigation cases, inheritance, wills, etc. with a particular expertise in services for foreign residents, and in particular the French-Israeli community, with an emphasis on foreign investors in development, NOP 38, and urban renewal. Furthermore, the firm handles the acquisition of various types of businesses and yielding properties. The firm's clientele comprises mainly of foreign residents. The firm is prepared to provide services for foreign residents, including real estate projects and investments in Israel. The firm's team, which sees its work as a mission, acts thoroughly with care and professionalism, while providing personal, compassionate and devoted ser-vice which is tailored for its varied client-base.
Expertise in French Law
The firm's unique strength is its in-depth familiarity with French law, as well as with the French language and mentality, which serves as an added value for the clients, foreign residents in general and residents of France in particular. Adv. Philippe Koskas, the firm's founder and owner, has about 40 years of experience as a lawyer and notary, and he immigrated to Israel due his belief in Zionism and a sense of professional mission. Adv. Koskas is renowned as an authority in his field in light of the unique combination between his French roots and his values of Zionism, his deep sense of social commitment and his internship in the Supreme Court. This synergy turns Adv. Koskas into a leading expert on the legal aspects that arise from the commercial, business and cultural relations between Israel and France. In light of his unique skills, Adv. Koskas was appointed as an expert on Israeli-French activities for 4 years, when he served as V. President of the Israel-France Chamber of Commerce, including on commercial matters. Adv. Koskas' expertise in Israeli-French practice and his proficiency of the regulations of both countries, leads to frequent applications from the Israeli courts to provide his professional opinions on all aspects of international legal issues and French foreign law.
Quality, Thoroughness, and Excellence
The firm is renowned for its professional excellence and the quality of its legal work, in light of the vast experience of its lawyers, their intelligence and creativity. The firm's team works thoroughly, with an open mind and determination in order to achieve the best results for its clients.
Practice Areas
Real Estate of all Kinds - The firm, which handles real estate matters for both his Israeli and international clients, has deep mastery and experience in the field's regulations and proceedings. The integration between the firm's vast experience in negotiating creatively and between its deep legal knowledge in this field lead to numerous successes of the firm, which accompanies the sale and purchase of apartments and lots, rezoning, purchasing groups, Tama 38, acquisition of commerce areas, legal facilitation for the entire construction process and more. Some of the firm's clients in this practice area include developers and contractors, purchasing groups, private and institutional investors, government agencies, private and business foreign residents, including numerous residents of France who invest in Israel. The firm's experience and skill leads to the successful facilitation of the transactions of its clients even without their physical presence in Israel.
Wills, Inheritances and Estates - The firm specializes in estates law, with an emphasis on wills and inheritance in France and in Israel, and is very familiar with inheritance law under French law and Israeli law. This unique strength enables the firm to submit foreign legal opinions in the various courts in Israel and to represent in probate and will enforcement cases in Israel from a deep and up-to-date understanding of the French law and the changing regulations in this field. The firm specializes in drafting wills, in conflict of law in private international law, in counseling in cases of wills or inheritance of Israelis who have properties in France and/or French residents who have properties in Israel, in managing estates of any size, in Israel and abroad, in providing written opinions on French law in inheritance matters, in counseling in the preparation of bilingual wills French-Hebrew for residents of France and/or for the bequeathing of properties of French residents that are located in Israel and in representation vis-à-vis the tax authorities in Israel and in France. The firm also employs French lawyers, who specialize in French family and inheritance laws. The combined work creates a unique interface enabling the firm to issue wills and inheritance warrants in Israel for French citizens.
An Expert on Foreign French Law - The firm, which is one of the leading firms in Israel in handling clients who work on the Israel-France line, employs a team with a vast familiarity with legal system of France and full mastery of the French language and values. Adv. Koskas provides opinions on French law to all of the court levels in Israel and is recognized as an expert on foreign French law. The firm provides written opinions on French law in cases of wills or inheritances of Israeli who own properties in France and residents of France who own properties in Israel, prepares bilingual wills French – Hebrew for French citizens and/or for bequeathing properties of French residents that are located in Israel, handles the proceedings for registering and dividing estates / inheritances in France, represents vis-à-vis the tax authorities in Israel and notarizes translations.
Commercial Law and Corporate Law - The firm provides broad legal services, including for foreign residents, with an emphasis on French clients and investors in the commercial operations in Israel, specializes in counseling in the incorporation and establishment of companies and partnerships, and handles mergers and acquisitions. In addition, the firm represents its clients in joint venture agreements in Israel, franchise agreements, ongoing management of a company under Israeli law, international commercial agreements and more, and accompanies its clients in establishing representative offices in Israel for French companies. Owing to Adv. Koskas French roots, the firm helps its clients in their commercial activity in Israel.
Community Outreach
The firm sees community service and altruism as a supreme value, and regularly handles pro bono cases, out of the belief that the underprivileged are also entitled to legal representation. Adv. Koskas believes in communalism and cultivating a health society and accordingly he served for six years as chairperson of a culture and youth center ("Matnas") in Jerusalem and throughout the years he often conducted pro bono activities in various legal fields, including criminal law, and volunteered for public activities.

Company Rankings