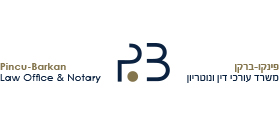 Pincu Barkan, Law Office and Notary
Foreign Citizenships and Passports, Real Estate, Commercial Law and Litigation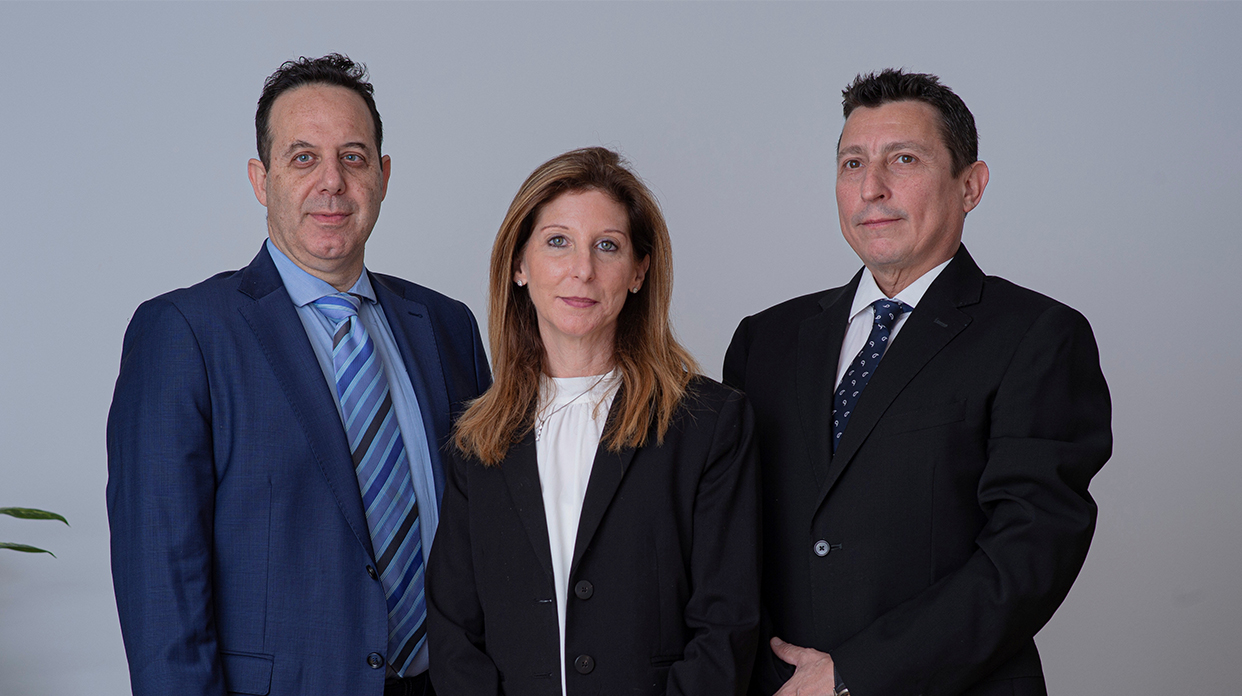 Company's Profile
| | |
| --- | --- |
| Established: | 2007 |
| Line of Business: | Foreign Citizenships and Passports, Real Estate, Commercial Law and Litigation |
| Address: | 7 Abba Hillel St., Silver House, 11th Floor, Ramat Gan |
| Phone: | 972-3-6444500 |
| Fax: | 972-3-6444600 |

Company Executives
Adv. Hila Pincu

Founding Partner

Pincu Barkan, Law Office and Notary

Adv. Eyal Barkan

Founding Partner

Pincu Barkan, Law Office and Notary

Adv. Shmuel Pincu

Founding Partner

Pincu Barkan, Law Office and Notary

About Pincu Barkan, Law Office and Notary
Pincu Barkan, Law Office and Notary has been practicing European citizenship and passports since 2007, and is one of Israel's longstanding and leading firms in this practice areas. The firm also provides highly professional and comprehensive legal services in the fields of real estate, commercial law and litigation.
The firm has accumulated extremely vast knowledge from servicing thousands of clients, for whom it obtained foreign citizenships and passports, whereas some of the proceedings are executed from Israel and some are carried out directly overseas through the branches in Portugal and Romania. The firm navigates the proceedings to the benefit of the client throughout the entire journey, in order to verify that they would be concluded quickly and optimally. The firm is managed by its three partners, Adv. Shmuel Pincu, Adv. Eyal Barkan and Adv. Hila Pincu – Renown lawyers with longstanding reputations, and currently it is the only firm in Israel that specializes in all three of Portuguese citizenship, Romanian citizenship and Austrian citizenship, thus creating a solution for mixed families. The firm has exclusive branches in Romania (Bucharest) and in Portugal (Porto and Lisbon) with team of local attorneys who are an integral part of the firm's team.
Diverse and Highly Skilled Professional Team
The firm currently employs 25 employees in Israel and abroad (the Portugal and Romania branches), including professional lawyers, translators, and administrators who are proficient in working vis-à-vis the various authorities in Israel and overseas and foreign consulates in Israel. In addition, the firm cooperates with a list of experts in various fields where the firm is active, who provide complementary services, such as: translators, tax consultants, accountants, real estate advisors and more.
Service Above All Else
The legal service that the firm provides is personal, direct and very dedicated while complying with the Israel Bar Association's code of ethics which are aimed, inter alia, at the protecting the client. The firm's team is committed to the clients on a personal level and there is no veil of incorporation between it the client as often happens in the citizenship and passports practice area.
All of the paperwork which is involved in issuing citizenship, including the translations and the notarizations, is executed by the firm's experienced team, with many of the team's members speaking foreign languages as a mother tongue. As a longstanding firm which practices and specializes in European citizenships, the firm has been accompanying its clients in the process of obtaining Romanian-European citizenships since 2007, even before the applicable Portuguese law was enacted. As aforementioned, the firm has local layers in Portugal and Romania, and also a Portuguese lawyer in its Israeli offices, who maintains direct contact with the authorities in Portugal.
The Partners
Adv. and Notary Hila Pincu
Adv. Hila Pincu has vast experience in European citizenship and passports and in working vis-à-vis authorities in Israel and abroad. She is also very active in the real estate practice area and has extensive connections with real estate agencies in Portugal, and she accompanies the acquisition of investment properties. By education, she has an LL.B. from Tel Aviv University. She was admitted to the Israel Bar Association in 1997.
Adv. Pincu has thousands of clients who already completed the citizenship process with her assistance. In addition, Adv. Hila Pincu manages the firm's Austrian Citizenships Department, under the new law which expands the eligibility for this citizenship and makes it easier to obtain.
Adv. Eyal Barkan
Adv. Barkan has vast legal experience in Romanian law and in the customary legal procedures in Romania. Some of his practice areas include counseling and accompanying in proceedings for obtaining Romanian citizenship, Romanian passports, business counsel in Romania, recovering properties in Romania and pensions from Romania. Adv. Barkan also practices real estate in Romania while accompanying contractors and private clients in eral estate sale and purchase transactions. Adv. Barkan lived in Romania for several years and is well-versed in Romanian law. This combination greatly helps him in accompanying its clients and often makes the difference between success and failure in the cases that he manages. By education, he has an LL.B. from Oxford University in England and he interned in Israel in the firm of Tikotzky&Co. in Addition to his ongoing practice, he served as President of the Israel-Romania Chamber of Commerce.
Adv. and Notary Shmuel Pincu
Adv. and Notary Shmuel Pincu has vast experience in real estate, litigation and civil-commercial law. Over the years, he handled complex and diverse real estate litigation transactions, from sale and purchases of commerce complexes (shopping malls) and office towers, through rezoning, eviction claims, receivership of buildings under construction and proceedings before the planning and zoning committees, and up to proceedings and appeals before the betterment tax authorities and initiating and facilitating various residential projects. In his litigation practice, he accompanies (and serves as a mediator for) private and business clients in civil-commercial disputes and also in legal and quasi-legal disputes between orderers and contractors in projects of significant scales. Beyond his ongoing practice, he serves also as a judge in the Israel Bar Association's Disciplinary Court. By education he has an LL.B. from Tel Aviv University and an LL.M. (with distinction) in the special joint program of Tel Aviv University and Berkeley University on commercial law and IP. He has been a lawyer since 1997.

Company Rankings