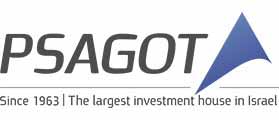 Psagot Investment House Ltd.
Provident funds, study funds, pension funds, central severance pay funds, mutual funds, ETFs, portfolio management, Independent trading, research and brokerage services, insurance and savings and investment in insurance agencies

Company's Profile
| | |
| --- | --- |
| Established: | 1963 |
| Line of Business: | Provident funds, study funds, pension funds, central severance pay funds, mutual funds, ETFs, portfolio management, Independent trading, research and brokerage services, insurance and savings and investment in insurance agencies |
| Address: | 14 Ahad Ha'am St., Tel Aviv 6514211 |
| Phone: | *5323 |
| Fax: | 972-3-7968889 |

Company Executives
Barak Soreni

CEO

Psagot Investment House Ltd.

About Psagot Investment House Ltd.
Psagot is Israel's largest investment house, managing approx. NIS 187 billion* for more than a million clients. Psagot began its operations 54 years ago. Over the years it expanded its fields of operations, and today its offering includes a wide variety of long and short term savings plans, numerous financial services and various insurance products. It was selected to be the assets manager by leading firms, public institutes, institutional investors, foreign investors and individuals. As managers of public assets and funds, Psagot constantly operates to optimize value for its clients and business associates.
Responsible and Professional Asset Management
Psagot implements a professional, responsible and transparent investments policy, aiming to achieve outstanding performance over time. Psagot's investment management is executed by dedicated and skilled personnel. Psagot's investment managers have a variety of advanced IT systems and tools, supporting the securities analysis process of the decision-making for the clients. Our investment management philosophy is based on several guidelines: controlled and responsible risk management, research and analysis based investments, diversifying in a variety of investment tracks and maintenance of low volatility. These guidelines are the basis for successful investment over time.
Outstanding Performance over Time
Psagot's investments management philosophy, formulated from an understanding of the tremendous responsibility involved in the management of the public's assets, emphasizes the professional and responsible management in order to achieve outstanding returns over time. This philosophy enables Psagot's ongoing success and consistent growth.
Extensive Research and Analysis Department
Psagot has a team of analysts and investment managers who follow current events in the global capital markets and economies, and make investment decisions on the basis of research while considering various developments. The research and analysis department includes 6 specialized research units, with 80 analysts, investment managers and traders, who are also supported by leading research entities from Israel and abroad. Recently, Psagot established an in-house foreign markets research unit, specializing in the analysis of markets, sectors and securities abroad in addition to a private non-marketable investments unit, operating in diverse segments in order to achieve excess returns, over time, in the current global low interest rates environment.
Innovation
Psagot established an innovation department that works to promote financial innovation in many fields, such as: service and sales digitization, automated investment consulting and management, financial information analysis and research, operational streamlining, Independent trading, etc. These operations aim to create value for the clients and improve and streamline the investment house's work processes. Additionally, Psagot has opened its gates to Fin-Tech companies and is working on cooperations and implementation of innovative technological solutions in the investment house.
A One-Stop-Shop for a Variety of Products
Provident funds, study funds and central severance pay funds Psagot Provident Funds and Pension is Israel's largest provident fund company. Psagot offers a wide range of provident funds, study funds and central severance pay funds, notable in their outstanding performance and high rankings over time. Among others, Psagot manages "Gadish" - Israel's largest provident fund.
Psagot's Pension funds offers a range of insurance and investment tracks, designed to allow maximum compatibility between the savings tracks and the nature and needs of the investor.
Psagot Insurance Company offers a range of life insurance products and savings policies. The longstanding experience, responsible management and financial strength, enable Psagot to offer its clients an insurance package that meets their needs, with an emphasis on a professional, courteous, reliable and personal service.
Psagot offers a variety of short term saving products and financial services
Psagot Securities is the largest portfolio management company in Israel, manages investment portfolios on behalf of companies, institutional investors and individual investors in Israel and abroad, in various investment tracks.
Psagot Trade has a digital platform for independent securities trading, with significant cost-savings on fees and without securities holding charges, along with supporting digital services.
Psagot Mutual Funds Is one of Israel's leading mutual fund companies demonstrating outstanding performance over time**. Psagot operates about 164* mutual funds in a wide variety of tracks that are suited to various and diverse types of investors.
Psagot Exchange Traded Funds is the most senior company in Israel's ETN market with a broad offering of about 210* ETNs and bonds that follow various underlying assets such as indices, commodities and currencies in Israel and abroad. The company operates a modern trading room with a skilled and professional team of traders.
Institutional Involvement
Psagot formulated clear and transparent rules secured in the "Psagot Institutional InvolvementConvention in order to protect the rights of investors and create more appropriate behavior norms on the part of companies operating in the capital market. We believe that active institutional involvement is an essential tool for achieving excess returns over times for our savers.
Mutual funds Manager - Psagot Mutual Funds Ltd. - * The above should not be seen as a commitment to achieve certain returns. The abovementioned does not constitute investment marketing/advice and/or pension marketing/advice and/or a substitute for advice/marketing as mentioned and/or tax advice that takes into consideration the special needs of each individual and furthermore does not constitute an offer to purchase units in the funds and/or of ETNs and/or of securities, which should be solely performed in accordance to a valid prospectus and immediate reports. Psagot Securities Ltd. - a portfolio manager and a member of the stock exchange - and Psagot Investment House Ltd. – an investment marketer (hereinafter "The Companies") are engaged in investment marketing (and not in investment advice) and are members of the Psagot group. The companies are affiliated to financial assets managed by the other company and are also affiliated to the financial assets managed by the companies belonging to the Psagot group. The companies may prefer said assets over other financial assets. Psagot Provident Funds and Pension Ltd. engages in pension marketing (and not pension advice) and is affiliated to pension products under its management.
*The information above does not fully reflect the terms of the insurance policy. The binding format is the full policy format as published on Psagot's website. The information above does not constitute or replace insurance or pension or other consulting and may not replace the product matching check against the client's personal needs.