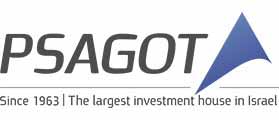 Psagot Investment House Ltd.
Provident funds, study funds, pension funds, central severance pay funds, mutual funds, ETFs, portfolio management, Independent trading, research and brokerage

Company's Profile
| | |
| --- | --- |
| Established: | 1963 |
| Line of Business: | Provident funds, study funds, pension funds, central severance pay funds, mutual funds, ETFs, portfolio management, Independent trading, research and brokerage |
| Address: | 14 Ahad Ha'am St., Tel Aviv 6514211 |
| Phone: | *5323 |
| Fax: | 972-3-7968889 |

Company Executives
Barak Soreni

CEO

Psagot Investment House Ltd.

About Psagot Investment House Ltd.
Psagot is Israel's largest investment house, managing about NIS 185 billion* on behalf of over a million clients. It started its way 55 years ago and has along the years expanded its range of activities to offer a wide variety of savings products, many financial services. Leading firms in the economy, public institutions, institutional investors, foreign investors and private companies have all chosen us to manage their funds. As managers of public funds we constantly act to maximize value for our clients and business associates. The investment house is fully owned by the Apax Partners foundation.
Responsible Professional Investment Management
Psagot acts according to a policy of professional, responsible and transparent investment, striving to maintain outstanding performance in the long run. Investment management is conducted by a skilled and devoted personnel, characterized by a high level of professionalism. Various tools and advanced information systems are at their disposal, assisting in security analysis processes for decision-making on our clients' behalf. Our investment management strategy is based on several guidelines: controlled and responsible risk management, analysis and research-based investments, dispersion onto various investment options and maintaining low volatility.
Outstanding Long-term Performance
Psagot's investment management strategy consolidated through an understanding of the huge responsibility involved in managing public funds is about a professional and responsible management whose purpose is to the yield outstanding revenue in the long run. This strategy is what enables the house's continued success and consistent growth.
A Large and Highly Qualified Research and Analysis Array
Psagot employs analysts and investment managers who track the happenings in stock markets and economies worldwide, making investment decisions based on extensive research and various developments. The analysis and research array includes six specialized research units and is comprised of 80 analysts, investment managers, and traders, assisted by leading national and international research bodies. Recently, Psagot has established an internal foreign research department specializing in market, sector, and securities analyses abroad. Psagot has a non-marketable investment department, engaging in various fields such as non-marketable credit and hedge fund, in order to yield excess long-term revenue in the low-interest environment prevalent worldwide.
Innovation
Innovation is at the core of Psagot's business strategy. Psagot has established an innovation department which promotes financial innovation in many fields, such as digitization in service and sales, analysis of financial information and more. The goal of this activity is to bring further value to clients and to improve and optimize in-house work processes.
A Variety of Products Under One Roof
Psagot offers a variety of mid-range and long-range savings products:
Provident funds, study funds, compensatory funds: Psagot Provident Funds and Pension specializes in managing investments on the middle and long ranges and offers a wide variety saving products with outstanding performance and rankings over time. Psagot also manages "Gadish" – the largest Provident fund in Israel.
Pension funds: Psagot's pension funds offer a variety of insurance programs and investment options whose goal is to optimize the savings regime to the client's needs and character.
Psagot offers a variety of short-term savings products and financial services:
Mutual funds: Psagot Mutual Funds is one of the leading fund's companies in Israel, demonstrating outstanding performance over time.** The company operates about 168* mutual funds in a wide variety of investment options, suitable to various types of investors.
ETF: Psagot Exchange Traded Notes is the oldest ETF company in Israel. It manages a wide variety of about 210* ETFs and IOUs tracking various base assets.
Managing investment portfolios inland and abroad: Psagot Securities, the largest portfolio management company in Israel, manages portfolios in Israel and abroad for companies, institutional investors, and private investors.
Psagot Pro: For the first time in Israel, Psagot Securities offers managing a digital portfolio starting at NIS 50,000. Psagot Pro is an innovative product offering professional management of funds according to each client's unique needs while saving on costs.
Psagot Trade: Psagot Securities operates a digital platform for independent trading of securities, with no custody fees and considerable savings on other fees.
Psagot Pareto – Psagot's investment boutique: Psagot Pareto is an activity offered by Psagot Securities, suitable to high-profile clients interested in a unique and flexible investment management, changing according to market conditions and investors' needs. It includes participation in offers at the institutional levels and private offers. it uses a hedge strategy to reduce risk and enjoy the ability to make money even during falls.
Transparency and Institutional Involvement
Psagot takes care to submit transparent and real-time reports to its clients in all aspects pertaining to the status of funds under management, according to every relevant legal and regulatory demand (Israel Securities Authority, Stock Exchange Authority, and the Stock Exchange itself). Psagot believes in a proactive institutional involvement, which is an essential instrument in obtaining excess yields for the saving public. Stemming from this principle, Psagot has defined clear and transparent rules cemented in the "Psagot treaty for institutional involvement", whose goal is to protect investors' rights and create suitable norms for company conduct in finances.
Financial Education
The "Psagot knowledge center for financial education" offering various innovative and advanced tools set to help the public managing its money. The knowledge and expertise of Israel's largest investment house are available for you on this special website.
*As of May 2018
**The abovementioned does not constitute investment marketing/advice and/or pension marketing/advice and/or a substitute for advice/marketing as mentioned and/or tax advice that takes into consideration the special needs of each individual and furthermore does not constitute an offer to purchase units in the funds and/or of ETNs and/or of securities, which should be solely performed in accordance to a valid prospectus and immediate reports. The above should not be seen as a commitment to achieve certain returns. Psagot Securities Ltd. - a portfolio manager and a member of the stock exchange - and Psagot Investment House Ltd. – an investment marketer (hereinafter "The Companies") are engaged in investment marketing (and not in investment advice) and are members of the Psagot group. The companies are affiliated to financial assets managed by the other company and are also affiliated with the financial assets managed by the companies belonging to the Psagot group. The companies may prefer said assets over other financial assets. Psagot Provident Funds and Pension Ltd.