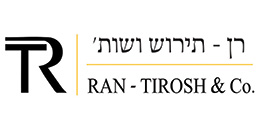 Ran-Tirosh & Co., Law Offices
One of Israel's leading boutique law firms, prominent in the practice areas of economic law, white-collar and taxation

Company's Profile
| | |
| --- | --- |
| Line of Business: | One of Israel's leading boutique law firms, prominent in the practice areas of economic law, white-collar and taxation |
| Phone: | 972-3-7773333 |
| Fax: | 972-3-7773322 |

Company Executives
Adv. Elad Ran

Founding Partner

Ran-Tirosh & Co., Law Offices

View Profile

Elad Ran

Adv. Hila Tirosh

Founding Partner

Ran-Tirosh & Co., Law Offices

View Profile

Hila Tirosh

About Ran-Tirosh & Co., Law Offices
Ran-Tirosh & Co. is one of the leading boutique law offices in Israel and ranks prominently in the fields of commercial law - white collar and taxes. The firm was founded by Attorneys Elad Ran and Hila Tirosh, former members of the prosecution authorities of the State of Israel, the Tax Authority, and the Central District Attorney's Office at the Ministry of Justice. The firm is renowned for its representation of elite clients, including public figures, company owners, directors, accountants, lawyers, senior government officials and private clients. As a matter of policy, our senior attorneys, the founding partners, represent and are involved in each and every case, head the team of attorneys and place great emphasis on legal creativity, innovative strategy, and attention to the most minute details.
Special Attention to Details
Ran-Tirosh & Co. has a first-rate reputation and extensive experience. Our firm is guided by core standards of professionalism and excellence in providing impeccable service to its clients.
To ensure the best legal service, we have devised a precise brew that links senior lawyers with over 25 years of legal experience, alongside groundbreaking lawyers, graduates of leading international law firms and accounting firms, prosecuting authorities in the State of Israel; attorneys who employ winning paths and legal innovation to ensure quality, professional and personalized legal representation.
Our firm has unique working methods that enable high internal control, in-depth analysis of the legal issue facing the client, appropriate short-term and long-term strategy, all in order to tailor a personalized and accurate legal response for the client.
Maximum attention to detail, excellence, professionalism, and resolute fighting on behalf of the client, while maintaining ethical boundaries, result in our firm enjoying extensive success and trust on the part of the court system and among law enforcement agencies.The firm's principled view is to exhaust all available proceedings prior to adjudication and to make every effort to prevent judicial proceedings. The team of lawyers in Ran-Tirosh & Co. is carefully selected and consists of lawyers who worked formerly for the State Attorney's Office, the Tax Authority, the Israel Police and various other state authorities.
White Collar and Economic Offenses
The firm is a leader in its field and has extensive experience and knowledge in representing suspects and defendants in financial offenses and white-collar offenses. Over the years, the firm has represented clients in well-known financial cases and gained impressive and unprecedented results for its clientele. The firm accompanies clients from the preliminary investigation stage, counseling and representation in arrest proceedings, hearings prior to filing of indictments and through criminal litigation in the various courts.
The firm represents businessmen, senior persons in the business sector, public employees, and freelancers - in white-collar offenses, including money laundering, securities, bribery, fraud and breach of trust, antitrust and other criminal offenses.
Tax Law - Civil and Criminal
The firm is ranked as a leading boutique firm in Israel in the field of tax law, in the civil and criminal field. The tax department at Ran-Tirosh & Co. includes a team of senior lawyers, graduates of the Tax Authority and the State Attorney's Office, with over 25 years of professional experience and long-standing reputations, who specialize distinctly in tax law.The firm provides clients with full legal coverage for various tax issues, analyzes each case while paying careful attention to both civil and criminal aspects and implications - and provides comprehensive legal solutions in civil and criminal tax cases.Civil Taxation - The firm has gained extensive experience and an excellent reputation in all areas of civil taxation - income tax, VAT, customs, social security, and real estate taxation; provides legal advice and assistance to private clients and companies in the various tax areas; legal litigation, audit proceedings, tax decisions ("ruling"), tax assessments and tax appeals, providing opinions on Israeli and international taxation matters. The firm handles diverse tax aspects for Israeli residents and non-residents.
Criminal Taxation - the firm represents suspects and defendants in various tax offenses and accompanies its clients from the pre-investigation stage before the various tax authorities, while building a strategy and a line of defense that looks to the future. The firm represents clients at the pre-indictment hearing stage and in litigation proceedings before the courts in criminal tax cases after indictments have been filed, offenses under the Income Tax Ordinance, the VAT Law, customs offenses, social security offenses, voluntary disclosure proceedings, etc.
Administrative Litigation
Ran-Tirosh & Co. represents private clients, public employees, business owners and companies in administrative proceedings, negotiations with state authorities, representation in administrative courts in petitions and administrative appeals, as well as petitions to the High Court of Justice (HCJ).The firm has amassed extensive knowledge and experience in representing a wide variety of clients - individuals and companies, in administrative proceedings, and fundamental administrative and public legal issues. The firm is one of the leading and most prominent firms in Israel representing individuals and companies in litigation and negotiations vis-a-vis public and government agencies: The Ministry of Internal Security, the Israel Police, the Ministry of Defense, the Ministry of Health, Registrar of Contractors, the Ministry of Economy and Industry, Ministry of Labor, etc.The firm represents senior officials in the civil service and the public service, in disciplinary proceedings, before disciplinary committees and disciplinary tribunals, in hearing proceedings before local authorities and the civil service. The firm has extensive experience representing officials in disciplinary proceedings in the various government ministries, as well as representing police officers, military personnel and senior IPS personnel in disciplinary proceedings, in addition to doctors and pharmacists in proceedings vis-a-vis the Ministry of Health.
Litigation
Litigation is the primary area of practice in the firm of Ran-Tirosh & Co. The firm's attorneys are experienced in appearing before all judicial instances, including, magistrates' courts, district and supreme courts, disciplinary courts, and various tribunals, civil and criminal. The litigation team, under the supervision of the senior partners, maintains an impressive and eloquent appearance before the courts, works resolutely and tirelessly to achieve the client's goals, while implementing the unique strategy which was tailored for each client and applying strict care to every detail. The firm's team of lawyers has been meticulously selected from among prior employees of state authorities, while emphasizing substantial litigation experience and professional excellence.

Facebook Updates

Company Rankings