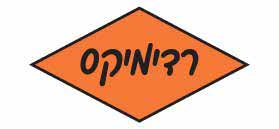 Readymix Industries (Israel) Ltd.
Ready-Mixed Concrete; Ready Mortar; Admixtures for Concrete; Aggregates; Sand; Infrastructure Concrete Products; Finishing Products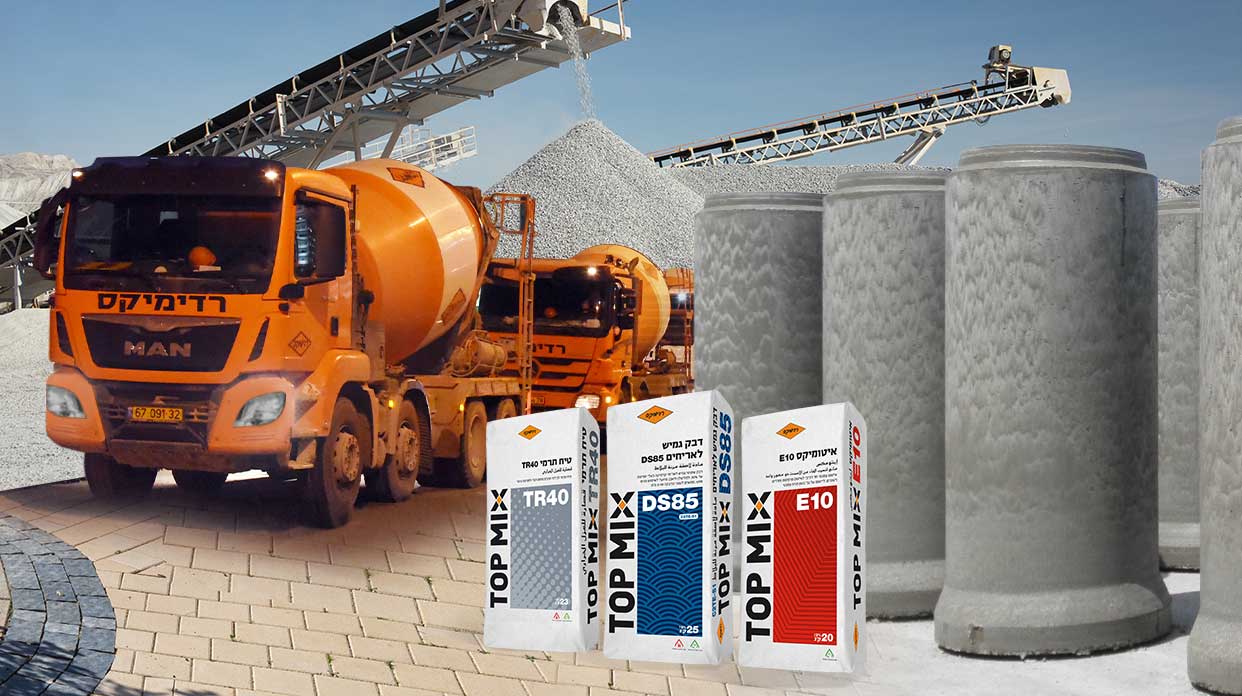 Company's Profile
| | |
| --- | --- |
| Established: | 1962 |
| Line of Business: | Ready-Mixed Concrete; Ready Mortar; Admixtures for Concrete; Aggregates; Sand; Infrastructure Concrete Products; Finishing Products |
| Address: | 155 Bialik St., Ramat Gan 5252346 |
| Phone: | 972-3-7519464 |
| Fax: | 972-3-7510201 |

Company Executives
Ytzhak Bejerano

Chairman & Managing Director

Readymix Industries (Israel) Ltd.

View Profile

Ytzhak Bejerano

About Readymix Industries (Israel) Ltd.
Parent Company: CEMEX
The Readymix Group is Israel's leading producer and supplier of raw materials for the Construction Industry. Over the decades, the Group has built its reputation on providing building solutions based on products and services representing consistent high quality, excellence, and reliability. Readymix Industries (Israel) is a story of development, success, and contribution to the country's industry. In the early '60s, the British company RMC began to expand worldwide and established Readymix Industries (Israel) Ltd. in 1962. The hands that had cast the first concrete cube in the company's plant in December 1962, are the same hands that have brought the company this far. In 2005, RMC was acquired by CEMEX. The Group is active in several fields and specializes in ready-mixed concrete, aggregates, infrastructure products, chemical admixtures for concrete and white cement.
Ready-Mixed Concrete
The Readymix Group's Concrete Division is the leading producer of ready-mixed concrete and mortar in Israel, supplying 33% of Israel's demand for concrete and mortar. With a national network of plants from Kiryat Shmona in the north to Eilat in the south, the Group can ensure swift and efficient supply to its customers. Readymix has supplied concrete for many of Israel's most prominent construction projects, including power stations, bridges, airports and many other important projects, such as Ben Gurion 2000 Airport, the Ayalon Highway, the Ashkelon and Herzliya marinas, the Cross-Israel Highway, the Haifa national soccer stadium and a desalination plant.
Additives for concrete - Chemocrete, is a leading manufacturer of concrete additives in its field, which relies on developed technologies at the company's international technology center in Switzerland.
Aggregates
Lime & Stone Production Company Ltd., established in 1935, is one of Israel's leading producers of aggregates. Lime & Stone operates nation wide quarries manufacturing the finest aggregates, and sand. The company has contributed significantly to the development of Israel's infrastructure, e.g.: Highways, bridges and interchanges, ports, buildings and the National Water Carrier. Lime & Stone invests substantial efforts in protecting the environment, by operating anti-pollution equipment and restoring quarries where stone mining has been completed. With a highly qualified technical and engineering staff, the company's emphasis is placed on the development of new technologies and state-of-the-art know-how.
Infrastructure
Readymix Concrete Products (Israel) Ltd. produces a range of products for infrastructure including concrete pipes for drainage and channel systems, inspection boxes (manholes) for sewage, drainage, channel systems and communication, manhole covers, ceilings, channels, development and landscape products, elements for the Ministry of Defense, and concrete rainwater collectors. The company offers engineering and technical customer-support services, as well as countrywide hauling and unloading services. All the company's products are supervised by the Israel Standards Institute and bear the Israel Standard (IS) mark of approval.
Recently, the activity of Netivi Noy plant was acquired which produces interlocking paving stones as well as development and landscape products.
Finishing Products
Readymix Group's Top Mix brand expands its product line with a wide range of construction products: adhesives, plaster products, thermal insulation, sealers, white cement and more.
These products deliver the highest quality construction solutions and meet the requirements of the Standards Institution of Israel and European standards.
CEMEX
Readymix Industries (Israel) Ltd. is owned by CEMEX, a growing global building solutions company that provides products of consistently high quality and reliable service to customers and communities in more than 50 countries throughout the world. CEMEX has a rich history of improving the well-being of those it serves, through its relentless emphasis on continuous improvement and through its efforts to pursue innovative industry solutions and efficiency advancements and to promote a sustainable future.
Founded in Mexico in 1906, CEMEX has grown from a small local player to a top global building solutions company. Today, the company is strategically positioned in the most dynamic markets around the world: the Americas, Europe, Asia, Africa, and the Middle East, with leading positions in cement, ready-mixed concrete and aggregates.
Sustainable Development
The Readymix Group devotes major efforts to the building of a better future, and therefore has a strong commitment to sustainable development and manages its businesses while strictly applying the highest standards to implement its positive contribution to a highly sustainable future. The Group's principles regarding environmental quality and preservation are reflected in the newest technologies which it applies to ensure energy savings and optimal use of raw materials, as well as in facilitating a culture of environmental awareness and using the most effective equipment to protect people and the environment. The company implements this within a strict management framework, according to the broadest social, environmental, and economic goals, out of concern for the existence of a sustainable community. The company's activity contributes the community and to the advancement of cities and villages in proximity to its plants.
READYMIX Go - The Digital Platform
READYMIX Go is a versatile tool that provides a continuous ordering experience, direct tracking of deliveries, and the management of invoices and payments for the company's main products.
The platform conveys real-time information of the kind required by customers to do more things in shorter times, which allows them to better control their businesses and therefore maximize value for their shareholders.

Company Rankings