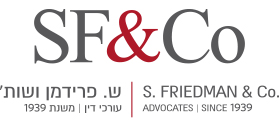 S. Friedman & Co. - Taxation and international Taxation

Company's Profile

Company Executives
Partners & Associates
Doron Schweppe
Ifat Minzer–Koll
Michal Raveh
Margalit Apelbaum

About S. Friedman & Co. - Taxation and international Taxation
The firm has one of Israel's largest and leading Tax departments, which provides clients with overall creative and breakthrough tax planning solutions to save taxes on their operations in Israel and abroad. The department works closely with the firm's other departments so that clients receive immediate and overall solutions to the rest of the legal issues on their agenda including taxation.
The department combines broad and comprehensive experience and deep knowhow on Israeli, US and Asian tax methodology. The firm is in daily contact with Israel's tax authorities and professionals abroad, allowing the firm to provide comprehensive and effective tax advice and planning alongside the certainty that its positions will be honored by the tax authorities.
The firm represents clients in all types of legal proceedings before the tax authorities, appeals committees, and courts. The firm has unique specialization in multinational tax planning and the optimization of tax planning, investment in deals with international partners, international aspects of VAT, transfer pricing and more.
The firm's comprehensive specialization in taxation can also be found in the intensive handling of merger and acquisition deals in Israel and abroad.