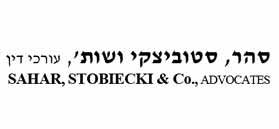 Sahar, Stobiecki & Co., Advocates
Medical malpractice and torts, commercial law and civil litigation

Company's Profile
| | |
| --- | --- |
| Established: | 1955 |
| Line of Business: | Medical malpractice and torts, commercial law and civil litigation |
| Address: | 4 Marmorek St., Tel Aviv 6425404 |
| Phone: | 972-3-6858181 |
| Fax: | 972-3-6858186 |

Company Executives
Yaron Sahar

Senior Partner

Sahar, Stobiecki & Co., Advocates

View Profile

Yaron Sahar

Moshe Stobiecki

Senior Partner

Sahar, Stobiecki & Co., Advocates

View Profile

Moshe Stobiecki

Orna Sahar-Ziv Tiberin

Senior Partner

Sahar, Stobiecki & Co., Advocates

View Profile

Orna Sahar-Ziv Tiberin
FOUNDING PARTNERS
Adv. Joseph Sahar (1914-1984)
Adv. Judith Sahar

About Sahar, Stobiecki & Co., Advocates
Sahar, Stobiecki & Co. is a leading boutique, reputed firm that provides consultancy and litigation services in civil-commercial law, medical malpractice and Torts. Founded in 1955 by the late Joseph Sahar and Judith Sahar, developed and expanded activities to become part of Israel's business elite and eminent in its fields, led by Advs. Yaron Sahar, Moshe Stobiecki and Orna Sahar-Ziv Tiberin, for about 40 years. The firm operates two independent departments: Advs. Stobiecki and Sahar-Ziv Tiberin head the Torts Dept. and Adv. Sahar heads the Civil-Commercial Dept. The Torts Dept. is listed by ranking companies: Dun & Bradstreet (Israel's 100 leading law-firms) and BDI Code (the most prominent insurance law-firms). Professional knowledge, reliability, thoroughness and striving for excellence earned the firm recognition and appreciation by the courts and professional circles. The firm is the sole Israeli member of I.G.A.L, a network of law firms in 100 countries, and is involved in international legal activities with the world's leading law firms. The firm is a member of S.T.E.P., connecting trust and estate practitioners worldwide. The firm provides legal services to institutions, government, insurance and private companies.
Professional and Committed personnel
The firm employs 34 people including 19 lawyers and 5 law clerks. Five additional partners have become part of the senior staff and the firm's core leadership. All lawyers are experienced in court appearances, negotiations, appeals, arbitrations, mediations and complex civil proceedings, and some serve as arbitrators and mediators in cases referred by the courts, or privately. The firm's team has been formed gradually with careful attention to personal and professional traits to create rare qualified human capital.
Medical Malpractice & Torts
The Torts Dept. operates productively in Torts and insurance including dozens of weekly court, arbitrations and mediations appearances. The Dept. was among the first to develop medical malpractice specialization. The Dept.'s staff has impressive achievements including in the Supreme Court that led to legal changes (e.g. wrongful birth). Lawyers gained extensive experience from preparing claims and oreviews to conducting negotiations, hearings, appearing in mediation and representing clients, mainly in District Courts and the Supreme Court. The firm's lawyers are skilled in studying and analyzing medical cases and with keeping up to date with the latest legal trends. The firm handles medical malpractice suits involving midwives – complications for mothers and newborns (such as C.P, and Erb palsy), failure to diagnose birth defects, wrongful birth, surgical, neurosurgical, orthopedic and anesthetic complications, failure or delay in diagnosing illnesses, loss of recovery chances, etc. With the knowledge and expertise gained, the firm assists in forming position papers and instructions on public health, and the Dept.'s staff frequently appear at conferences. The firm also acts in cases regarding motor, work and sports accidents.
Commercial Department
The firm specializes in consultation and complex multidisciplinary commercial-civil litigation. The firm has gained experience in representing and appearing in all tribunals including arbitration and mediation proceedings (in Israel and abroad). The services encompass commercial disputes from drafting the case, gathering evidence, questioning witnesses, to conducting negotiations, reaching a settlement, or managing the case until decided in court, including appeals. The Dept. handles large volumes of business and commercial disputes between companies, and between shareholders or partners, including arbitration and mediation proceedings. The firm conducts complex suits regarding breach of contracts and unjust enrichment, while specializing in contracts, tenders, building, planning and supervision, insurance and banking, trusts and gift contracts. The firm has gained experience in real-estate disputes, contracts for sale, rental, condominiums, nuisance, planning and building and expropriation. The Dept. represents companies and individuals in complex civil suits in compensation for damages (including loss of profits) caused by actions contravening competition laws including monopolies or cartels. The firm also specializes in economic damages. The firm has rich experience in private-international law, in conducting transactions and legal proceedings and cooperating with lawyers abroad, including complex international arbitrations. The Dept. is involved in multi-parties suits including governmental authorities and regulatory agencies. The dept. drafts contracts for founding companies and renders consultancy for companies, handles real-estate transactions for developing projects and legal support for these. The firm accompanied the evacuation of Jewish settlements in Sinai, Gush Katif and northern Samaria and was involved in legislations for these matters. The firm acted for settlers as individuals and communities with relevant organizations, in relocating communities, and legal procedures (i.e the High Court petition against disengagement, compensation committees and independent damages suits in court regarding infrastructure abandoned or prohibited from evacuation, as independent property claims).
The Firm's Partners
Adv. Yaron Sahar - Graduated from Tel Aviv University Faculty of Law, 1974 (cum laude). University of Oxford, B.C.L, 1976. Clerked in the Tel Aviv District Court, 1973, and with the firm. Member of the Israel Bar, 1974. Lecturer MBA Business Law, Recanati School of Business Administration, Tel Aviv University. Former member A.I.J.A, Israeli representative I.G.A.L (since 1982). Member of Brasenose Society and Ellesmere Society.
Adv. Moshe Stobiecki - Graduated from Tel Aviv University Faculty of Law, 1975 (cum laude). Clerked in the Tel Aviv District Court, 1976. Member of the Israel Bar, 1977. Teaching at Tel Aviv University Faculty of Law. Lecturer in advanced study programs, and conferences, for professional training institutes, universities, and the Israel Bar. Conducts arbitration and mediation for torts and insurance.
Adv. Orna Sahar-Ziv Tiberin - Graduated from Tel Aviv University Faculty of Law, 1978. Clerked with the firm, 1978. Member of the Israel Bar, 1979. Authorized mediator. Formerly a Member of the Health Ministry Board for Approval of Surrogacy, Member of Friends of Etgarim NPO.