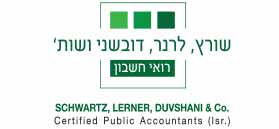 Schwartz, Lerner, Duvshani & Co.
Accounting, Taxation, Economic and Business Consultancy

Company's Profile
Established:
1962
Line of Business:
Accounting, Taxation, Economic and Business Consultancy
Address:
Tel Aviv
34 Habarzel St., Tel Aviv
Haifa
21 kibbutz Galuyot St., Haifa
Tel: 972-4-8621122
Fax: 972-4-8670303
[email protected]
Shomrat
Tel: 972-4-9550066
Phone:
972-3-6481010
Fax:
972-3-6479215

Company Executives
Avi Goldberg

CPA

Schwartz, Lerner, Duvshani & Co.

Avshalom Omessi

CPA

Schwartz, Lerner, Duvshani & Co.

Eli Cohen

CPA

Schwartz, Lerner, Duvshani & Co.
Partners
Zvi Zimran CPA
Avi Goldberg CPA
Avshalom Omessi CPA
Eli Lerner CPA
Alon Yosef CPA
Eli Cohen CPA
Eli Lichter CPA
Jacob Schwartz Founder
David Porat Founder

About Schwartz, Lerner, Duvshani & Co.
Schwartz, Lerner, Duvshani & Co., an accounting firm founded in 1962, specializes in accounting services, taxation and business consultancy. With three branches in Israel, it is one of the country's leading accounting firms. The firm focuses on providing clients with personal, quality service with professional support from one of the partners. The firm has six active partners and about 60 employees. In addition, the firm manages several subsidiaries, which offer clients accounting and focused business solutions.
Business Philosophy
The clients are always at the heart of Schwartz, Lerner, Duvshani & Co. regardless of their size. This is expressed in the fact that a partner, who serves as a contact person coordinating the firm's professional services, handles matters. Customers receive high added value services, which yield results over time. The firm's employees are committed to excellence, swift service, creativity, professionalism and quality. The firm works in close and continual contact with first-rate law firms, particularly those specializing in taxation, to facilitate maximum support for clients in legal matters.
Professional Services
Auditing Financial Statements
Accounting services for private and public companies, partnerships, local authorities, non-profit organizations, due diligence as part of purchase and sale procedures for businesses; handling prospectuses.
Tax Consultancy
Tax consultancy services; representation to the tax authorities; consultancy and support in transactions for: mergers and splits; approved enterprises and real estate deals; providing expert opinions on various tax topics (including for courts); overall individual support (tax statements and declarations of wealth); obtaining pre-rulings from the tax authorities for planned operations.
Expert Opinions, Arbitration, Mediation, Special Management, Receivership and Liquidation
The firm has extensive experience in this sector.
Over the years partners have been appointed by courts and economic bodies to provide experts' opinions on economic subjects, manage arbitrations, special procedures, mediation and compromise.
Trusteeships
The firm serves as trustee for employees' options plans according to Clause 102 of Income Tax for private and public bodies.
The firm also serves as trustee for assets and estates.
Subsidiaries
The firm has subsidiaries, which offer a range of accounting and focused business services.
Avivim Economic and Business Consultancy Ltd.
Established in 1992, the company specializes in a range of economic and management services such as:
worth assessments and viability examinations; preparing reports for the Chief Scientist; business plans; due diligence; supporting business entrepreneurship; locating investors and business support; handling and supporting the setting up of approved enterprises; recovery programs; consultancy and support of businesses in difficulties; economic and financial consultancy; organizational consultancy; special salary payment services; operating business payment services for newly established companies; tax rebate services.
Tzafririm Bookkeeping Ltd.
Established in 1998, the company supplies bookkeeping management services for small and medium businesses, designed for clients whose volume of business does not justify a salaried bookkeeper.
The company handles salary payments for small and medium businesses as well as large organizations.
Clients
Clients include: industrial enterprises, high-tech, contractors and building companies, hotels, tourist firms, shipping lines, trade and services companies, government companies, diamond traders, non-profit funds, local authorities, professionals and private clients.

Photo Gallery