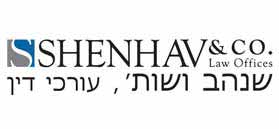 Shenhav & Co., Advocates & Notary
High-Tech, Funds, M&A, Taxation, Tenders & Infrastructure Project Financing, Supporting Wealthy Families and Support for Foreign Clients in Israel

Company's Profile
| | |
| --- | --- |
| Established: | 2008 |
| Line of Business: | High-Tech, Funds, M&A, Taxation, Tenders & Infrastructure Project Financing, Supporting Wealthy Families and Support for Foreign Clients in Israel |
| Address: | 11th Floor, B Building, Migdalei Or, 4 Hanachoshet St., Tel Aviv |
| Phone: | 972-3-6110760 |
| Fax: | 972-3-6110788 |

Company Executives
Dr. Ayal Shenhav

Founding & Managing Partner

Shenhav & Co., Advocates & Notary

View Profile

Ayal Shenhav

Tal Danon Shenhav

Managing Partner

Shenhav & Co., Advocates & Notary

View Profile

Tal Danon Shenhav

Oren Biran

Partner

Shenhav & Co., Advocates & Notary

View Profile

Oren Biran
Additional Partners
Amir Raz
Shmulik Atias
Steven Kantor
Gal Hoffman

About Shenhav & Co., Advocates & Notary
Shenhav & Co., Advocates & Notary is an innovative law firm and one of Israel's most prominent firms in the areas of Hi-Tech, Taxation, Fund Formation, International Transactions, Tender Offers, Project Finance, Energy and Family Wealth Management. Shenhav & Co.'s values are impeccable service and uncompromising professionalism. Our partners have previously worked in major New York and Silicon Valley firms and our service approach is based on excellence, attention to detail and ability to lead and conduct complex transactions.
Practice Areas
Hi-Tech –The firm provides legal services in a wide range of legal and commercial matters to various technology companies and startups in the fields of communication, Big Data, IoT, cyber-security, software, bio-med, medical, e-commerce, gaming, etc. The firm's clients range from entrepreneurs, companies at the pre-seed and seed stages, mature private companies, publicly-traded companies and multinational corporations. Legal services include formation and jurisdiction of incorporation, drafting of founders agreements, investment agreements, corporate governance, commercial agreements and technology transactions, employee stock options plans and agreements, employment law, etc. Representative clients: Viber, Deutsche-Telekom, Senso-Optics, Kontera, Sckipio, Soomla, Valcare, Wibbitz, Takipi, Umake, TowerSec, Rewalk, mPrest, Minerva, ZipRecruiter.
Funds – The firm specializes in the fields of venture capital, private equity and hedge funds. The firm advises such funds on their tax structure, formation processes, ongoing operations, investments and financing rounds. The firm's expertise in funds stems, among other things, from its extensive knowledge of Israeli and US tax laws, and an understanding of the ultimate framework tailored for each client. Representative clients: GC Residential Properties, Migdal Capital, Tulip ; Representative VC funds: Bessemer Ventures Partners (BVP), Blumberg, Cedar, Fortissimo, Lightspeed, Magma, Neurone, Sequoia Capital, State of Mind, TLV Partners, etc.
Venture Lending – The Firm represents key players in the Israeli venture lending industry, and combines expertise in the venture capital landscape together with a profound understanding of lenders' rights and required protection for borrowers. Representative clients include Silicon Valley Bank, PFG and WTI.
M&A – The firm specializes in Merger and Acquisition transactions, providing legal advice concerning transaction structuring, negotiation of transaction documents, in-depth due diligence, tax advice and more. Representative transactions: Ravello (acquirer: Oracle), TowerSec (acquirer: Harman), Annapurna (acquirer: Amazon), Amobee (acquirer: Singtel), Kontera (acquirer: Singtel; Amobee), Viber (acquirer: Nextpeer), Letmobile (acquirer: Landesk), Convertro (acquirer: AOL), Attenti (acquirer: Francisco Partners;3M), BigBand (acquirer: Arris), Coppergate (acquirer: Sigma).
Taxation – The firm has an expertise in Israeli and international taxation, providing tax advice and planning for companies, funds, private technology companies, foreign residents, international companies and individuals. The firm represents companies before the Israeli Tax Authority and courts in legal proceedings and has obtained dozens of tax rulings from the Israeli Tax Authority, including with respect to M&A transactions, restructurings, spin-offs, fund formation, employee relocation, employee stock options, etc.
Tender Offers & Infrastructure Project Financing – The firm has a broad-scale experience and strong reputation in tender offers including infrastructure tenders and infrastructure project financing. The firm supports the largest and most complex international tenders conducted in Israel, in tunneling, natural gas, design-build, BOT & DBOT tenders. Representative clients: Cross-Israel Highway- representing the State and implementing Authority for 17 years, Fast Lane, Road 431, Natural Gas Authority, N.T.A- for light railway tunnels in the Tel Aviv metropolitan area, Rad-Binat Group, GMF Investments, Ra'anana Municipal Development Corporation, etc.
Wealth Management and Management of Family Funds and Trusts – The firm specializes in comprehensive consultancy to wealthy families with regard to various legal matters including prenuptial agreements, wills, tax planning, trusts and more.
Support for Foreign Clients in Israel – Representation of a long list of multinational companies in their Israel operations. Representative clients: Arris, Reed Elservier, Deutsche-Telekom, etc.
The Firm's Vision
To remain a leading firm in each area of activity, while providing personal, professional and attentive service. Providing the firm's clients with outstanding added value by creating tailor-made business opportunities.
Pro-Bono
The firm provides pro-bono legal advice to the "Our Children Association" – the donations and voluntary activities branch of Schneider Children's Medical Center. The firm also supports "Unistream", which nurtures leadership in children from the periphery. In Addition, our partners consistently lecture at the Faculty of Law of Tel Aviv University.
Founding Partners
Dr. Ayal Shenhav - Founding Partner, a renowned expert in the high-tech and taxation fields. Currently an adjunct faculty member of Tel Aviv University and the Interdisciplinary Center (IDC). Former associate at Davis, Polk & Wardwell NY. Earned his LL.B. from Tel Aviv University (cum laude), LL.M. and Ph.D. (Tax) from New York University. Dr. Shenhav also leads the Law Firms' and Accounting Firms' Committee of the Israeli Advanced Technology Industries (IATI).
Tal Danon Shenhav - Managing Partner, specializing in project financing, infrastructure projects, energy and high-tech. Served as legal advisor to Israel's Economic Delegation in New York and as an associate at Weil, Gotshal and Manges LLP NY. Earned her LL.B. and LL.M. (cum laude) from Tel Aviv University, in collaboration with University of California, Berkeley).
Oren Biran – Partner, specializing in taxation and formation of funds. Earned his LL.B. and LL.M. from Bar Ilan University, as well as an LL.M. (in Tax) from the University of Florida.
Special Events and Collaborations
The firm has collaborations with prominent international law firms and has organized joint events in Israel, USA, Germany and China.

Facebook Updates

Company Rankings