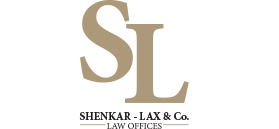 Shenkar Lax & Co. Law offices
Mergers & Acquisitions, Corporate law, international business law, medical cannabis, real estate

Company's Profile
| | |
| --- | --- |
| Line of Business: | Mergers & Acquisitions, Corporate law, international business law, medical cannabis, real estate |
| Address: | The Rogovin Tidhar Tower, 11 Menachem Begin Rd., Ramat Gan |
| Phone: | 972-3-6006200 |
| Fax: | 972-3-6006201 |

Company Executives
Oren Shenkar

Founding Partner

Shenkar Lax & Co. Law offices

Inon Lax

Founding Partner

Shenkar Lax & Co. Law offices

View Profile

Inon Lax

Kfir Elbaz

Partner

Shenkar Lax & Co. Law offices

Inbal Banai

Partner

Shenkar Lax & Co. Law offices

About Shenkar Lax & Co. Law offices
Shenkar-Lax & Co. is considered a premier and growing firm specializing in M&As, venture capital, corporate law, international business law, real estate and medical cannabis. First established in 2011 by Adv. Oren Shenkar and Adv. Inon Lax, the firm has been consistently expanding ever since, and currently has a team of 10 attorneys. Shenkar-Lax & Co. provides services at the highest professional standard, with extraordinary dedication and involvement, full availability and an emphasis on excellent interpersonal skills. The firm advises on a wide variety of transactions in several business sectors, particularly in hi-tech, traditional industry and real estate. The firm has vast experience in a diverse range of transactions in Israel and abroad, and regularly advises leading and renowned companies in the Israeli market.
The Partners
Adv. Oren Shenkar, Founding Partner: Adv. Shenkar has an LL.B. (cum laude) from the Hebrew University (1995) and an LL.M. (magna cum laude) from Columbia University in New York (1999), which is among the most prestigious academic institutions in the U.S., where he was awarded the Walter Gellhorn Prize as valedictorian of his graduating class.
After two years of working in the litigation department of Danziger Klagsbald & Co. (DKC) in Israel, Adv. Shenkar moved to the U.S. for his graduate studies and, upon completing his LL.M., in view of his extraordinary achievements, he was hired by the NY-based firm Sullivan & Cromwell, which is ranked as one of the top three law firms in the U.S. While working in New York, Adv. Shenkar was involved in facilitating multi-billion dollar M&A transactions and, upon returning to Israel, he continued practicing in this field as a partner in DKC's commercial department. Following DKC's dissolution, Adv. Shenkar joined the Tel Aviv-based firm CBLS where he was a partner for several years, and in 2011, he and Adv. Inon Lax together founded Shenkar-Lax & Co.
Adv. Inon Lax, Founding Partner: Adv. Lax obtained an LL.B. and a B.A., Business Administration from the Interdisciplinary Center Herzliya (2008) and then interned under Adv. Shenkar. In view of his extraordinary legal prowess as a young lawyer, he became a founding partner of Shenkar-Lax & Co. in 2011. Adv. Lax has amassed vast experience in M&As, VC investments and international ventures. He advises on prominent and complex transactions in the Israeli market, including in the finance, traditional industry and hi-tech sectors, among others.
Adv. Kfir Elbaz, Partner: Adv. Elbaz graduated with an LL.B. and a B.A., Business Administration from the Interdisciplinary Center Herzliya (2012). Adv. Elbaz has extensive experience in commercial law in general, and in medical cannabis, M&As and real estate transactions in particular. Adv. Elbaz has worked in the firm since its founding, first as an intern and later an associate, and he became a partner in early 2018.
Adv. Inbal Banai, Partner: Adv. Banai has an LL.B. from University of Tel Aviv (2005). Adv. Banai has extensive international experience in general and in venture capital funds on investments made in startup in and outside Israel in particular. Adv. Banai has Joined the firm in 2016 and she became a partner in 2021.
Main Practice Areas
Mergers and Acquisitions: The firm represents, on an ongoing basis, several renowned entities which are extremely active in the M&A sphere. This representation generates a constant and significant flow of transactions for the firm, through which it has gained a reputation as a leading and professional firm in these practice areas. The partners in Shenkar-Lax & Co. have extensive experience in managing and executing diverse and complex transactions, while demonstrating out-of-the-box thinking, overcoming negotiation hurdles and achieving impressive closure rates for the transactions that they facilitate.
Hi-Tech and VC Investments: The firm has accrued vast experience through handling many dozens of investment transactions in the hi-tech sector (venture capital) and providing ongoing support for multiple hi-tech companies. The firm represents several VC funds which are extremely active in Israel, mainly in transactions for investment in early-stage startups. The firm also advises several startups and handles various aspects of their operations.
Medical Cannabis: The firm is considered to be one of Israel's pioneer and leading firms in the medical cannabis sector and it represents, inter alia, Tikun Olam, which was Israel's first medical cannabis company. The firm has been working with Tikun Olam since 2013, and has actively participated in establishing joint ventures in several countries around the world where medical cannabis operations have been authorized (including the establishment of Tikun Olam's operations in the U.S., Australia and Canada, and supporting Tikun Olam in the IPO of the Canadian company MedReleaf, which was founded by Tikun Olam among others, and the merger of the former with the Canadian cannabis giant Aurora). The firm provides clients with comprehensive legal services regarding all aspects of medical cannabis both in the local and international markets, and advises on a variety of medical cannabis transactions and regulatory aspects in Israel, the U.S., Greece and other countries around the globe.
Real Estate: The firm represents buyers and sellers (including developers and contractors) in complex real estate transactions that include enterprise, betterment and development, urban renewal and financing. Over the years, the firm has made a name for itself as one that can devise creative solutions which simplify a transaction and enable its swift execution, without compromising on the principles and limits dictated by the client and while fully protecting the client's interests.
International Transactions: The firm provides comprehensive counsel and legal support for a variety of international transactions (invest-ments, JVs and M&As) and collaborates when necessary with local firms around the world. In addition, the firm represents foreign companies seeking to establish operations in Israel, such as the delivery company Wolt which has been advised by the firm since entering the Israeli market. The firm also provides legal services to several European embassies in Tel Aviv.