Adv. Shiri Malca
Owner of the Firm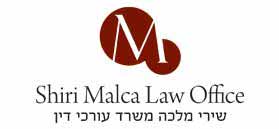 Shiri Malca Law Office
Leading law firm that handles family law as well as private and family equity management
| | |
| --- | --- |
| Year of Birth: | 1974 |
| Email: | [email protected] |
| Fields: | Family Law, Inheritance Law, Family Bussiness, Family Wealth Management, Real Estate. |
| Position: | Owner of the Firm |
| Past positions: | Senior Adv. at Yossef Mendelson Law Firm. |
| Education: | LL.B. Law, Tel Aviv University. |
| Member in: | Israel Bar Association |
| Community Activity: | Voluntary work at Bar Ilan University's (Rackman Center for the Advancement of Women's Status). The firm conducts number of open pro-bono cases on an ongoing basis; Weekly office volunteer, Elazraki Children's Home boarding school. |
Activities for the Community: What is the most significant action that you have recently led?
The firm has recently begun working in the prestigious area of transferring assets between generations, which combines work with family companies including special challenges such as managing family wealth, wills, estates, trusts, and integrating the younger generation into thecompany.
What are the firm's most significant strengths in your eyes?
Our firm puts a broad emphasis on the right strategic management to prevent disputes ahead of time in all spheres of activities: both in the department handling family disputes (between couples, siblings, parents and their children) and in the department handling family businesses. Of course due to our gained knowledge and experience within the field, we have a significant advantage in conducting legal proceedings especially in cases following prior occurrences.
What are the main measures carried out recently that will lead to the strengthening of the firm in the upcoming years?
Expanding our range of solutions for clients while entering new areas of activity, enlarging the firm's staff and foster leading lawyers. This will surely lead to the strengthening and expansion of our firm in the upcoming years.
What are the firm's main challenges in the coming years?
We want to assist the largest number of clients in the department dealing with preventing, managing and settling family disputes (couples-divorce, siblings-inheritance, parents-children-custodianship). At the same time we want to expand the range of services and the circle of clients at any time by consolidating the department dealing with family companies and managing family wealth.
What advice would you offer a lawyer who is just starting out?
Relations between the lawyer and his clients are based on professional trust, personal trust, integrity and maturity. These are the foundation stone of every successful lawyer. In order to create effective and long-term work relations, one must behave with mutual respect, commitment, humanity, and professionalism. Good lawyers build relations with the client that encompass background financial aspects. It is also important to respect colleagues and cooperate with them rather than seeing them as rivals.