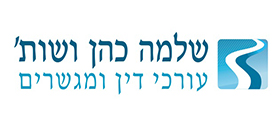 Shlomo Cohen & Co. Attorneys and Mediators
Law and Mediation Office

Company's Profile
Established:
2002
Line of Business:
Law and Mediation Office
Address:
Bar Yehuda Road 50, G.r.a.s House
P.O. 444, Nesher 3683300
Phone:
972-4-8218060
Fax:
972-4-8218070

Company Executives
Adv. & Notary Omer Cohen

Managing Partner, Head of the Cooperative Societies & Litigation Department

Shlomo Cohen & Co. Attorneys and Mediators

View Profile

Omer Cohen

Adv. & Mediator Shlomo Cohen

Founding Partner, Head of Mediations Department

Shlomo Cohen & Co. Attorneys and Mediators

Adv. Michal Yanai

Partner, Head of Commercial Law Department

Shlomo Cohen & Co. Attorneys and Mediators

Adv. Peleg Rachman

Partner, Head of Real Estate, Planning and Zoning, and Energy Projects Department

Shlomo Cohen & Co. Attorneys and Mediators

Adv. Rotem Lichtenstein

Partner, Head of Projects, Integration and Apartment Assigning Department

Shlomo Cohen & Co. Attorneys and Mediators

View Profile

Rotem Lichtenstein

Adv. Assaf Elbaz

Partner, (Co) Head of Real Estate, Planning and Zoning, and Energy Projects Department

Shlomo Cohen & Co. Attorneys and Mediators

Adv. Yoav Shimshi

Partner, Cooperative Societies and Litigation Department

Shlomo Cohen & Co. Attorneys and Mediators

Adv. & Mediator Adi Solomon - Weiss

Partner, Head of Family Law Department

Shlomo Cohen & Co. Attorneys and Mediators

Adv. Keren Waidberg

Partner, Head of Labor Law Department

Shlomo Cohen & Co. Attorneys and Mediators

About Shlomo Cohen & Co. Attorneys and Mediators
Shlomo Cohen & Co. Attorneys and Mediators is the prominent and largest law firm in Israel dealing with kibbutzim and has the first and most experienced mediation department in the country. Our firm accompanies over 150 kibbutzim, moshavim, community associations, and local committees across the country and is ranked by Dun & Bradstreet and BDI as a leading law firm in many areas of law, including cooperatives, mediations, real estate, infrastructure, projects and labor law. The office has four branches in Ramat Gan, Haifa, Tzemach and Nir Am.
Areas of activity
Cooperative Associations- the department offers unique, long-standing expertise in cooperative associations Materia. This includes advising associations; drafting regulations and contracts; providing opinions; assisting in decision-making; accompanying and implementing changes including extensive legal and strategic processes in the agricultural sector; representing association's disputes in courts, including arbitrations. The department has extensive experience in dealing with non-profit organizations, their establishment; installation of their regulations; in-depth reviews; obtaining a permit under section 46 of the Income Tax Ordinance; ongoing guidance in accordance with Non-Profit Organizations Law and proper management rules of the Registrar of Non-Profit Organizations; representing in courts kibbutzim and the kibbutz movement in court. Commercial Law- the department stands out for its rich experience in civil-commercial legal assistance in agriculture, environmental issues, water matters, Israel Land Authority, dairy industry, antitrust, etc. The department accompanies various commercial associations from the establishment stage, through their day-to-day management, mergers, commercial collaborations, and, when necessary, their liquidation. The department members draft founders' agreements and bylaws; represent in negotiations; prepare agreements; accompany complex commercial transactions; provide opinions; draft documents and protocols; reorganization of corporations in kibbutzim; advise in insolvency.
Real estate, planning and construction, energy projects- the department has multidisciplinary approach in kibbutz, settlements, and agriculture. The department leads complex processes, accompanies real estate transactions, and provides legal and strategic solutions to complex issues involving commercial, real estate, planning, and environmental areas. In addition, the department deals with municipal matters; planning and construction consulting; representing and negotiating with Israel Land Authority; accompanying complex transactions and in real estate and adapting outlines to Israel Land Authority's laws and decisions; Urban Renewal agreements; lease agreements and authorization agreements; expropriations; infrastructure agreements, contractors and planners; representation before authorities and courts; accompaniment of local outline plans; consulting and promoting projects of infrastructure and energy, including alternative energies, turbines, and solar energy.
Labor Law- the country's leading labor law department in representing cooperative associations, particularly kibbutzim. The department accompanies kibbutzim, commercial corporations and private clients, including in industries subject to collective agreements and extension orders and provides continuous consulting to its clients in all phases of recruitment and employment as well as at the conclusion of it. This includes drafting employment and contracting agreements; accompanying workers' organizations; preparing work procedures and guiding managers and employees; accompanying disciplinary events and the prevention of sexual harassment; providing opinions in various matters concerning to Labor law; accompanying termination of employment and transfer of employees during a change of employer. The department represents its clients in investigations by the Ministry of Labor and the Ministry of Finance, and in lawsuits in labor courts, including precedent cases heard in the National Labor Court and the Supreme Court regarding labor relations in the kibbutz. Mediation- the mediation department is first of its kind in Israel. It has an unprecedented level of experience and success rates, and is headed by Adv. Shlomo Cohen, mediator since 1995. Our department specializes in resolving complex and multifaceted disputes in civil-commercial field, including corporate law and insolvency; conflicts between partners and shareholders; hi-tech; contracts; real estate, intellectual property; class actions; banking, tort and insurance; administrative law; labor and family law. Mediation cases are referred to the department from all courts, including the Supreme Court and labor courts, as well as from leading law firms and clients, some of them even before legal proceedings have begun. Our department has mediated between prominent economic, construction, insurance, hi-tech companies, state authorities, banks businesses, private enterprises, law firms and private individuals.
Projects, Incorporation, and Assignment of apartments- a unique department that deals with accompanying extensions, assigning apartments, and incorporating in many dozens of kibbutzim around the country, guiding them through the process from feasibility to implementation. The department handles regulation of all relevant aspects, including participation in decision-making; registration of rights in accordance with decisions of Israel Land Council; accompanying construction processes such as arranging construction of thousands of housing units and placing families; overseeing the process of assigning apartments; obtaining financing and contacting banks; coordinating talks with authorities such as Israel Land Authority, regional councils and more.
Litigation- the department has proven expertise in handling cases in all tribunals, including the Supreme Court, appeals committees, arbitrations, and mediations, setting precedents, particularly for the Kibbutz movement. The department has extensive experience in civil, administrative, and public law, with an emphasis on cooperative associations; real estate; insolvency; planning and construction, and commercial law. By providing early legal assistance, the department reduces exposure in proceedings to the minimum possible, taking into account the client's interests and needs.
Family Law - Our department has many years of experience providing ongoing legal consultation, representing clients in family courts, and conducting mediation in divorce negotiations that lead couples to a safe haven and a successful outcome. Department members possess special expertise in divorce matters; guardianship; inheritance, wills and more. The members of the department deal with the consequences of family changes on kibbutzim members, including enforcing apartment assignments, drafting financial agreements, wills, etc.

Facebook Updates

Company Rankings