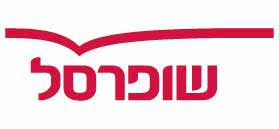 Shufersal Ltd.
Retail Marketing Chains for Food & Consumer Goods; Income-Producing Real Estate Activities

Company's Profile
| | |
| --- | --- |
| Established: | 1958 |
| Line of Business: | Retail Marketing Chains for Food & Consumer Goods; Income-Producing Real Estate Activities |
| Address: | 30 Shmotkin St., Rishon LeZion 7536333 |
| Phone: | 1-800-56-56-56 |
| Fax: | 972-3-9505817 |

Company Executives
Ofer Bloch

CEO

Shufersal Ltd.

Nir Matosvitz

VP Commerce and Marketing & Deputy CEO

Shufersal Ltd.
Leading Executives
Itzik Abercohen Chairman of the Board
Talya Huber CFO
Eran Sela Executive VP, operation & Retail
Iftach Bloch Executive VP, Supply Chain
Zvika Fishheimer Executive VP, HR & Strategy
Adv. Aran Meiri Executive VP and Legal Counsel
Zvi Baida Executive VP, Customers & Service
Sharon Gambasho Executive VP, R&D and Real Estate Assets

About Shufersal Ltd.
Shufersal is the largest retail group in Israel. The group continues to develop and is preparing to double its online activity with the construction of innovative automation collection and delivery centers. Through its Pharm Be chain, activities in finance, business, real estate, and the Shufersal travel tourist site, the group focuses on customer experience and expands to other fields. The group has about 395 branches in an area of about 540,000 sq.m., of which 305 are Shufersal branches and 90 BE branches, as well as online delivery centers in an area of thousands of square meters in which it employs about 16.7 thousand employees. In addition, Shufersal leads the online retail in Israel and in particular in the field of food through the Shufersal Online shopping website and app. Over the years, Shufersal has established its position as a leading consumer products supplier in Israel, thanks to a vision and strategy that seek to bring benefit and value to its various audiences in a convenient, accurate, and customized shopping experience. The group operates in 3 main operating segments: retail, real estate, and pharma.
Food Retail
Shufersal operates several retail formats and sub-chains:
Shufersal Deal - a discount chain that advocates cheap prices all year round;
My Shufersal - municipal and neighborhood branches;
Shufersal Express - a chain of urban convenience stores;
Cash and Carry - for customers from the business and institutional sector;
Yesh Hesed - a chain designed for large families and religious consumers;
Green - a chain of organic stores.
Shufersal Online - the shopping site and app serve hundreds of thousands of customers a month, and make the platform a leader in Israel in the sale of food products with an easy and available shopping experience and at discounted prices. Shufersal is establishing two new automatic pick-up and delivery centers in Modi'in and Kadima to handle the growing number of online customers. The unique and advanced technology will allow automatic collection of the products in the ordering process and thus improve the quality of service, increase the range of products and improve their availability and quality. One of the world's leading manufacturers of storage and collection technology, KNAPP, is responsible for the shipping centers.
Private Label
About 5,900 products are available under Shufersal's private label, which are characterized as quality products at attractive prices. These products are carefully chosen by experts, and undergo stringent quality controls. Under the Shufersal brand, you can find products under all categories including grocery, meat, frozen products, vegetables and fruits, beverages, pharma, baby products, and household appliances. Shufersal's private label continues to grow and accounts for about 25% of the chain's sales. This has made the Shufersal brand one of the five largest food suppliers in Israel and one of the group's significant growth engines.
Shufersal SUPREME Customer Club
Shufersal's customer club is the leading and largest in Israel and numbers about two million families. The new program launched this year, Shufersal SUPREME, offers a significant improvement in terms and benefits along-side an easy and fast connection with PayBox digital wallet. Along with the new accrual program, the SUPREME Club offers a variety of benefits to its customers including discount coupons according to the customer's shopping habits, promotions, and discounts for club members, club events, etc. These benefits have the potential of monthly savings for a family in the areas of food, pharma, home, and leisure.
Real Estate
The purpose of the activity is to develop and improve real estate assets, thus providing the company and its shareholders with value and enabling management to focus on real estate as a separate activity. Shufersal Real Estate manages income-producing real estate, including the chain's branches in the center region, as well as the commercial areas designated for rent, and various other income-producing real estate properties. Shufersal Real Estate contributes to strengthening Shufersal's profitability, value, and financial strength.
Shufersal Finances
Shufersal in cooperation with CAL gives Shufersal credit card customers greater benefits than before, along with improved value for the group. Shufersal and Discount signed the first strategic cooperation agreement of its kind in banking in January 2021, establishing a new financial venture. The joint venture operates on the PayBox platform and offers an advanced PayBox digital wallet. PayBox became an independent company owned by Discount and Shufersal. The independence of the venture and the unique ownership structure allows Shufersal the incentive to compete with all banks (including Discount), with full focus on customer needs, innovation, and maximum objectivity.
Pharma
The BE chain offers an innovative shopping experience tailored to the current needs of the Israeli customer, while maintaining fairness in its relations with customers and affordable prices. The chain has 90 branches, six in-store complexes in the Shufersal Deal branches, and 11 pharmacies branded and managed by BE in the Shufersal branches. Within 5 years, the chain plans to reach about 130 branches, along with about 25 complexes in the Shufersal Deal branches.
Client Experience Development
Shufersal, as a leading group, is constantly striving to improve its service and customer contact, understanding that its strengths and success are largely dependent on its customers' satisfaction and loyalty. Shufersal has made the service a point of differentiation and invests heavily in improving the customer experience through an array of activities and channels to keep customers coming back.
Technological Innovation
Shufersal was the first retailer in Israel to introduce independent cash registers, and it is expanding its deployment in branches to make it easier for customers. Besides the establishment of innovative automatic delivery centers, the chain also launched several advanced pilots in its branches, including the use of a smart shopping cart from Israeli startup Shopic, which detects any goods entering and leaving the cart via cameras without scanning them. Furthermore, the app allows shoppers to be guided during the purchase process, receive product recommendations based on their buying habits, navigate the store based on the shopping list, and even bypass the checkout line at the end of the purchase. At the same time, the chain began a pilot to manage and track inventory in branches in real time, using a robot that scans the shelves.
Nutrition and Healthy Lifestyle
The global health trend of recent years and the need for a healthier lifestyle are in line with the values of Shufersal Green, which continues to grow and expand. Following the success and popularity of Green complexes in the chain's branches, new organic products were launched this year, including vegan products, products without added sugar, and products without lactose and gluten.

Photo Gallery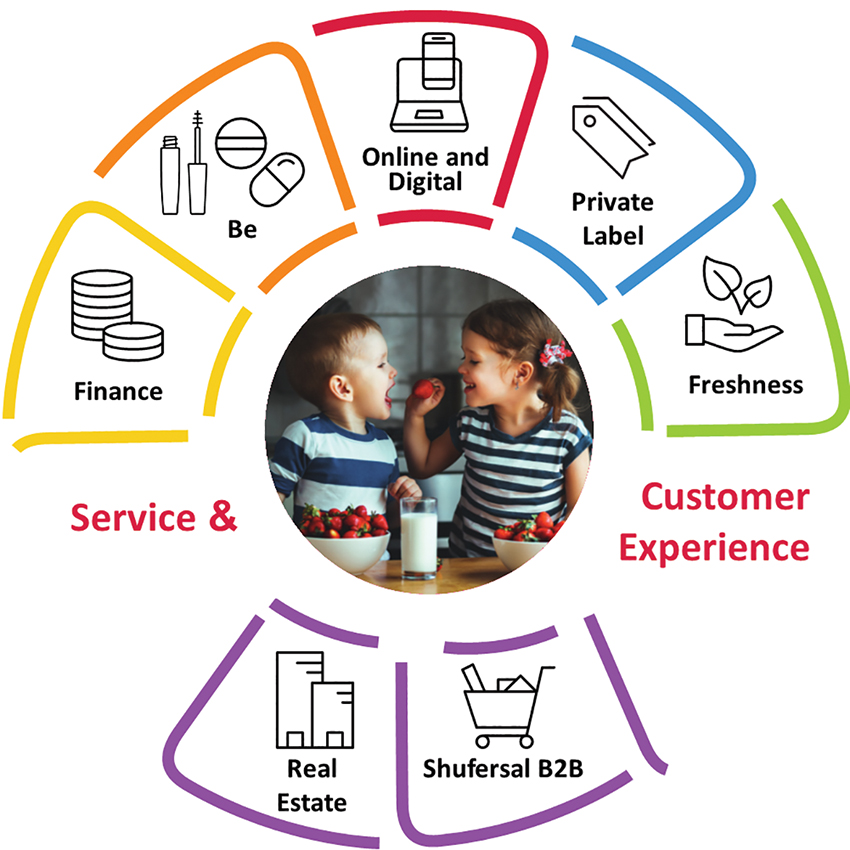 Company Rankings