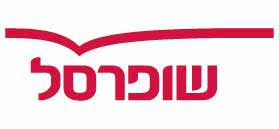 Shufersal Ltd.
Retail Marketing Chains for Food & Consumer Goods; Income-Producing Real Estate Activities

Company's Profile
| | |
| --- | --- |
| Established: | 1958 |
| Line of Business: | Retail Marketing Chains for Food & Consumer Goods; Income-Producing Real Estate Activities |
| Address: | 30 Shmotkin St., Rishon LeZion 7536333 |
| Phone: | 1-800-56-56-56 |
| Fax: | 972-3-9505817 |

Company Executives
Yitzchack Abercohen

CEO

Shufersal Ltd.

Vadmani Yaki

Chairman of the Board

Shufersal Ltd.
Leading Executives
Talya Huber CFO
Nir Matosvitz Deputy CEO and Commerce & Marketing Division Manager
David Laron Deputy CEO and Operations & Supply Chain Division Manager
Zvika Fishheimer Executive VP, HR & IT
Adv. Aran Meiri Executive VP and Legal Counsel
Zvi Baida Executive VP, Customers & Service
Sharon Gambasho Executive VP, R&D and Real Estate Assets

About Shufersal Ltd.
Shufersal Group is Israel's largest leading retail chain. The Group continues to grow and prepares to double its online activity by constructing novel automatic collection and shipping centers. Its private label became one of Israel's five largest food suppliers. Shufersal focuses on client experience and expands into other markets through its Be drugstore chain, Travel tourism website and financial operations. Shufersal has 380 branches, covering 547,000 sqm., including 300 Shufersal branches and 85 Be branches, four online shipping centers covering an area of 12,000 sqm., where 17,000 workers are employed, online shopping website and app. Shufersal has solidified its status as Israel's leading consumables supplier thanks to its vision and strategy, seeking to be useful and valuable to its audiences via comfortable customized shopping experience nationwide, inside and outside of city centers. Shufersal is active in 4 sectors: food retail, real estate, credit card membership and pharma.
Updated Financial Data
The Group generates more than ILS 13 billion in annual incomes and is listed on TASE's Tel Aviv 35 and Tel-Aviv.
Food Retail
Shufersal operates numerous retail formats: Shufersal Deal - discount chain with affordable prices year-round, covering large areas and featuring a wide selection of products; Shufersal Sheli - urban and neighborhood-based ranches; Shufersal Express - chain of urban convenience stores; Cash and Carry - for business and institutional clients; Yesh Hessed - designated chain for large families and religious communities; green/organic store chain.
Shufersal Online - the Shufersal Online shopping app and website cater to hundreds of thousands of clients per month, contributing to its status as Israel's leading food product platform, offering a comfortable and available buying experience at discounted prices. To handle the surge in online clients, Shufersal develops two new automatic collection and shipping centers in Modi'in and Kadima to meet the demand. Projected to handle +120,000 orders/week by 2023, their unique and advanced technology enables complete automatic product order collection.
Private Label
Shufersal's private label offers 5,500 offerings quality products in all categories and at attractive prices, including consumables, meat products, frozen and refrigerated products, vegetables, fruit, beverages and pharma, baby products and household care. These are carefully selected by experts and undergo strict quality control. The label continues to grow and now accounts for 25% of sales and one of the chain's significant growth drives, turning Shufersal into one of Israel's five largest food suppliers.
Membership Club
Shufersal refines its membership club and provides members with real benefits based on their personal consumption habits. Club members accumulate points on purchases and benefit from personalized and focused promotions, discount coupon mailing and special events held at branches. It is one of Israel's largest club with +2 million members and 500,000 card holders (jointly with Cal), eligible for special offerings and personalized benefits.
Real Estate
An operation that began with the purpose of developing and bettering real estate properties, thereby adding value to the company and its shareholders and allowing for real estate management as a separate focus. Shufersal Real Estate operates income-generating real estate areas in the center, wherein the chain branches are located, surrounded by commercial areas designated for rental and various income-generating real estate properties. Its real estate investment value is approx. ILS 2.4 billion.
Shufersal Travel
Launched in 2019 jointly with Gulliver Travel to generate added value to clients and allow them to purchase flights, vacations and holiday bundles at affordable prices, Shufersal Travel is an online operation with a unique offering to its clients: affordable prices and cashback - a refund at Shufersal for Shufersal Travel buyers.
Credit Card Club
Shufersal replaced its Cal credit card operator and recruited 620,000 clients. The new card gives substantial benefits to clients alongside improved value to Shufersal.
Pharma
BE - Shufersal's drugstore chain offers a buying experience and concept unlike any other. It offers the best affordable prices for cosmetics and care products of trending local and global brands, including exclusive brands, e.g., The BALM, Morgan's, Chill Pretty, etc. The unique experience is expressed by both the offering and selection, beauty treatments offered at ranches and by advanced tech solutions, including How To make-up and care videos, smart mirrors, tips and self-service registers. Be already has 82 branches and is projected to reach 100 branches within three years. Shufersal promotes Be in all of its digital assets.
Client Experience Development
The chain's perennial strategy is centered on developing client experience via product, technological and logistical innovation; supply chain upgrading; and revolutionizing customer service by emphasizing online service and branches. Its main challenge is to continue and serve its clients anywhere, comfortably and rapidly, while leveraging its database and constantly developing client experience. Another challenge is expanding its pharma and non-food operations (all non-food products and consumables), projected to significantly grow with incoming international chains. Shufersal was the first to utilize self-service registers and is expanding their branch use to make it easier for customers. This year, it began a Tel Aviv no-register branch pilot, wiring it with smart cameras that allow clients to take products off shelves and walk out without using a register. Identification and billing are done automatically in-app. It also began a real-time branch inventory management and tracking pilot using a shelf-scanning robot.
Nutrition and Healthy Lifestyle
The global health trend, which recently imploded in scale, and the need for a more balanced life, coalesce with Shufersal green's values which continues to grow and expand in the chain branches. In light of the success and popularity of the green areas, a selection of new organic, sugar free, lactose free and gluten free products were launched this year.

Photo Gallery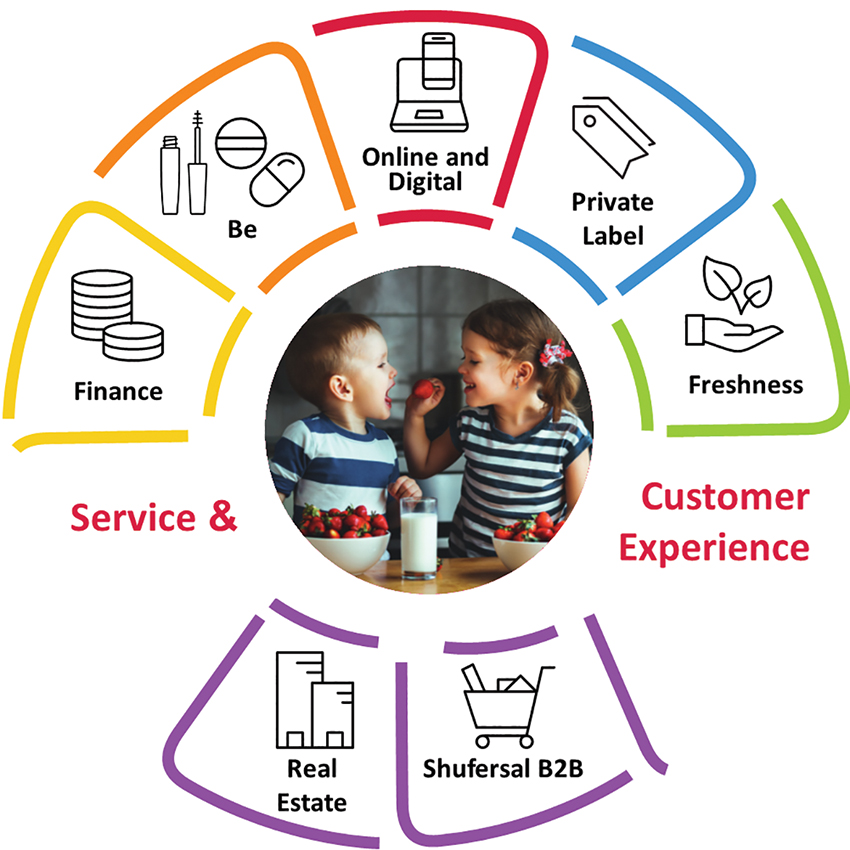 Company Rankings