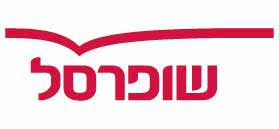 Shufersal Ltd.
Retail Marketing Chains for Food & Consumer Goods; Income-Producing Real Estate Activities

Company's Profile
| | |
| --- | --- |
| Established: | 1958 |
| Line of Business: | Retail Marketing Chains for Food & Consumer Goods; Income-Producing Real Estate Activities |
| Address: | 30 Shmotkin St., Rishon LeZion 7536333 |
| Phone: | 1-800-56-56-56 |
| Fax: | 972-3-9505817 |

Company Executives
Mauricio Wior

Chairman of the Board

Shufersal Ltd.

Yitzchack Abercohen

CEO

Shufersal Ltd.

Aran Meiri

Legal Counsel

Shufersal Ltd.
Leading Executives
Talya Huber CFO
Uri Kilstein V.P. Trade & Marketing
David Laron V.P., Operations & Supply Chain
Zvika Fishheimer V.P. HR & IT
Aran Meiri General Counsel
Zvi Baida VP Customers & Service
Sharon Gambasho V.P. Properties and Development Director

About Shufersal Ltd.
Shufersal Group is Israel's largest and leading retail chain. The Group has 358 stores throughout Israel covering 533K sq.m, of which 285 are Shufersal-stores and 73 are BE-stores, and 4 online shipping facilities covering 12K sq.m., with about 15K employees. In addition, the company operates a shopping website and an advanced shopping app.
Throughout the years, Shufersal established its image as a leading consumer products supplier, owing to a vision and strategy that aim to benefit and provide value for its various customer segments with a convenient, accurate and customized shopping experience, with a broad national footprint, both in city-centers and outside of them. The company operates in four segments: food retail, real estate, credit card clubs management and BE (Pharma).
Shufersal – Current Financial Data
In 2018, Shufersal's revenues amounted to NIS 12.8B. Its shares are traded on the Tel Aviv35 index.
Food Retail
Shufersal operates two nationwide groups of stores:
The Discount Stores Group
Shufersal Deal - A countrywide discount-chain located mainly outside the cities centers, offering a wide product range. 110 stores.
"Yesh" Store Formats - Aims at customers who require relatively large consumer baskets, and highly-kosher products. The chain includes: "Yesh Hesed" and "Yesh B'shchuna" (28 stores).
Shufersal Online - Israel's largest e-commerce website. Offers its customers precise consumers' baskets, through a comfortable and user-friendly shopping experience at discount prices. Company's sales through this channel amounted to about 13.6% of 2018 sales. The company is set to maintain the quality of service in this channel in light of its fast growth. The company is currently building new online automated shipping facilities.
The Neighborhood Stores Group
Shufersal Sheli - Neighborhood retail stores, providing convenience, service, accessibility, availability, and freshness (81 stores).
Shufersal Express - An urban chain that meets contemporary consumption and convenience standards (59 franchise stores).
Organic Market - Shufersal provides healthy, fresh and organic food, and natural toiletry, washing and baby product. 80 departments within Shufersal stores, and 6 independent stores.
Shufersal's Private Label
Shufersal offers customers ~5,100 private-label high-quality products at attractive prices. These products are carefully selected and undergo the strictest quality control, and are aimed at offering a cheaper alternative at the same quality level of branded products. The brand includes products from all categories: groceries, meats, frozen and chilled products, fruits, vegetables, drinks, toiletry and homecare. Private-label sales accounted for 24% of all retail sales in 2018.
Loyalty Club
Shufersal develops its Loyalty Club and provides its members with real benefits based on familiarity with their personal consumption habits. The Loyalty club members accumulate points in every purchase, receive personalized members-only offers, and benefit from events at the stores. The club acquired around 1.9M members, as of 2018-end. Since Q2-18, the customers benefit also in the BE chain.
The Real Estate Segment
Was established with the aim of developing and redeveloping real estate properties, and thus float value for the company and its shareholders and enable a managerial focus on real estate as a separate segment. Shufersal Real Estate operates yielding properties areas including the chain's stores in central Israel, with commerce areas for rent around them. The company's Investment Property is valued at NIS 2.4B.
The Credit Card Club Management Segment
The company replaced its credit card operator to Cal. The company acquired around 510K customers in 2018 and reached a similar number of cards to the one it had with the previous operator. The new card provides great benefits for cardholders with improved value for the company.
The BE Segment
In Q4-18, Shufersal launched the BE chain, which was acquired at the end of 2017. The chain provides a new, digital and refreshing experience for pharma, beauty and toiletry customers. At the end of the year, be started selling products also through its online channel.
Customers and Service
At the heart of Shufersal's business strategy are its customers, and the company considers itself to be a service provider in all of its operations. Shufersal emphasizes service as one of its differentiating strengths, and it invests heavily in improving its customer experience. Shufersal operates one of the most active Facebook pages in Israel, with more than 470K members.
Innovation
Self-service check-out; Shufersal App; the new Scan-and-Buy.
Logistics Centers
Shufersal operates 4 central distribution centers (spreading ~70% of its merchandise) allowing supervised, focused management of supplies and substantial logistics costs savings. The operation of the logistic centers enables self-distribution, optimized work processes and supply chain as well as improved in-store operations.
Shufersal B2B
Shufersal B2B manages the business segment activities with various companies, public agencies, and associations. The company intends to further develop this segment and increase the exposure through other channels, including expanding direct sales to small businesses (through Shufersal Online and stores), direct sales from logistics centers and the operations in the institutional segment. In early 2018, the company launched its first Cash&Carry store which aims at the business and institutional segments.
Gidron
Gidron makes and supplies pastries and other baked goods for Shufersal and various customers.

Photo Gallery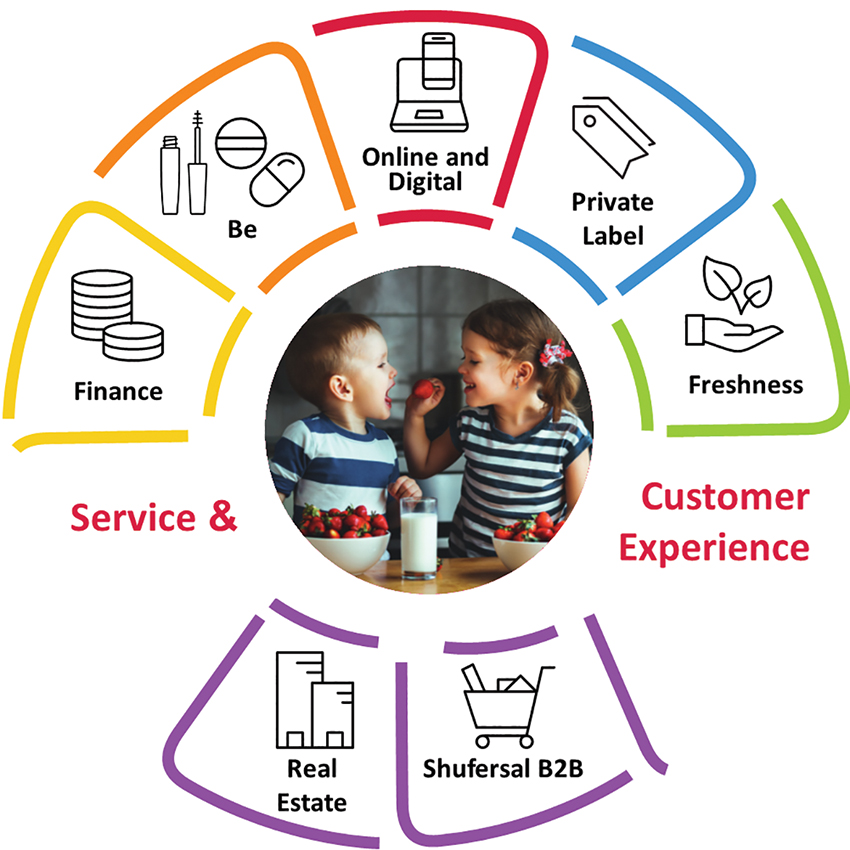 Company Rankings