Synel MLL PayWay Ltd.
Software Integrated Hardware Solutions for Workforce Management in Organizations, Payroll, Time & Attendance, Pension savings Wiring and Clearing, Access Control & Smart Analytics of Physical Security Appliances in the Organization.

Company's Profile
Established:
1991
Line of Business:
Software Integrated Hardware Solutions for Workforce Management in Organizations, Payroll, Time & Attendance, Pension savings Wiring and Clearing, Access Control & Smart Analytics of Physical Security Appliances in the Organization.
Address:
Management, Marketing, R&D:
2 Hamada St., Synel House,
Upper Yokneam 2066719
Tel: 972-4-9596777
Fax: 972-4-9890484
[email protected]
www.synel.com
Israel Sales and Customer Service:
3 Hatidhar St., Millennium House,
Raanana Industrial Zone 4366505
Tel: 972-9-7750428
Fax: 972-9-7447742
[email protected]
www.synel.co.il
Security Systems:
Anteco of Synel Security
6 Moshe Aviv St., Or Yehuda 6037128
Tel: 972-3-7354000
Fax: 972-3-6346366
[email protected]
www.anteco-security.co.il
Phone:
+972-4-9596777
Fax:
+972-4-9890484

Company Executives
Gabi Buganim

CEO

Synel MLL PayWay Ltd.

Erez Buganim

CEO and Chief Marketing and Foreign Markets Officer

Synel MLL PayWay Ltd.

View Profile

Erez Buganim

About Synel MLL PayWay Ltd.
Synel MLL PayWay is one of Israel's leading enterprise IT groups. The company provides a wide range of integrated hardware-software workforce management solutions for organizations (payroll processing, employee time and attendance management, pension wiring and clearing), smart analytics and management of physical security appliances for organizations. The company also provides training as well as professional and technological consulting services regarding labor and salary laws. These services enable employers and executives to handle critical organizational issues efficiently, cost-effectively and profitably.
Synel was established in 1991, when the company's Chief Business Officer, Mr. Gabi Buganim, spearheaded a merger of software companies to create the current company. Under his leadership, the company has grown from a relatively small player in the field of automated attendance and work-time management into a group of diverse technological companies with an international presence, accompanied by a constant expansion in both the scope and the areas of its operations. Synel is currently a leader in several segments in the field of hardware-integrated software solutions for workforce management. Its systems are installed in tens of thousands of organizations around the world, with more than 2 million workers in the Israeli market encountering and using its systems at least twice a day.
In 2000, the company's shares were issued on the TASE. In early 2012, the company's CEO, Adv. Erez Buganim, who is responsible for the marketing and international markets, joined the executive team. Between 2000-2012, before his current position at the Synel Group, Erez Buganim acted as a business and legal consultant for the Synel Group advising on transactions, mergers, and acquisitions the company and its subsidiaries completed in the technology and real estate sectors in Israel and abroad.
Currently, in his position as CEO, Erez Buganim leads the management of the company's business operations in Israel and abroad alongside the company's executive team, strengthening existing operations and organically diversifying into new areas.
Throughout the years, Erez has nurtured the development of the Synel Academy and Synel Pension brands and has also led marketing moves that place Synel at the forefront of high-tech companies.
Synel MLL PayWay has operations in three centers in Israel, along with several around the world. The company's headquarters and management, R&D, business development and marketing, finance and projects are located in Yokne'am. Israeli sales and customer service operate out of Ra'anana and the security appliances management division, Synel Security, are based in Yokne'am and Or-Yehuda. The company operates in 34 countries through its London, England based subsidiary – Synel UK and its Synel Americas subsidiary in Phoenix, Arizona. These subsidiaries provide it with the capability to provide the highest level of customer service in various languages and time zones. Synel has affiliates and business partners which represent it in South America, Asia, Africa and Europe.
Synel MLL PayWay operates as a multinational company under international standards and is ISO9001-certified. The company's hardware products have been granted TUV, UL and CE standard marks. In addition, the company is a technology partner of Oracle and certified as a Microsoft Gold Partner.
On the technological, organizational and regulatory fronts, the company has extensive R&D capabilities and in-depth knowledge, enabling it to develop complex and reliable systems with interfacing with a variety of enterprise software and technologies, with an understanding of complex organizational processes and unique HR requirements. These features enable accurate analysis of customer needs, and an optimal match between the system and their needs.
As a result, Synel won the tender of the Accountant General's Office of Israel's Finance Ministry for the installation of attendance reporting terminals and software in all government ministries and their auxiliary units.
Synel is the only group in Israel in the field of digital and computerized organizational human resources (work time and attendance, payroll processing, pension savings wiring, and clearing, etc.) which is also active outside of Israel. The London and Phoenix, AZ subsidiaries operate a network of distributors. Owing to its experience in global markets in general and the North American market in particular, Synel makes unique capabilities and experience available to the Israeli local market. This experience in the European and American markets enables the group to maintain a four-year lead over its competitors in the local market. Synel's technological implementation and promotion of the employee experience and employee engagement concepts in Israel is based on its U.S. experience.
Areas of operations
Organizational HR Management – Synel provides complete solutions for managing the employee's organizational lifecycle. This ranges from interviews and hiring, through everyday management (access and attendance control, meals, benefits, work arrangements, etc.), training and tenure management, pay-slip generation and management and monthly pension, investments and savings clearing for the employer. The solution is available through the company's flagship software - "Harmony" – a holistic and flexible system with a single database that offers optional modules by the organization's characteristics and changing needs. The system can be cloud-based, customer-servers-based or hybrid, with attention to business survivability, continuity, and data security issues, as well as offering interfaces with a wide variety of systems and technologies.
Physical Security and Safety Management – The company's solutions in this area utilize advanced data aggregation and mining technologies to aggregate and manage the input from control and alarm devices such as access controllers, CCTV, live fences, alarms, and smoke and fire detectors. They enable managers and security officers to identify, prevent and respond in real-time to a variety of events, such as theft, fire, burglary and critical failures while saving lives and preventing internal and external crime through smart event analytics.
Enterprise Visitor Management – the group helps large and sensitive organizations to successfully handle threats in information security. At the same time, the company maintains functioning working relationships with contractors, suppliers, external workers, and other visitors, through smart access and entry management for employees and visitors in diverse interfaces, including biometric identification, facial recognition, smart cards, proximity cards, vehicle recognition, and more.
Pension savings wiring and clearing – in light of Synel's in-depth familiarity with the salary regulation field and the regulatory changes in the field that were implemented in early 2016, it provides employers with pension clearing services for their employees at the end of each month. The system interfaces with all pension, saving and investment entities in Israel and enables to execute data verification, corrections, feedback, etc. The solution is comprehensive, secured and complies with regulation. Synel's complete solution and reputation enabled it to gain a significant market share very quickly in this area.
Synel Academy – the group leverages its accumulated professional knowledge, training department and market presence to provide ongoing training (seminars for payroll controller and accountants) and certification courses for payroll controllers that provide graduates. The institute is recognized and certified by The Institute of CPAs in Israel and the Ministry of Economy.
Employee Experience – EX - a concept that is championed by Synel in the Israeli market. The company's flagship products in this field are the "Synergy Touch" terminal – smart attendance terminal which brings innovation and hi-tech to a high-quality 10'' touchscreen which is based on Synel's attendance app, "Harmony Smart". The other flagship product is the "Synergy X" terminal – powerful with a futuristic and refined touchscreen.
Due to the Purple Mark for Businesses guidelines, resulting from the COVID-19 outbreak, Synel has made new developments to the central terminal, "Synergy A", attaching a thermal camera for taking employee temperature. The development allows employees to state their health condition simultaneously with attendance signing when entering the workplace.
Dorsel – a TASE-traded subsidiary of Synel, serves as the group's real-estate arm and focuses on yield-bearing offices/commercial/logistics properties. Owing to accurate and prudent management, the company benefits from high occupancy rates, high-quality tenants, profitability, and stability. S&P Ma'alot affirmed the company's "-A/Stable" credit rating. The company has 9 yielding properties in various parts of Israel with a total area of approximately 105,000 square meters.
Anteco – is a subsidiary of Synel and part of Synel Security – the organizational physical security management arm of the Group. Anteco imports, markets, and supports low-voltage systems such as CCTV, access controllers, intercoms, public address systems, fire detection, and extinguishment centers, secured turnstiles and revolving gates for organizational entry points. The company's main specialization is in digital recording systems and video management systems as well as in advanced smoke and fire detection systems.
The Group champions ongoing innovation. One in three organizations in Israel now uses Synel MLL PayWay's products and services. Synel's most common and advanced technologies in Israel and abroad include:
Harmony Payroll Accounting – The software provides all organizational levels and decision-makers a varied and comprehensive response using input, reporting, monitoring and real-time management of organizational HR. It is meant for the day-to-day work of enterprise payroll accountants, allowing them to optimally control all the complex parameters entailed in payroll accounting in the legal, practical and financial aspects.
Harmony Human Resources – HR module in Harmony and personal employee files, includes current and past HR's events. The "Process Module" allows for digitization of HR processes and allows everyone to participate in HR management processes according to their permissions and digitally assists organizational processes such as employee onboarding, employee loans, vehicle delivery, etc.
Harmony Attendance – The system collects all attendance reports from various reporting platforms, including data from Harmony Cloud, attendance terminals and app, according to fixed or temporary work agreements. The Attendance module has its own smartphone app – "Harmony Smart" – allowing for attendance reporting anywhere with an accurate map-based location.
Harmony Customer Billing – This module allows Harmony Attendance users to configure and manage customers' billable work hours similar to the manner in which employee hours are managed and analyzed.
Harmony Wage-based Billing – an essential module for manpower and cleaning companies, allowing them to configure a customer billing calculation per each project, including the "load percentage" on the employee's tariff, seniority and others periods for calculation, among additional parameters. Accordingly, journal entries are transferred to the invoicing system for automatic billing.
Harmony Cloud – an extension to Harmony Attendance, the Harmony Cloud employee attendance management software provides details of employee attendance and task completion in a simple and accessible manner, online. The software allows to report from anywhere, using a variety of platforms, with management and control of work and absence hours of the company workforce, both office and field employees. Recently, the facial identification terminal has been connected to Harmony Cloud, allowing for attendance and meal reporting using facial identification only.
Harmony Security – The system allows to restrict, in real time, access to areas customized by work and leave days, according to the calendar. Monitoring is done using entry controllers made by Synel, which support numerous advanced technologies and include biometric identification (face, fingers, etc.) as well as employee badges.
Harmony Projects – is an effective tool that enables command, control and monitoring of projects or budgetary items, including budget management of companies and organizations that are funded with Chief Scientist/Innovation Authority grants.
Harmony Staff Scheduling – allows work managers to do a weekly schedule and receive information about weekly employee hours and overall department hours. Global Equivalents of "Harmony": The Israeli software platform Harmony has several sister platforms in Europe and the U.S.: "Day-Track" for the North and Latin America markets marketed through its Synel Americas subsidiary and "Time Log Web" for the EMEA market through its Synel UK subsidiary. These platforms are multilingual and support Hebrew, French, Spanish, English and many other languages.

Photo Gallery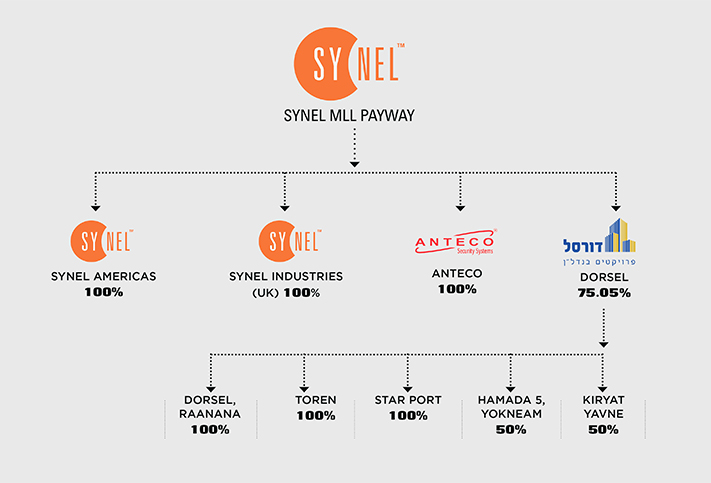 pic 1 | Synel MLL PayWay Ltd.
PR Photo
pic 2 | Synel MLL PayWay Ltd.
PR Photo
pic 3 | Synel MLL PayWay Ltd.
PR Photo

Company Rankings