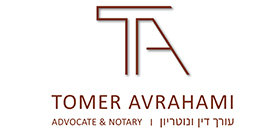 Tomer Avrahami Law Office
Commercial litigation, dispute resolution, business connections, collection and execution, arbitration and mediation.

Company's Profile
| | |
| --- | --- |
| Established: | 2003 |
| Line of Business: | Commercial litigation, dispute resolution, business connections, collection and execution, arbitration and mediation. |
| Address: | 150 Derech Begin Rd,, WE-TLV Tower, Tel Aviv |
| Phone: | 972-73-7895000 |
| Fax: | 972-3-7173716 |

Company Executives
Tomer Avrahami

Founding Partner

Tomer Avrahami Law Office

View Profile

Tomer Avrahami

About Tomer Avrahami Law Office
The artist Friedrich Hundertwasser wrote: "Only he who thinks creatively will survive in this world and in the next." The Tomer Avrahami law and notary office is a unique boutique firm that owns the rights to Hundertwasser's oeuvre and to use the international artist's logo. The artist's spirit, worldviews, beliefs, creations and legacy are a source of inspiration for the attorneys at the firm, who aspire to be distinctive and are determined to make the impossible possible. This spirit is at the essence of the firm's legal undertakings: a desire to bring justice and protect the law through a wide vision that promotes solutions and agreements based on a different type of strategic thinking, with a great deal of attention to people and to details.
Unique combination of financial and legal litigation capabilities and the highest level of debt collection and enforcement capabilities
The firm combines the highest levels of financial and legal litigation with the most professional collection and enforcement expertise. As a result, clients receive comprehensive and thorough service and complicated and unusual cases are successfully handled with excellent results. Thanks to this approach, the firm meets its clients' goals and interests. Following are examples of cases that the firm handled in the past year, some of which are still ongoing:
Paying all debts to creditors – The firm handled debt enforcement proceedings until the declaration of bankruptcy. As part of the bankruptcy proceedings, the firm identified a property in Jerusalem valued at approximately NIS 9 million, which was registered under the name of the debtor's wife (with whom he is in the process of separating). An in-depth investigation revealed two additional secret arbitration proceedings between the debtor and his wife. After corroborating all the evidence, half of the debtor's rights on the property will be transferred to the bankruptcy account, making it possible to pay 100% of his debts – which is very rare in bankruptcy cases.
Obtaining evidence from the Palestinian Authority's Attorney's Office – As part of several complex litigation and bankruptcy cases, the firm conducted a thorough financial investigation on agreed compensation claims, contract infringement and damage totaling NIS 32 million, and succeeded in completing the process very successfully – reducing the amount to only NIS 6 million. In another case for the same client, the firm sued the Israel Police for not abiding by an agreement and not returning to Israel a stolen cement pump worth NIS 1.3 million. During a special investigation, the firm succeeded in obtaining conclusive evidence from the Palestinian Authority's Attorney's Office, which turned the case in favor of the firm's client and resulted in a precedent-setting agreement with the Israel Police.
Family dispute involving more than NIS 100 million – The firm is handling a combined lawsuit involving a complex family dispute that includes claims on shares of a hotel valued at NIS 120 million, claims on a residential complex comprising ten private homes, a series of claims valued at NIS 6 million and arbitration proceedings between the sides regarding real estate claims. The lawsuits were conducted in several different courts of law and the firm joined the case four years ago.
Objection to executing a complicated will – The firm represents a client who seeks to revoke a will involving an inheritance of tens of millions of shekels. The case is unique because there are three different wills that were written and signed in the United States and involve money from banks and cannabis in the U.S. A financial investigation and business analysis must be carried out by an expert accountant. The firm obtained a preliminary testimony from one of the key witnesses via video from the U.S.
Adv. Tomer Avrahami, Founding Partner
Adv. Avrahami has 19 years of experience in the field of commercial-civil law and debt collection. He specializes in commercial litigation and complicated debt collection, and represents large companies in Israel and abroad. Through the years, he has led the litigation proceedings of regular cases as well as complicated cases involving tens of millions of shekels, as well as debt collection and enforcement proceedings, including insolvency cases. He has acted as a special case manager and as the lawyer responsible for dissolving companies with high financial values.
Adv. Avrahami has extensive expertise managing crises from the early stages and through their resolutions, and, as such, he counsels companies' owners and directors. He serves and has served as a director for commercial companies, including Global Exchange Israel Ltd., Zoko Enterprises (18 subsidiaries), H. Plant Extract Ltd. (food additives), etc. In a different field, he initiates and identifies business ideas relevant to the requirements of the market and connects them to investors in the Palestinian Authority.
Adv. Avrahami has a Bachelor's degree in Law and Business Administration with honors from IDC Herzliya and a Master's degree in Business with a specialty in Finance from IDC Herzliya. He is also certified as a notary.
Prominent Fields of Operation
Commercial litigation and conflict resolution – The firm's Litigation Department has extensive experience and represents leading international, Israeli and privately held corporations in the private business sector. The Department handles litigations and complex disputes in all courts of law in Israel and has a unique commercial perspective, using legal tools and building strategies to prevent and/or manage the dispute. The Department is highly experienced in managing negotiations and finding creative solutions by taking initiatives and leading the case with great determination to meet the goals set by the client.
Debt collection and enforcement – The firm's Debt Enforcement Department uses creative thinking, determination and sensitivity to enforce verdicts, open debts, liens, etc. The team has access to the most innovative technologies, including a comprehensive collection system and support staff throughout the country. As a result, the firm's debt collection rate is among the highest and it even handles collections for some of Israel's largest law firms, as well as for companies and private individuals, for both small and large amounts.
Making the Impossible Possible
Since the firm's vision is to make the impossible possible, it mainly handles complicated cases, some of which were unsuccessful in the past and were transferred to Tomer Avrahami. For each case, the team engages in brainstorming, delving into the fine details, conducting legal searches and building a suitable strategy for each particular case. The goal is to be as sharp as possible, and not to be on the side of the responder and defender.
Distinctly Commercial Orientation
The firm upholds a distinctly commercial orientation, and the highly experienced professional staff hones the clients' business considerations in order to guarantee the interests of each client in a rapid manner and in accordance with their personal requirements.

Company Rankings