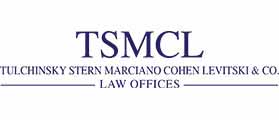 Tulchinsky Stern Marciano Cohen Levitski & Co.
Law Firm

Company's Profile
Established:
1995
Line of Business:
Law Firm
Address:
Tel Aviv:
4 Berkowitz St., 6423806
Tel: 972-3-6075000 Fax: 972-3-6075050
tel@tslaw.co.il
Jerusalem:
38 Keren Hayessod St., 9214915
Tel: 972-2-6511919 Fax: 972-2-6513133
jer@tslaw.co.il

Company Executives
Menachem Tulchinsky

Partner

Tulchinsky Stern Marciano Cohen Levitski & Co.

Doron Stern

Partner

Tulchinsky Stern Marciano Cohen Levitski & Co.

Amir Levitski

Partner

Tulchinsky Stern Marciano Cohen Levitski & Co.

David Cohen

Partner

Tulchinsky Stern Marciano Cohen Levitski & Co.

Isaac Marciano

Partner

Tulchinsky Stern Marciano Cohen Levitski & Co.

Helena Beilin

Partner

Tulchinsky Stern Marciano Cohen Levitski & Co.
Partners
Yossi Ratnovsky
Alon Tabak Aviram
Glenn (Gershon) Shalom-Winter
Uriel Barak
Uri Corb
Assaf Benmelech
Michal Markovitz Blachar
Ofer Dolinsky
Dafna Achiam Tal
Uri Nesher
Amit Hirsch
Galia Suesskind-Spiegel
Elad Mirvis

About Tulchinsky Stern Marciano Cohen Levitski & Co.
Tulchinsky Stern Marciano Cohen Levitski & Co. was founded in 1995 and is one of Israel's leading firms in the field of commercial law.
The firm has over 50 associates and partners, and a team of interns in its Tel Aviv and Jerusalem offices.
The firm's fields of expertise include, corporate and commercial law, M&As, commercial and corporate litigation and dispute resolution, securities, taxation, employment and labor law, real estate, white collar and tender law, providing a full suite of legal services to companies at the forefront of the Israeli and world economy.
The firm has a prominent international orientation, reflected in its representation of international companies providing routine consultancy to its clients in connection with their international business activities and representation of Israeli companies in international markets.
The firm has become particularly well regarded in serving the hi-tech sector, in the representation of venture capital funds and in the pharmaceutical sector in which the firm has acquired unique expertise.
The firm's range of clients includes companies in the pharmaceutical, biotech, medical devices, tech and hi-tech sectors, leading Israeli and foreign VC funds, investment banks, private investors, computer companies, real estate companies and insurance firms.
The firm is consistently rated among the leading Israeli law firms, including Legal 500, Chambers and Partners, IFLR, D&B, World Tax and BDI.
Areas of Expertise
Corporate, Securities, Hi-Tech, M&As, VCs – The firm provides routine commercial consultancy services, including in the fields of securities and corporate law, to leading companies in international deals, and has been involved in a wide range of local and cross-border capital raising and M&A transactions, including some of the largest to occur in Israel. The firm has unique and extensive expertise in representing pharmaceutical, cyber, hi-tech, medical device and biotechnology companies from their establishment through all stages of activity, growth and expansion, including IPOs and M&As.
The firm also has extensive experience in acting for VC funds, from fund formation and ongoing operations to their investments in portfolio companies and provides legal consultancy regarding options and compensation plans for employees.
Commercial Litigation and Dispute Resolution – The firm specializes in crisis situations, disputes and complex litigation, in and outside the court system and in arbitration and mediation proceedings. Alongside the firm's extensive court successes, the litigation team focuses on providing legal counsel aimed at ending disputes before they reach the courts. The litigation team is involved in settling disputes in all aspects of commercial activity.
Employment and Labor Law – The firm provides on-going legal support in various aspects of labor relations, including establishment of organizational workforces, setting policies, procedures and guidelines, support during organizational changes and employee dismissals, comprehensive legal opinions on labor relations, managing procurement of statutory permits and handling dispute resolutions, including litigation in Labor Courts and mediation proceedings.
Real Estate – The firm handles all aspects of a wide range of real estate transactions. The firm supports all legal aspects of construction planning and management of residential neighborhoods, industrial zones, and commercial centers in Israel. The firm has extensive experience in supporting hotel projects and accompanies business and private clients in real estate transactions of boutique properties and complex real estate transactions.
Taxation – The firm advises clients in various aspects of taxation including tax planning, VC fund taxation, international taxation in complex transactions, capital gains taxation and real estate taxation, and representation and negotiations with the Income Tax Authority. The firm also handles large scale civil and criminal tax appeals and has had exceptional achievements in this field.
Information Technology (IT) – The firm has unique knowledge in accompanying information technology projects. In particular, the firm advises leading Israeli banks and financial institutions in the process of replacing and implementing core systems, infrastructures and various innovation projects.
Life Sciences – The firm has extensive experience advising local and multinational pharmaceutical and biotech companies in licensing, development and commercialization of innovative pharmaceutical initiatives and medical devices, all aspects of such transactions as well as the legal implications of emerging regulation in this dynamic field. We also represent clients active in the medical cannabis field.
Biotechnology – The firm has extensive experience in the field of intellectual property and biotechnology – from the initial research phase, through commercial agreements and licensing to cooperation agreements.
Administrative Law, Tenders, Associations – The firm provides legal advice and support in client day-to-day operations, counsel in the field of tenders and representation in the Administrative Courts and the High Court of Justice. The firm represents and advises organizations and associations in the fields of formal and informal education, culture, promotion of various public purposes, etc.
Protection of Privacy and Information – The firm advises clients in the assimilation process of regulatory requirements, such as the Israeli privacy and data protection regulations and GDPR and helps to map and close gaps in order to reach full compliance.
Environment – The firm advises Israeli and multinational companies in the field of environmental law, including governmental regulation, crisis management and representation in administrative, civil and criminal procedures.
Criminal Law & White Collar – The firm focuses on white collar and tax cases and derivative actions in the criminal field, representing prominent businesspersons, private and public companies and senior officers. The department has special expertise in handling criminal proceedings involving international aspects, i.e. bribery as defined in international conventions, money laundering, asset forfeiture etc.

Facebook Updates

Company Rankings