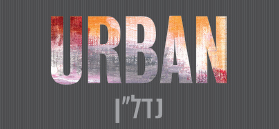 Urban Real Estate Ltd.
Urban Renewal, Project Development, Purchasing Groups

Company's Profile
| | |
| --- | --- |
| Established: | 2007 |
| Line of Business: | Urban Renewal, Project Development, Purchasing Groups |
| Address: | Gibor Sport House, 7 Menachem Begin St., Ramat Gan |
| Phone: | 972-3-5255553 |
| Fax: | 972-3-5323177 |

Company Executives
Yair Segal

Owner, Co-CEO

Urban Real Estate Ltd.

David Zehavi

Owner, Co-CEO

Urban Real Estate Ltd.

About Urban Real Estate Ltd.
Urban Real Estate Ltd. is active in urban renewal, initiation of residential and offices construction projects and organizing purchasing groups, and its owners have more than 20 years of extensive experience in the real estate field. For example, it was the first company to deliver plan 38 apartments in the city of Ramat Gan.
The company is owned by Yair Segal and David Zehavi and is considered to be a leading Israeli company, in terms of its projects' volumes, in urban renewal through all types of plan 38 programs. The company has about 70 projects in 12 popular cities (such as Tel Aviv, Ramat Gan, Givatayim, Kfar Saba, Ra'anana, Herzliya, Ramat HaSharon and Bat Yam), whereas some of these projects are already populated or in advanced construction stages.
Urban works as a one-stop-shop. "We provide our customers with the best and most experienced professionals in their respective fields, who are available in-house for ongoing counseling, including architects, designers, engineers, economic advisors and more. Through this unique method, the residents receive a fast and professional response for any question and requests. In addition, the integration between the experts guarantees optimal communication between all of the functions and at the execution level, a uniform planning and design language".
"Communication with the residents is the key for the project's success", says David Zehavi, Co-CEO of Urban Real Estate Ltd. "We manage our communication with the residents throughout the entire process. Urban Real Estate has developed, adopted and been implementing the concept "All the way to your home, and much beyond". This concept has been accompanying it since its establishment and guarantees the customers with close personal support and comprehensive solutions throughout the entire contracting period, from signing the contract, through the construction, and not less important – also after the keys to the apartment were delivered. We have a residents retention department which includes close and personal communication, residents evening gatherings, meetings and more. We know that when residents who participate in complex and lengthy plan 38 projects receive updates on what is about to happen – they react differently, and the support and envelope that we provide to our residents help us all persist through the projects in the best manner. This personal support is based on our philosophy that we are responsible for our customers' living experience – the most important determinant of their quality of life".
When choosing a development company, what must one verify?
"It is very important to do your homework. The residents committee and legal representative must collect information on companies with proven project execution knowledge and experience. It is recommended to narrow the list down to a few companies, with which the committee would meet in order to negotiate the terms of the project execution, the conditions of the apartment owners and more. The market is saturated with companies from this field, and each company must be reviewed by its experience, tenure, recommendations from satisfied residents, and it is also recommended to go and inspect completed projects. On a practical level, it is recommended to review what the initiation company is offering in accordance with the type of each project, Reinforcement 38/1 (plan 38) or Development 38/2 (plan 38). For example, in Reinforcement 38/1 projects one should review whether the company renews the building's facades including new tiling in accordance with the authorities' decision (stone, silicate or any other tiles), seismically retrofits the structure through a plan 38 program for compliance with the Standards, renews and expands the building's lobby, covers and renews the stairway and floor lobbies, replaces and upgrades the plumbing and electricity systems from the public spaces until the entry points to the apartments, replaces the windows and shutters, upgrades the building's safety room, installs a new elevator, adds safety rooms and balconies in accordance with the authorities decision and all in the highest standard etc."
Beyond numerous populated projects and a professional team at the residents' disposal, Urban Ltd. also responds to unique needs in the local architectural market. "For example, we are one of the few companies that perform seismic retrofitting also in 6-7-story buildings, which is a segment that receives less attention in plan 38".
Zehavi also mentions that recently, numerous projects are directed towards large demolition and reconstruction complexes, and he believes that this is where the industry's future lies.
"Most of Urban's projects are in Tel Aviv, where we focus on planning and executing large complexes, such as the Bavli Complex, where 300 apartments would be built.
There is something very appropriate in the construction of large complexes, since this enables us to create a rich environmental development. As the initiating company, we also handle the public infrastructures in the framework of demolition and reconstruction, and we provide the authorities and the residents with a complete environmental solution, from planning kindergartens to public gardens. A pleasant living environment that creates a high-quality living experience".

Projects
Sky Tower, HaMasger St., Tel Aviv

43-45 Yehoshua Bin Nun St., Tel Aviv

24-26 Yehuda HaNasi St., Tel Aviv