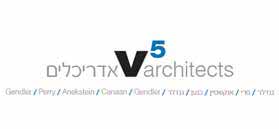 V5 Architects
Architectural design, urban design and interior design of a range of projects including residential, commercial and office complexes, and public buildings such as: sports, cultural, leisure and entertainment facilities, schools, kindergartens, institutes of higher education, etc

Company's Profile
Established:
2009
Line of Business:
Architectural design, urban design and interior design of a range of projects including residential, commercial and office complexes, and public buildings such as: sports, cultural, leisure and entertainment facilities, schools, kindergartens, institutes of higher education, etc
Address:
4th Floor, Beit Moldovsky,
1 Korazin St., Givatayim
Phone:
972-3-7237300
Fax:
972-3-6188325

Company Executives
Shlomo Gendler

Partner

V5 Architects

Guy Canaan

Partner

V5 Architects

Meidad Gendler

Architect, Partner.

V5 Architects

View Profile

Meidad Gendler

Benny Anekstein

Architect, Partner

V5 Architects

View Profile

Benny Anekstein

Benny Perry

Architect, Partner.

V5 Architects

View Profile

Benny Perry

About V5 Architects
V5 Architects designs residential buildings, commercial and office complexes, sports, leisure and entertainment facilities and public buildings. The firm specializes in creating urban environments and spaces for the community. Operations currently encompass hundreds of projects throughout Israel. Having five partners allows the firm to cover and focus on a large range of projects of various sizes. Every partner devotes quality time to each project. The unique composition of the firm's team includes architects with dozens of years of experience under their belts and young, dynamic architects seeking new and original forms of expression.
Residential Sector
The firm is currently designing thousands of housing units throughout Israel, specializing in urban renewal, mainly in dense residential environments and adding homes as part of TAMA 38 earthquake retrofits.
Sport, Leisure and Entertainment
The firm gained special expertise in sport, leisure and entertainment including stadiums, sports complexes, municipal sports centers, sports halls, sports and leisure centers, swimming pools and unique sports facilities. Projects include soccer stadiums, tennis stadiums, Wingate Institute's Olympic swimming pool, Tel Aviv National Sports Center, the Olympic Committee offices, the Olympic equestrian center in the Lower Galilee, Eilat municipal multipurpose arena Sports, Modi'in artificial beach, Skatepark and BMX Modi'in and Extreme Sports Park Akko. The firm is experience both in developing unique sports facilities that have not yet been built, such as the hockey ice rink, outdoor karting track, car racing course, sports colleges, etc.
Public Buildings
The partners have a long history of designing public buildings throughout Israel including cultural centers, day care centers, kindergarten clusters, in one, two and three-floor buildings, elementary and high schools, yeshivas such as Modi'in Illit's Mir Yeshiva, Radin Yeshiva Netanya, academic buildings, including the Technion's Faculties of Soil Sciences and Agricultural Engineering, Bar-Ilan University's Center for Brain Research and more. At the Weizmann Institute, the firm took part in designing the Davidson Institute for Scientific Education, and the Belfer Microbiology Research Center. In Jerusalem, the firm designed the "Yad Sarah" institute, a unique building serving as a convalescent center, day care center for the elderly and the disabled and a commercial center.
Commercial and Office Buildings
The firm designs commercial and office buildings in several cities combining residential units as well as preparing master plans for commerce, offices and industry, such as Holon's Eastern Industrial Zone, shopping centers combined with street front commerce in residential buildings all around the country including in Jerusalem, Holon, Givatayim, Modi'in, Modi'in Illit, Beit Shemesh and Harish, and office buildings and commercial parks at Afek Park Rosh Ha'ain, T.M.R. Industrial Park Rehovot and more.
Interior Design
The firm has an interior design department engaged in designing offices, public spaces, commercial and residential buildings, colleges and educational buildings, banks, restaurants, cafes, laboratories and medical facilities.
Special Sectors
The firm designed Elissra's 35,000-sq.m. development center in Holon, Agan Chemicals laboratories and control rooms, Nesher's concrete laboratory, Mekorot's water laboratory and desalination plant, Osem food laboratories, electronics laboratories for Intel, Saipen, Logtech, Shellcase and the IDF, medical facilities for Clalit and Maccabi Health Services, IDF hospitals and clinics, U.S Army hospitals, catering facilities, kitchens and dining halls seating thousands, MAMAN cargo terminal at Ben Gurion Airport, control and auxiliary buildings for Ben Gurion Airport 2000, offices at the Jordan River terminal, railway stations at Achihud Junction and Ofakim and industrial buildings in numerous locations.

Photo Gallery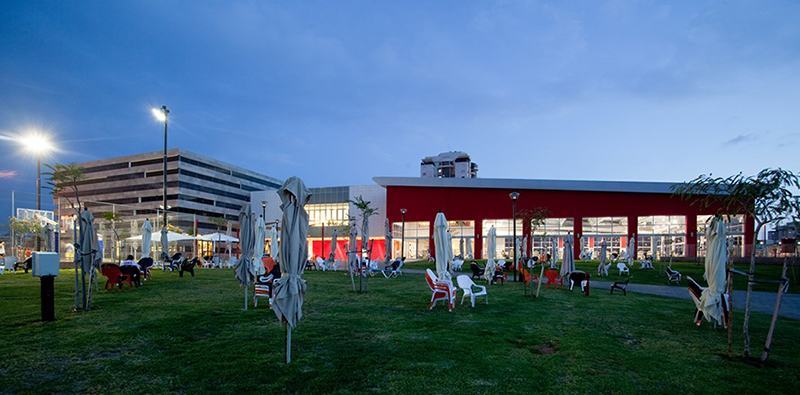 Community sport & recreation complex "360" in Rishon Le-Zion.
PR Photo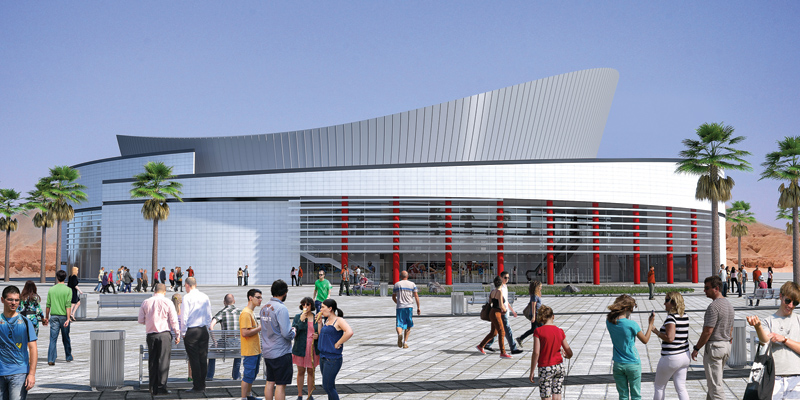 Eilat Municipal Multi-Purpose Arena
pr photo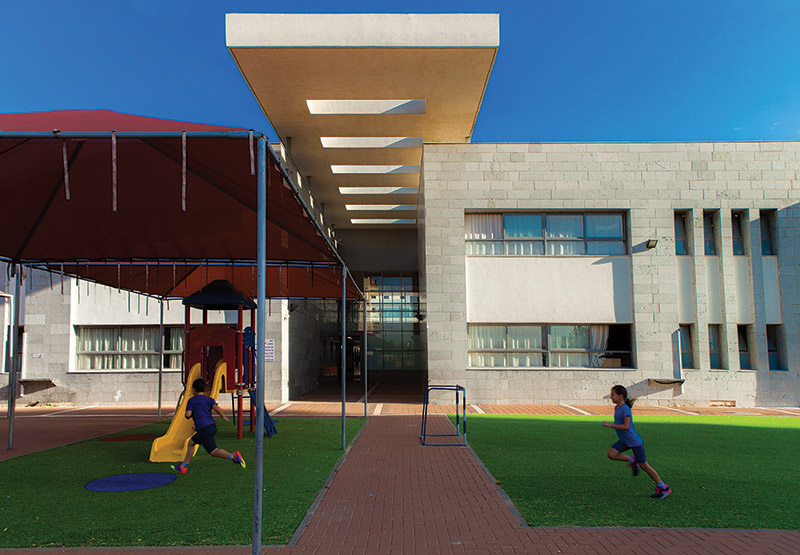 Ariel Sharon School in Holon
pr photo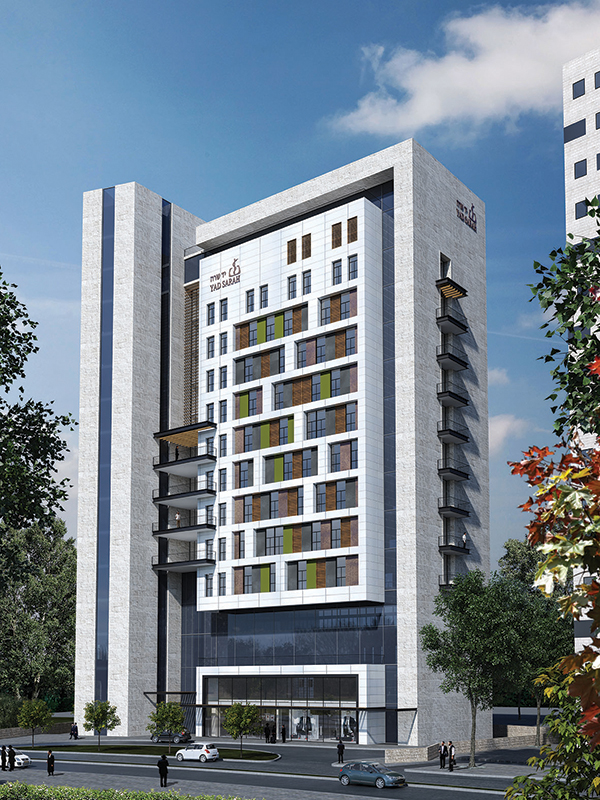 Yermiyahu st. Jerusalem, convalescence home for the disabled and the elderly
pr photo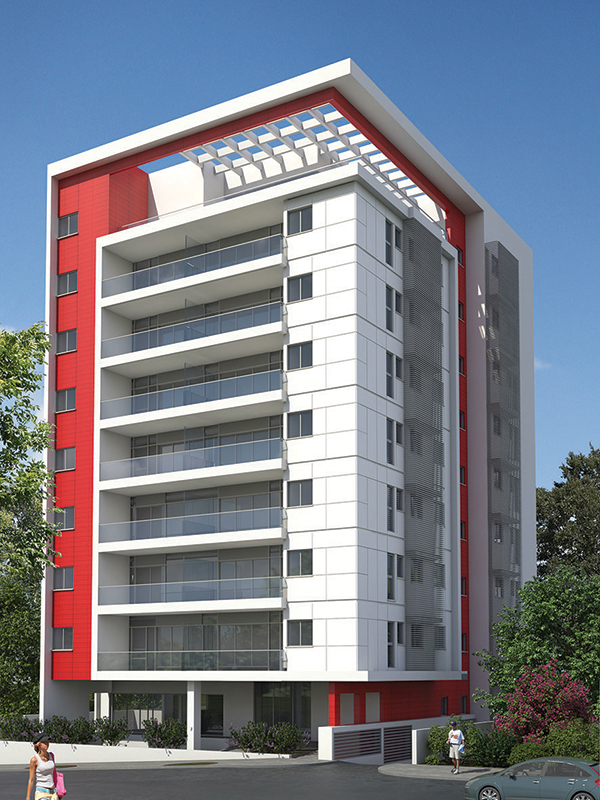 10 story apartment building in Ramat-Gan
pr photo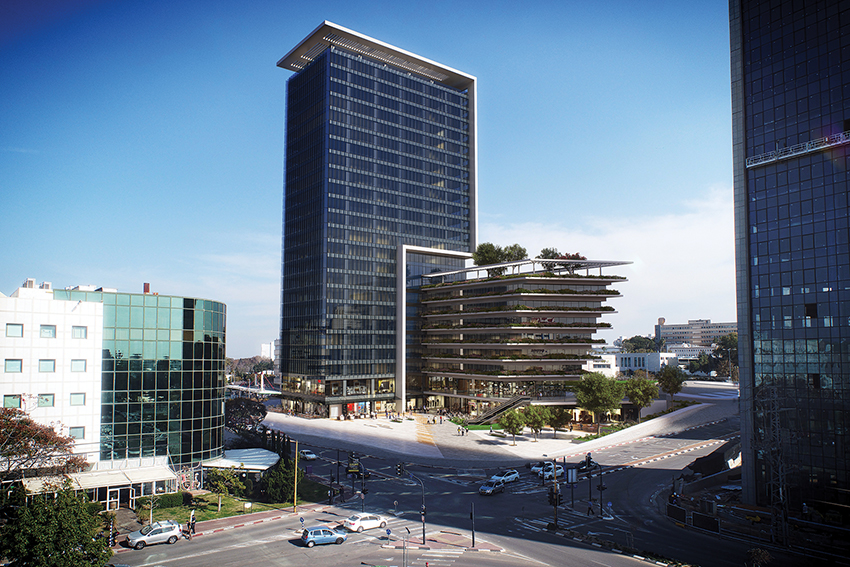 Office building, laboratories and commercial areas at the Science Park in Rehovot
pr photo