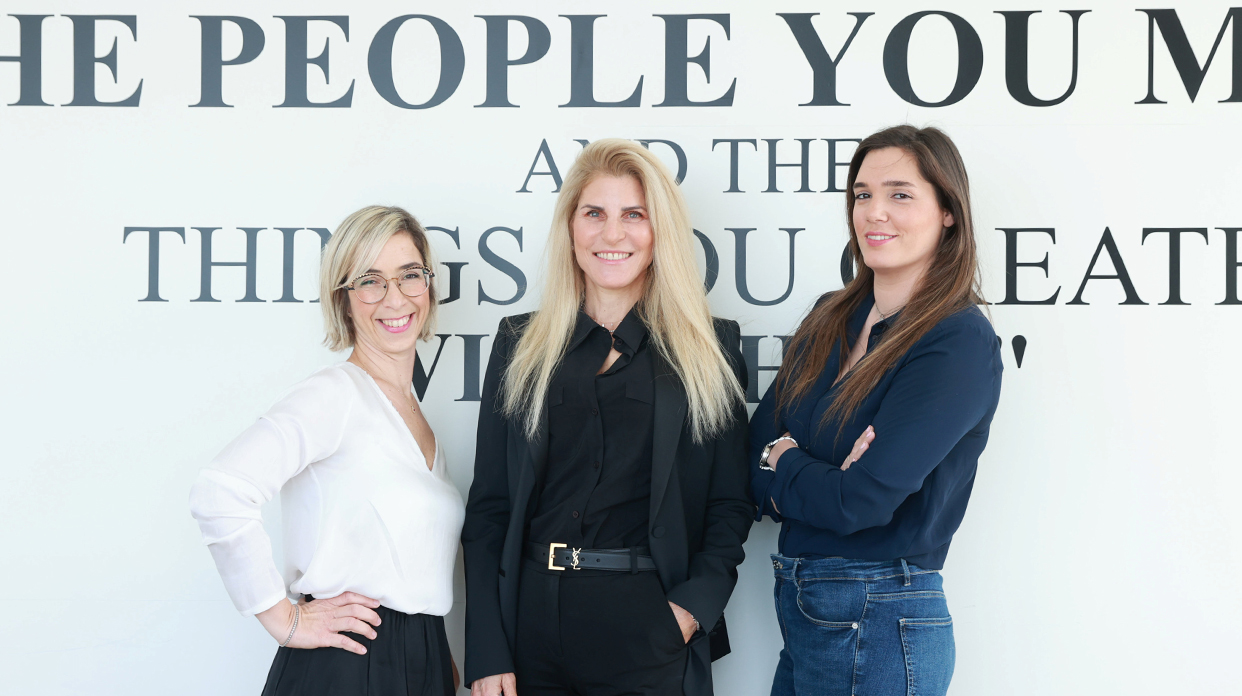 Company's Profile
| | |
| --- | --- |
| Established: | 2013 |
| Line of Business: | Real Estate, Banking |
| Address: | 5 Kinneret St., 3rd BSR Tower, Bnei Brak |
| Phone: | 972-72-2222218 |
| Fax: | 972-72-2222219 |

Company Executives
Adv. Paz Rokah Tembler

Founding Partner

Wiezel, Rokah, Revah - Law Office and Notary

View Profile

Paz Rokah Tembler

Adv. Limor Wiezel

Founding Partner

Wiezel, Rokah, Revah - Law Office and Notary

View Profile

Limor Wiezel

Adv. Oshrat Revah

Partner

Wiezel, Rokah, Revah - Law Office and Notary

View Profile

Oshrat Revah

About Wiezel, Rokah, Revah - Law Office and Notary
Wiezel, Rokah, Revah & Co. is a leading boutique law firm that specializes in commercial law, with an emphasis on real estate and banking. The firm was founded in 2013 by Advocates Paz Rokah Tembler and Limor Wiezel, who was later joined by the third partner, Adv. Oshrat Revah. The firm provides services from an in-depth familiarity with the clients and their modus operandi and in full coordination with their business activities, all in order to align and clarify the clients' needs and the required legal actions. The firm painstakingly maintains the personal attention to every client, with an emphasis on achieving the clients' goals in the most appropriate, complete and fast manner. The firm's real estate arm is managed by Advocates Rokah Tembler and Wiezel, and it represents developers, contractors, owners and residents in complex large-scale transactions, including urban renewal projects (Tama 38 and Pinui-Binui), sale transactions, purchasing groups, asset-swap transactions, yielding properties' projects, commercial projects and more.
In its banking arm, which is headed by the partner Adv. Oshrat Revah, the firm represents large financial organizations and institutes, such as Bank Leumi, Bank Hapoalim, Discount Bank, Harel Insurance Company and more. Over the past few years, the firm has been in an accelerated growth and development momentum.
Practice Areas
Urban Renewal: The firm started to specialize in this segment from its beginning and it has been accompanying residnets and initiatros in dozens of Tama 38 and Pinui-Binui projects. The firm emphasizes the availability to the clients and the personal attention from the firm's partners. The legal facilitation includes managing the urban renewal process from start to finish, from drafting a public tender for contractors and up to registering the multioccupancy house, all professionally and without compromising on what matters while leading the project to success.
Yielding Properties: The firm accompanies numerous yielding properties projects and has vast legal knowledge and the relevant contacts to enable the execution of such transactions, from the very beginning and up to renting out the properties and providing ongoing legal assistance in their management. The firm accompanies, inter alia, commercial centers and residential and office buildings.
Purchasing Groups: the firm's partners have vast knowledge in this area and they have been practicing it for many years. Purchasing Groups is a specific area of specialization in the real estate world, with sensitivities and nuances that require familiarity and knowledge in order to legally manage and accompany them.
Asset-Swap ("Combination") Transactions: The firm handles numerous asset-swap transactions.
Project Finance: The firm assists clients in securing finance, including in complex, innovative and creative finance transactions, all in order to promote the project and achieve its optimal execution.
Banking
The firm's banking department, headed by the partner Adv. Oshrat Revah, represents large financial organizations and institutes.
The representation of the firm's primary clients - leading Israeli banks and insurance companies - for many years, led to the firm's expertise, among others in the fields of banking, receiverships, insolvency and monetary claims. The firm represents in the legal collection field in litigation cases on matters of banking and monetary debt collection lawsuits, exercising sureties, and more.
The Firm's Clientele
The firm's clientele includes some of Israel's largest organizations, such as: Bank Leumi Ltd., Bank Poalim Ltd., Discount Bank Ltd., Harel Insurance Company Ltd., the logistics company Oryan, the entrepreneur Oded Shriki, Clal Insurance, Tal Bar Construction, Shteban Ltd., Hizuk & Binui Ltd. and more.
The Partners
Adv. Paz Rokah Tembler, Founding Partner: has about ten years of experience in the legal profession and she has specialized in the urban renewal segment from its early start, representing both residents and initiators. She graduated her LL.B. with honors, passed the bar exam with honors, lectured in the bar exam prep company "Mahshavot" and formerly worked for several years in B.S.R. Ltd, that specializes in purchasing groups and real estate marketing. In addition, she graduated from the Israel Bar Association's Directors Course and is a member of Bar's Real Estate Committee. She served as a Lecturer on law in the Ono Academic College and lectures in urban renewal conventions and advises the Urban Renewal Administration.
Adv. Limor Wiezel, Founding Partner: has about 10 years of experience in the legal profession. She graduated her LL.B. studies with honors, and also has a B.A., Economics and an M.A., Public Policy from Tel Aviv University. She interned in the firm of Kantor ElHanani Tal. She also worked in banking for about 20 years, and among other positions she served as Senior Manager and Head of Investment Consulting and Account Management for high-net-worth individuals in Bank Leumi. She is a licensed securities consultant and serves as a director in two companies – Razio Oil Exploration and Home Biogas. She graduated from the Israel Bar Association's Directors Course and is active in a family-owned company that manages extensive properties.
Adv. and Notary Oshrat Revah, Partner: joined the firm in 2014, after many years in leading banking, collection and execution firms. She has more than 20 years of experience in the legal profession, with an emphasis on banking law, and she heads the firm's banking, legal collection and litigation department. She has experience in negotiations, receiverships, drafting banking agreements, providing legal opinions and managing legal cases on all of their stages personally, efficiently and creatively.
She is a member of the Israel Bar Association's Banking and Execution Committee, is a certified mediator, and a licensed public notary.
Generating Transactions, Connecting People
The firm is renowned for its vast network of connections, and its three partners often succeed in furthering stuck and unfinished transactions, projects, and negotiations. The clients' benefit from 24/7 availability and are kept abreast of progress and developments. It should be noted that the firm's partners are involved in every case and are CC-d on every e-mail in the firm, so that the clients know that they receive the most professional service from the most experienced lawyers.
An All-Women Team
The firm has an all-female team, and it stands out in the (masculine) Israeli real estate market. The firm's mission is to provide efficient and professional uncompromising service to its clients with creative thinking and a macro-perspective in every case in order to materialize the transaction. The firm's feminine team is characterized by extremely thorough research and preparation in every case while working harmoniously as a cohesive elite unit. The firm has a caring, sympathetic and warm attitude to its clients, which is expressed in assistance in non-legal managerial or commercial aspects with the aim of helping the clients promote the projects or transactions where the firm's assistance is required. Alongside with its values of caring, diligence and devotion, the firm acquired a reputation as a firm with vast experience, legal proficiency of the highest level and excellent service to its clients.

Company Rankings