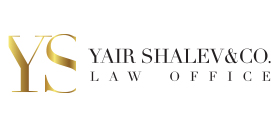 Yair shalev&co – law office
Real Estate, Urban Renewal, Project Finance

Company's Profile
| | |
| --- | --- |
| Established: | 2009 |
| Line of Business: | Real Estate, Urban Renewal, Project Finance |
| Address: | BSR Towers 2 - 1 Ben Gurion, Bnei Brak |
| Phone: | 972-3-3733199 |

Company Executives
Adv. Yair Shalev

Founder and Owner

Yair shalev&co – law office

About Yair shalev&co – law office
Yair Shalev & Co. Law Office has been practicing real estate law and facilitating real estate transactions for more than a decade. Our firm specializes in the urban renewal segment and has been accompanying developers and residents in hundreds of Pinui-Binui, Tama 38/2 (demolition and reconstruction) and Tama 38/1 (seismic retrofitting and adding new apartments) projects, that include thousands of apartments. The firm also accompanies various real estate projects, including high-density construction, detached houses, purchasing groups, complex transactions, sale and purchase of second-hand properties etc. Adv. Shalev accompanied several Tama 38 projects that were completed and populated in various cities across Israel including Tel Aviv, Ramat Gan, Hod HaSharon and Herzliya. Currently, the firm accompanies and represents apartment owners in numerous projects and at various stages. The firm also accompanies and represents some of Israel's largest construction and development companies, as well as boutique contractors and developers. The firm also specializes in representing financiers, i9ncluding insurance companies and non-bank funds, in the framework of financing transactions for various real estate projects, including urban renewal, purchasing groups and liability/guarantees transactions. The firm is headed by Adv. Yair Shalev, and alongside him is the firm's partner, Adv. Eyal Winocur, who has unique knowledge and experience in project finance, urban renewal, energy and infrastructures, and other commercial and real estate segments.
Accompanying Complex Real Estate Issues and Facilitating the Registration of the Owners' Rights
The firm has extensive knowledge and experience in accompanying complex real estate issues and facilitating the registration of the owners' rights including deleted/infringing plot companies etc., with ongoing regular work vis-à-vis the Land Registration Chambers across Israel, the ILA, Halamish, Amidar etc., legal facilitation of a variety of real estate transactions and urban renewal vis-à-vis development and execution companies and apartment owners. The firm is also experienced in developing mechanisms for executing real estate transactions and facilitating the registration of rights between real estate owners / leasers including the rooftop areas, parking areas and building margins. These critical arrangement promote the execution of various processes in the property, such as the project's initiation, promotion and execution, and enable developers to receive bank financing for the project and sell the new apartments. The firm's services in this field include the registration of multioccupancy houses and registering the rights of residents in the Land Registration Chambers (high-density construction, townhouses, low construction, commercial center and more).
Civil Litigation
The firm also has vast civil litigation activities, in all matters pertaining to complex real estate issues, eviction claims, real estate rights formalization, opinions concerning registration and urban renewal etc.
Adv. Yair Shalev, the Firm's Owner
Adv. Shalev is a member of the Israel Bar Association and serves as Deputy Chairperson of the Israel Bar Association's Urban Renewal Committee and as a member of its Real Estate Forum. Adv. Shalev serves as a member of the presidential board of the Israeli Construction Center and was a prominent speaker in the "Real Estate City", Israeli main and most important real estate convention. In the years of 2020 and 2021 he was chosen as one of Israel's 70 Most Influential Real Estate Professionals on behalf of the urban renewal portal "Magdilim". By education he has a B.A., Diplomacy and Strategy from IDC Herzliya and an LL.B. from SHearei Mishpat College in Hod HaSharon.
Believing in the Long Run
The firm has great faith in urban renewal as a field which, despite the challenges and the long time required for its implementation, can increase the apartment supply in the market and of course protect apartments from earthquakes and missile threats. In quite a few cases, Adv. Shalev managed to "rescue" stuck Tama 38 projects (through a court appointment) and led them back on track until their completion and occupation to the residents' satisfaction.

Company Rankings