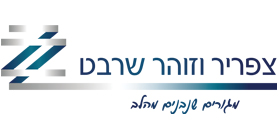 Zafrir & Zohar Sharbat Group
Real estate initiation and execution: residential, commerce and offices

Company's Profile
| | |
| --- | --- |
| Established: | 2001 |
| Line of Business: | Real estate initiation and execution: residential, commerce and offices |
| Address: | 32 HaBarzel St., Ramat HaHayal, Tel-Aviv |
| Phone: | 972-3-6440599 |
| Fax: | 972-3-6440355 |

Company Executives

About Zafrir & Zohar Sharbat Group
Zafrir and Zohar Sharbat Ltd. is a leading construction company at the forefront of the forces that lead Israel's real estate sector. The company specializes in the development and construction of residential, commerce centers and employment buildings, and is classified C5 (unlimited) in the Contractors Registrar. Zafrir and Zohar are successful construction contractors, initiators and executors, who brought a young, dynamic and creative spirit to the industry.
The company has extensive knowledge and longstanding proven experience, mainly in initiation, planning and construction. The company benefits from ongoing growth which is based on measured and correct steps and an emphasis on attentive architectural design, guaranteeing the construction quality and first-class service. Currently, the company is initiating and constructing thousands of apartments, commerce areas and offices in high-demand areas across Israel, including Tel Aviv, Ramat Gan, Rishon LeZion, Ramla West, Be'er Ya'akov, Rosh Ha'Ayin and Lod. Since the company is both the initiator and the executor, its clear advantage is in having the supervision and quality under one roof. As a a result, the company's customers benefit from unparalleled service, execution quality and compliance with the schedules, as appropriate for a company that aspires to excellence in every detail.
Winning Strategy
The company succeeds in reading the industry's map and identifying market opportunities and trends, while marching forward responsibly and prudently. Some of the company's unique strengths lie in its ability to translate these opportunities into ripe and profitable real estate transactions which provide the company with stability.
From Vision to Reality
The combination of vision, values and advanced management methods is one of the reasons for the company's position as a leading and dynamic company which develops and builds numerous projects. The company believes in the principles of excellence, service-orientation and reliability, and is guided by them, inter alia, when selecting leading professionals and providing professional service, with a family atmosphere and personal attention. In light of its financial strength, the company benefits from its reputation among government and other institutes, financial entities, customers and suppliers. The company selects its projects carefully with attention to the acute details, including location and accessibility, and perfecting parameters that benefit Israeli consumers. For example, the company builds numerous "Buyer's price program - Mechir Lamishtaken" (Ministry of Housing price-capped) projects, under its vision, which sees the construction of Israel as a personal mission and a heartfelt commitment.
Prominent Projects
The company specializes in creating an innovative residential concept, which includes: The construction of attentively planned residential buildings with exclusive specs, a variety of accessibly services including shopping and leisure centers, and environmental development which meets the needs of all of the residents:
Projects in Planning
Rosh Ha'Ayin: 10 boutique buildings in an ideal location in Mizpe Afek Neighborhood, Rosh Ha'Ayin. The proximity to well-developed community services and arterial roads boosts demand to this project. Apartments mix: 3, 4, 5 and 6-room apartments, duplexes, mini penthouses and penthouses.
The International Quarter, Lod: In Lod's new international quarter, 10 minutes from Tel Aviv, near the railway station and with access to the new Road 200, 10 buildings with 343 apartments, half of which in the framework of reduced price housing programs.
Projects in Marketing and Execution
New West Ramla: Eight upscale towers are built in the impressive project "Sharbat West" in a new and green neighborhood near Be'er Ya'akov, Neve Doron and Talmei Menashe, at the heart of Gush Dan, in a strategic and major junction, and near major transportation routes such as Road 200 that leads to arterial roads such as Roads 6, 1, 40 and 44. The project is located in a new, young and developing neighborhood that has everything that matters, parks and green spaces, community and culture centers, new schools and more. Apartments mix: 3, 4, 5 and 6-room apartments, mini penthouses and spectacular penthouses.
Rishon LeZion, Narkisim: Two 14-story towers with a view of the neighborhood park and green areas at the heart of a new neighborhood in East Rishon LeZion, with schools, kindergartens and commercial centers. Apartments mix: 3, 5, and 6-room apartments, mini penthouses and huge penthouses.
Be'er Ya'akov: 4 spectacular 19-story towers and four 5-story boutique buildings at the heart of the new neighborhood that is being built in Be'er Ya'akov, near arterial roads. The project integrates office buildings and commerce areas, an upscale lobby and a residents' club. Apartments mix: 4 and 5-room garden apartments, 3, 3.5, 4, 5, 5.5 and 6-room apartments, mini penthouses and upscale penthouses.
Commercial Projects
ZCenter, Rosh HaAyin: A project in the C Complex, on an area of about 2,500 sq.m. of a spectacular commercial avenue, designed as spacious street mall for a perfect shopping experience, while focusing on convenience and accessibility for the entire population.
ZCenter, Be'er Yaakov: A complex with thousands of sq.m. of commerce areas and 4 office buildings, which integrate business and commerce in a lively urban atmosphere. The upscale and modernly designed office building have a view of pastoral parks, and create a unique and enjoyable work environment.
ZCenter, New West Ramla: A business, commerce and leisure at the bubbly heart of Gush Dan, with thousands of sq.m. of commerce and office spaces. The complex is well-planned, and has access to undergrounds parking. The complex is expected to include a supermarket, gym, convenience stores, Super Pharm etc.
Populated Projects
Rishon LeZion, Rakafot: The project includes six boutique buildings of up to 8 stories, with a view of a lovely neighborhood park. The project is located in a new, young and advanced neighborhood, which is carefully planned and close to major transportation routes, only 10 minutes away from the Rishonim railway Station, The Azrieli Mall and the City Center. Apartments mix: Garden apartments, 5-room apartments, mini penthouses and meticulously planned upscale penthouses with vast balconies.
The company delivered thousands of apartments, including in Rishon LeZion, Mazkeret Batia, Beit Dagan, Hadera, Ahisamakh, Neve Doron in Ramla and more.

Projects


Company Rankings