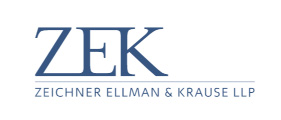 Zeichner Ellman & Krause
Banking, Bankruptcy, Corporate, Cyber Security, Employment, Government Investigations, Litigation, Privacy, Real Estate, Regulatory, Securities, White Collar Crime

Company's Profile
Established:
1980
Line of Business:
Banking, Bankruptcy, Corporate, Cyber Security, Employment, Government Investigations, Litigation, Privacy, Real Estate, Regulatory, Securities, White Collar Crime
Address:
New York: 1211 Avenue of Americas
New York, New York 10036
Tel: 212 826 5324
Tel Aviv: 28 HaArba'a Street
HaArba'a Towers - North Tower, 34th Floor
Tel Aviv, Israel, 6473925
Tel: 972 54 7369762

Company Executives
Daniel P. Rubel

Counsel/Co-Head Israel Practice

Zeichner Ellman & Krause

View Profile

Daniel P. Rubel

Stuart Krause

Executive Partner

Zeichner Ellman & Krause

About Zeichner Ellman & Krause
Zeichner Ellman & Krause LLP is a law firm founded nearly a generation ago on principles revolutionary then, which have today become aspirational for law firm clients. We are a sophisticated full service financial services/business law firm built upon the three firm pillars: substantial expertise, client centric service, and price advantaged, flexible charges.
ZEK, founded in 1980, offers its services in all aspects of commercial legal representation. The Firm specializes in representing clients in domestic and international banking and finance, litigation and arbitration, general commercial and corporate law, real estate, securities, regulatory matters, trusts and estates, insurance, creditors' rights and bankruptcy matters.
With more than 40 attorneys, ZEK is smaller than most law firms with similar practices. The Firm's size is a function of its philosophy, to provide every client with efficient and personal legal services. At ZEK, clients are never relegated to exclusive dealings with junior attorneys; partners maintain active "hands on" involvement in every client matter. Staffing of each matter is considered carefully in order to assign attorneys with an appropriate level of expertise.
ZEK's attorneys come to the Firm with valuable experience in their respective fields. Each attorney brings a unique and polished set of skills and background. The result is that ZEK's clients do not underwrite the development and training of the Firm's already seasoned attorneys. Creativity and flexibility, the watchwords of ZEK's substantive practice, are also applied to fees charged. We work collaboratively with our clients to develop charges appropriate to each matter, which might include: hourly rates, blended or fixed hourly rates, fixed fees, fee caps, partial contingencies and the like.
ZEK's clients are diverse, ranging from some of the world's largest corporations, to privately held businesses, entrepreneurs and individuals. That many of the Firm's clients today have remained with ZEK for many years demonstrates ZEK's continuing adherence to the three firm pillars which have defined its practice from the beginning.

Company Rankings

Articles about Zeichner Ellman & Krause