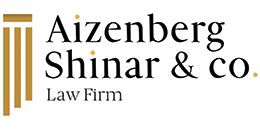 Aizenberg, Shinar & Co., Law Firm
White-collar crime, tax law, Anti-Money Laundering, securities fraud, antitrust law

Company's Profile
| | |
| --- | --- |
| Established: | 2019 |
| Line of Business: | White-collar crime, tax law, Anti-Money Laundering, securities fraud, antitrust law |
| Address: | 7 Masada St., 4 B.S.R Tower, 27th floor, Bnei Brak, 51261102 |
| Phone: | 972-3-9744472 |
| Fax: | 972-3-9744473 |

Company Executives
Adv. Guy Shinar

Partner

Aizenberg, Shinar & Co., Law Firm

Adv. Inga Aizenberg

Partner

Aizenberg, Shinar & Co., Law Firm

About Aizenberg, Shinar & Co., Law Firm
Aizenberg, Shinar & Co. is one of Israel's leading law firms specializing in tax law and white-collar crime cases. The White-Collar Crime department represents suspects and defendants in white-collar and tax offenses, strategic consulting, and preparation for investigations. The department represents public figures in ethical violations, including bribery, fraud, and breach of trust. The White-Collar Crime department has extensive experience in handling anti-money laundering cases, securities fraud, and antitrust law. The White-Collar Crime Department also represents clients facing complicated international proceedings, and extradition.
In the field of taxation, the firm specializes in civil tax issues, including tax planning (companies and individuals), income tax, Value Added Tax, organizational structure changes, and international taxation, with an emphasis on cryptocurrencies. The Civil Taxation Department represents clients before the tax authorities in assessment agreements and voluntary disclosure proceedings. The department assists in establishing offshore companies and trusts, providing legal opinions on tax issues, including residency and immigration, for both newcomers and returning residents.
Our team
Adv. Inga Aizenberg is head of the Civil Taxation Department and Fiscal Law. Adv. Aizenberg is an expert in economic law in all of its aspects, with an emphasis on fiscal and tax law. Adv. Aizenberg has a bachelor's degree in Law and Accounting and a master's degree in Taxation. Adv. Aizenberg has over a decade of experience in her fields of expertise. Adv. Aizenberg is a member of the Tax Forum of the Israeli Bar Association, its Anti-Money Laundering Committee, and its Criminal Forum. She frequently lectures at conferences and seminars for lawyers engaged in the field.
Adv. Guy Shinar is head of the White-Collar Crime and Criminal Law Department. Adv. Shinar is an expert in handling complex economic, white-collar, and money laundering cases, and also has extensive experience in forfeiture and property seizure proceedings. Adv. Shinar has a bachelor's degree in Law and a master's degree in Law, with a specialization in Criminal Law from Bar Ilan University. He is also a member of the Criminal Taxation Committee and the Anti-Money Laundering Committee of the Israeli Bar Association.
The firm's legal team has extensive knowledge of criminal-fiscal law, tax law and accounting which gives it an advantage in dealing with economic and fiscal cases. Criminal proceedings and civil-administrative proceedings are often parallel, due to the authorities "integrated economic enforcement" policy. This policy works against the suspect on the criminal level, using apprehension and forfeiture means under the anti-money laundering law, as well as at the civil level, through value added tax assessments, income tax assessments, procedures in accordance with Section 194 of the Israel Income Tax Ordinance (which gives the assessing officer extensive authority to seize property), all to exert maximum pressure over the suspect. The firm's advantages are especially relevant and useful when facing the consequences of integrated enforcement policy.
Uncompromising stand on the client's rights
The firm has adopted an uncompromising stand on the client's rights as suspects, starting from the initial arrest phase and search procedures, and throughout the investigation phase. At the same time, the firm's team prepares a strategy and a forward-thinking line of defense, while constantly considering and ensuring the client's right to privacy by filing for injunctions, where the need arises, and by careful and strategic crisis management.
For many of the firm's clients, this will be their first encounter with law enforcement agencies, and in addition to legal advice, they will also need a sympathetic ear and above all, certainty. The firm pays close attention to each of its clients, especially in the early stages of legal procedures. This primarily allows the firm to provide excellent legal defense to its clients, but no less critical is the firm's commitment to its clients and the support it offers them anywhere and anytime. The firm ensures each client is meticulously prepared before each investigation they undergo. The results of this careful and thorough preparation are a testimony to the firm's professional qualities. Thus, the uncompromising professional approach practiced by Aizenberg Shinar & Co. combined with the firm's legal expertise also significantly reduces the sense of uncertainty and enables the firm's clients to realistically face the legal situation at hand in the best possible way.
Beyond legal defense – assistance with crisis management
Naturally, companies and corporations whose managers and owners are, in fact, clients of the firm, may also face certain restrictions. Many times, the criminal investigation against a suspect will end without an indictment, but the company s/he owns may have difficulty overcoming a cash flow crisis caused by draconian property seizures, blockage of the company's bank accounts, and seizure and forfeiture of vehicles – all in addition to a damaged reputation.
Aizenberg, Shinar & Co. sees this stage as essential in crisis management, and sets out to assist the company to return to its normal operating state as quickly as possible by assisting in the release of seized property, bank accounts and foreclosed assets, etc. The goal is to stabilize the company until it returns to regular operations, as soon as possible.
Administrative-Economic Law
Another legal field in which the firm specializes in is administrative–economic law. That is, representing clients in administrative proceedings before the Israeli Tax Authorities. Such proceedings may include appeals, obtaining tax assessments, disqualification of accounting records, double taxation proceedings and complex tax planning. The firm also represents clients who wish to submit preliminary applications or pre-ruling applications to the Israel Securities Authority or the Antitrust Authority. The firm can also provide clients with position papers or legal opinions, as well as representation before the authorities and in addition, offers its services to clients in need of legal advice concerning capital market regulation and to clients who need assistance with the submission of licensing applications for currency service providers. Additionally, the firm offers external compliance services.

Company Rankings