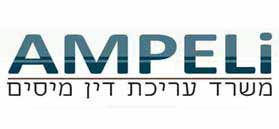 Ampeli Tax Law Office
Provides legal and professional services in civil taxation and international taxation

Company's Profile
| | |
| --- | --- |
| Established: | 2010 |
| Line of Business: | Provides legal and professional services in civil taxation and international taxation |
| Address: | Moshe Aviv Tower, 7 Jabotinsky St., 39th Floor, Ramat Gan 5252007 |
| Phone: | 972-72-2405100 |
| Fax: | 972-72-2405101 |

Company Executives
Adv.,(CPA) Meori Ampeli

Owner and Founder

Ampeli Tax Law Office

View Profile

Meori Ampeli

Adv. Shai Erez

Partner

Ampeli Tax Law Office

About Ampeli Tax Law Office
Ampeli Tax Law Office is a leading, dynamic, and professional law firm, specializing in a wide range of aspects of civil and commercial taxation.
The firm's main areas of expertise are international taxation, income tax, VAT, real estate taxation, high-tech taxation, tax incentives, Trusts taxation, voluntary disclosure procedure, etc.
The firm provides a broad spectrum of legal tax services, including, inter alia, pre-deal tax planning, preparing legal opinions and/or obtaining pre-rulings from the tax authorities (if needed). The firm's team is also highly experienced in representing clients before the tax authorities and the civil courts.
The firm provides its services to numerous companies and entrepreneurs, both Israeli and foreign tax residents, in their inbound and outbound transactions and businesses in Israel and all over the world. Accordingly, the firm cooperates on a daily basis with leading accounting, finance and legal firms from the US, EU, Russia, UK, Far-East, etc.
As such, the firm's services are rendered to public and private companies, Startups, real estate entrepreneurs, property owners, foreign companies, exporters, foreign investors, wealthy individuals, returning residents, new immigrants, relocating employees, etc.
The firm provides services in Hebrew, English, Russian and French.
The firm's team, headed by Adv. and CPA Meori Ampeli, is skilled, well-experienced, creative and committed to provide legal service of the highest standard and determined to obtain the client's aims. Due to the firm's fine reputation, it has become a well-respected and professional go-to office for leading lawyers, accountants and tax firms from Israel and all over the world.
The firm maintains the highest level of professionalism by keeping up with legislation and court rulings in Israel and worldwide and giving ongoing lectures on the most updated tax aspects in Israel and abroad. Moreover, the firm regularly publishes original and up-to-date articles on various tax issues, which are published in leading professional legal and tax magazines.
Practice Areas
International Taxation
Highly familiar with the relevant international tax provisions and benefits in Israel (such as the Israeli trust tax regime and tax benefits), as well as foreign tax provisions (such as the US tax law), tax treaties, the BEPS project, Fatca and CRS, the firm aims to obtain optimal tax planning for its clients.
The firm assists its clients (foreign and local) with withholding tax issues in Israel and to wire funds through the banks system in Israel and abroad. The firm also provides tax consulting to numerous new immigrants, returning residents and foreign tax residents in the aspect of the special tax benefits that they are entitled to in Israel. The firm prepares on ongoing basis legal tax opinions on issues such as residency, permanent establishments, tax withholding, companies' management and control, etc.
Real Estate Taxation
The firm advises entrepreneurs, companies, private clients and real estate service providers (lawyers, accountants) on complex tax aspects of urban renewal (TAMA 38), exchange transactions (in which the land is partly sold in exchange for construction services to be given on the remaining land), purchase and sale of apartments, real-estate cooperatives, VAT in real-estate transactions, real estate distribution in probate procedures, etc.
Israeli Taxation (Income Tax and Tax incentives)
The firm advises individuals and companies on income tax issues, including M&A transactions, crypto currency taxations, capital markets taxation, Voluntary Disclosure Procedure, loss offsetting, capital investment tax benefits (the Law for the Encouragement of Capital Investment, including the eligibility for tax benefits as a "preferred factory" and a "preferred tech-factory"), etc.
High-Tech Taxation
The firm advises companies, entrepreneurs and employees in various tax issues, such as employees' stock option benefits, IP taxation, VC taxation, The "Angels Law", etc.
VAT
The firm advises individuals and companies in complex VAT issues including zero VAT benefits and VAT exemptions, financial institutions, VAT refund, fictitious invoices, import services and intellectual property, etc.
Leading Lawyers
Adv. Meori Ampeli, Owner and Founder
LL.B., Law (2002); B.A., Accounting (2001); LL.M., Commercial Law (2005), Tel Aviv University. A member of the Israel Bar since 2005, Meori is a certified public accountant and a member of the Institute of CPAs since 2004. Meori is also a member of various advocates and accountants tax committees. Meori is highly experienced in providing consultation to clients in the main areas of expertise of the firm and representing clients before the tax authorities and in court. Meori is the author of hundreds of articles on tax issues, that were published in leading professionals tax magazines and periodicals. He regularly lectures in professional forums in front of lawyers, accountants, businessmen and tax consultants In Israel and abroad. Meori is fluent in Hebrew and English.
Adv. Shai Erez, Partner
LL.B., Law and B.A., Accounting (cum laude), Tel Aviv University. A member of the Israel Bar since 2007, Shai specializes in real-estate taxation, Israeli income taxation and oil and gas profit taxation. Shai is highly experienced in providing consultation to clients in various tax issues and representing clients before the tax authorities and in court. Shai is also the co-writer of the book "Oil and Gas Profit Taxation" (Ronen Publishing, 2014) and the author of dozens of articles published in tax professional magazines and periodicals. In addition, he also lectures on various tax issues in professional forums. Shai is fluent in Hebrew and English.
Adv. Anna Tsabari
Adv. Anna Tsabari has an LL.B. degree from the Collage of Management )commercial law class) and an LL.M. (cum laude) degree in a jointly hosted program by the University of California, Berkeley and the University of Tel-Aviv. Anna is a member of the Israeli Bar since 2011. Adv. Tsabari has co-authored several articles in professional taxation publications in Israel.
Anna has gained vast experience in international taxation, cryptocurrency, restructuring of flip transactions, and residency taxation in Israel.
Anna is fluent in Hebrew, Russian and English.

Facebook Updates

Company Rankings