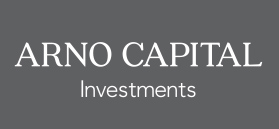 Arno Capital
Finance Solutions for Real Estate Ventures in Israel

Company's Profile
Established:
2013
Line of Business:
Finance Solutions for Real Estate Ventures in Israel
Address:
5 HaHilazon St., Granit House,
Ramat Gan 5252269
Phone:
972-3-7176699
Fax:
972-3-7163590

Company Executives
Dana Sander

CEO and Owner

Arno Capital

Yossi Accav

Chairman

Arno Capital

Amir Paryente

CFO

Arno Capital

About Arno Capital
Arno Capital Investments is a leading finance company that provides diverse real estate project financing solutions in Israel. The company offers customized financing solutions for land acquisition, asset-swap, urban renewal and government-price-capped/discounted transactions and tenders.
The main financing solutions that the company offers are senior credit (a substitute for bank credit) for accompanying the construction process, mezzanine loans and credit against real estate collaterals.
Closed-end Complete Accompaniment that includes all Credit Components for Entrepreneurs
Arno Capital Investments started operating in late 2013, on the back of growing difficulties of small and medium real-estate entrepreneurs to receive credit from the banking system.
Similar to the customary financing model of the banking system, Arno Capital Investments provides closed-end financing, which includes capital completion, senior debt, policies and guarantees of contract of sale law. Currently, the company accompanies over 50 projects located throughout the country, from Nahariya to Beer Sheva. The company's diverse portfolio consists of various projects, including TAMA 38/1
(Reinforcement of an existing building + additions) TAMA 38/2 (destruction and reconstruction), government-price-capped/discounted complexes and classic initiation.
Bank and Beyond
Arno Capital fully replaces banks alongside additional financial services and solutions.
The financing is personally tailored to every entrepreneur, as of complete accompaniment of the project, which includes an execution credit framework, contract of sale policies for apartment buyers, and up to completion of personal capital.
Arno sees the entrepreneur at the center and the company enables equity extraction during the project after the sales goals have been met. Developers who contract with Arno Capital benefit from an inhouse professional service experience, which includes personal accompaniment, including issuing of vouchers, opening bank accounts, legal services, etc. Arno Capital's aim is to provide professional service, which is provided by a company that lives and breathes its projects, and understands the constraints and unexpected events that characterize the real estate field.
Creative Financial Solutions
Arno Capital specializes in creative solutions and manages complex legal or financial real estate transactions. The company's executive team consists of accountants, lawyers and human capital with extensive experience. The team's cumulative know-how and experience, and Arno's experts' capability to achieve a profound understanding of each project and its entrepreneurial, financial, planning and legal requirements and characteristics, create substantial added value for the developer in the professional planning and management of each project.
In addition to the company's executive team, the operations are supervised by the fund's chairman, Mr. Dror Nagel, and the external directors Mr. Moshe Gaon, Mr. Amit Berger and the independent director Mr. Shlomi Nakash (who served as Ayalon's Head of Non-Marketable Credit).
Executive Management
Dana Sander, CEO and Owner: The company's founder and manager, who has 14 years of experience in the financial establishment and capital markets. She served, inter alia, as the Business Development Officer of Harel Finance, and led the development and issuances of financial investment vehicles.
Dana has an M.B.A. with a specialization in finance and financial engineering from the Hebrew University, and an LL.B. and a B.A., Business Administration with a specialization in finance from IDC Herzliya.
Yossi Accav, Chairman: Accountant, served in senior management positions, including CEO of Blue Chip Advanced Financial Consultants Ltd., Chairman of the Board of Avrot Industries Ltd., Noklion Ltd., Chairman of the Board of Oren Investments (A.A.A) Ltd. Financial advisor to Zim Group and its holder of controlling interest
Amir Paryente, CFO: Amir has a lot of professional experience with capital market companies as well as investment houses.
He previously served as the CFO of Inbal Group Finances Ltd. And held various positions in EY - Kost Forer Gabbay & Kasierer accounting firm, focusing on the financial aspects – investment houses, stock market members, structured products, financial funds, and alternative funds.
Amir is also highly experienced in the assembly and analysis of business plans, managing cash flows, implementing control procedures, SOX procedures, and meeting regulation requirements. Amir holds a BA, Finance and Economics from Bar Ilan University.