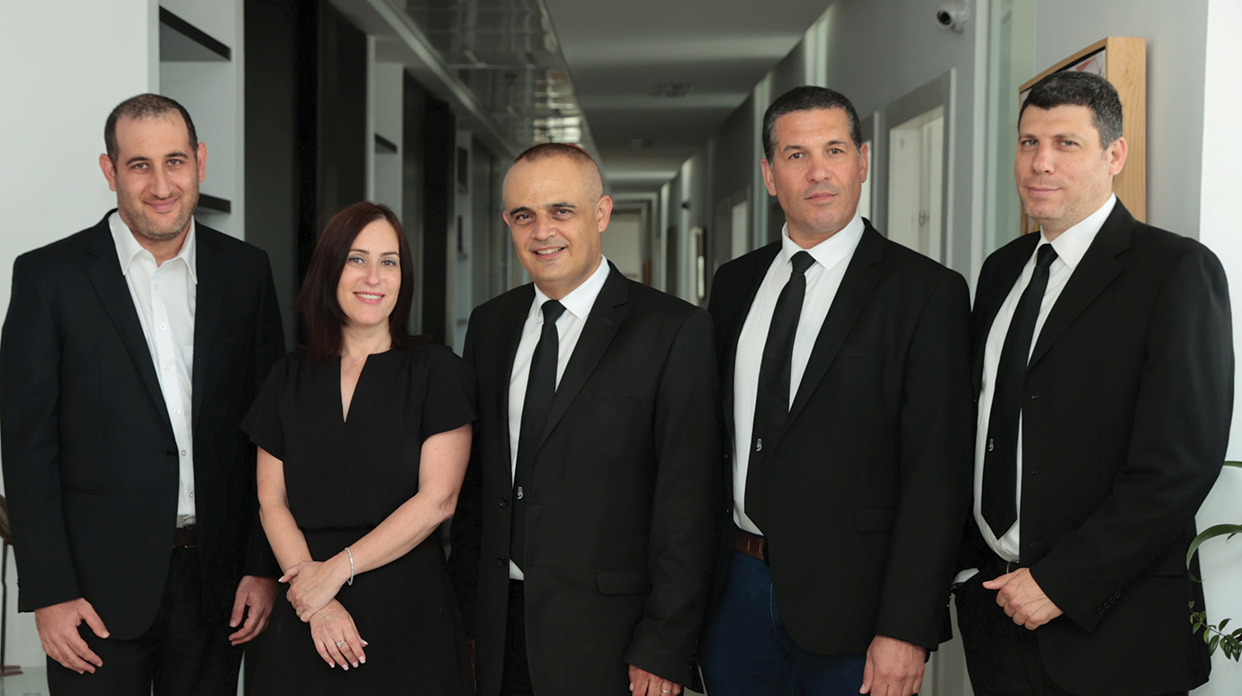 Company's Profile
| | |
| --- | --- |
| Established: | 2000 |
| Line of Business: | Family and Inheritance Law |
| Address: | BSR 3 Tower, 17th floor, 5 Kinneret St., Bnei Brak |
| Phone: | 972-52-5285400 |

Company Executives
Adv. Avi Geffen

Founder and Owner

Avi Geffen, Law Office

Adv. Orit Geffen

Partner

Avi Geffen, Law Office

Adv. Shay Koren

Associate

Avi Geffen, Law Office

Adv. Israel Weinberger

Associate

Avi Geffen, Law Office

Nir Zemel

Associate

Avi Geffen, Law Office

About Avi Geffen, Law Office
Avi Geffen, Law Office is a trailblazing family and inheritance law firm, which provides its clients with a multisystemic treatment in the divorce and inheritance field. The firm's unique strength stems from the combination of legal and economic representation and the mastery of Adv. Geffen and the firm's team in religious law.
Adv. Avi Geffen founded the firm more than 20 years ago, with the aim of helping his clients and containing their distress during their darkest times, with sensitivity and attentiveness, which are integrated with his professional resolve and mental acuity, in order to provide them with optimal legal service in their difficult times. Accordingly, the firm sees representation in its practice area as a mission.
Avi Geffen also represents clients in the field of inheritance, and in particular in contesting disinheriting wills, and developed a unique technique for voiding disinheritances, which he applied in order to cancel disinheriting wills amounting to NIS tens of millions per case.
Double Expertise: In Civil-Economic Law and in Religious Law
The firm's distinction stems from its vast expertise in both religious law and civil-economic law. Adv. Geffen commercial law skill comes into play in assets division cases where businesses or properties are involved. Adv. Geffen is also an expert in the rabbinical court and the family court, and therefore provides holistic solutions and comprehensive responses for any issue that may arise in a divorce. The firm has been accompanying people in their difficult times for many years, while providing both professional support and unique emotional support.
Trailblazing Firm
The firm has a track record of groundbreaking legal precedents, which are relevant for entire Israeli legal profession. The firm created the most significant precedent in the area of balancing family businesses of late. According to the precedent, which was set by the Great Rabbinical Court, taxes must be deducted when balancing properties and resources. Afi Geffen Law Office is an innovative boutique firm which won the highest Ketubah that was ruled in Israel, in a sum of NIS 1 million. The firm is an expert on women's Ketubahs and provides professional and devoted services in this field. Another precedent that the firm won focuses on the precedent that a woman would be entitled to a Ketubah which is denominated in Liras and the Ketubah sum would be linked to New Israeli Shekels.
Another unique case that the firm handled is related to the reforms that were carried out following the enactment of the Family Law Litigation Arrangement Law. Adv. Geffen represented all of Israel's lawyers in a Bagatz that he filed. The optimal result that he achieved was double: Lawyers remained part of the process, and representation of clients from the beginning of the proceedings was approved.
In the area of business valuation, it was determined that tax must be deducted when dividing business assets. This precedent revolutionizes the practice area of division of assets in a divorce. The firm also set precedents in balancing resources against the wife's personal right to receive her Ketubah sum, public tenders of apartments, and alimony in bankruptcy in the Supreme Court.
As aforementioned, the firm filed the Bagatz in the Family Law Litigation Arrangement Law matter, and represented the entire Israeli legal profession as a public petitioner, and led to dramatic changes in the Family Law Litigation Arrangement Law, which kept representer as part of the game in the new law, to the benefit of the litigating parties.
The firm has a particular specialization in voiding disinheriting wills, a complex proceeding in this field, and techniques that he applies to determine whether the heir was disinherited unlawfully. Additional precedential decisions in which the firm was involved are related to approvals of phone geotracking, and search warrants for phones in the family and inheritance field.
Adv. Avi Geffen
Adv. Avi Geffen is a leading lawyer in the divorce and marital status field. He has an LL.B. and an LL.M. from Bar Ilan University. He graduated with honors from Bar Ilan University in 1998 and received a dean scholarship after he was included on the Dean's List. Adv. Geffen's matriculation diploma includes 15 points of STEM subjects, and he has dual mastery of both humanistic disciplines (law) and mathematical disciplines, which provides him with a clear advantage in difficult economic cases.
The Team
The firm includes 5 lawyers, including two partners: Adv. Avi Geffen and Adv. Orit Geffen and three associates: Adv. Shay Koren, who has 10 years of experience, Adv. Nir Zemel, who has 11 years of experience, and Adv. Yisrael Weinberger, who has 5 years of experience. Due to the practice area's sensitive nature, the firm's team accompanies its clients 24/7 and is available for them at all times.

Company Rankings