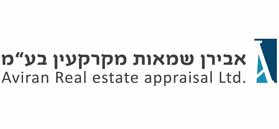 Aviran Real Estate Appraisal Ltd.
Real estate appraisal, financial consulting and asset management

Company's Profile
| | |
| --- | --- |
| Established: | 1998 |
| Line of Business: | Real estate appraisal, financial consulting and asset management |
| Address: | 5 HaTidhar St., A-Tower, Raanana |
| Phone: | 972-9-7482411 |
| Fax: | 972-9-7401913 |

Company Executives
Erez Aviran

CEO and Owner

Aviran Real Estate Appraisal Ltd.

View Profile

Erez Aviran

Tali Cohen

Head of Bank Credit and IFRS Division

Aviran Real Estate Appraisal Ltd.

Amir Ezra

Head of Betterment Division

Aviran Real Estate Appraisal Ltd.

Reuven Zvik

Head of Consolidation & Segmentation Div.

Aviran Real Estate Appraisal Ltd.

About Aviran Real Estate Appraisal Ltd.
Aviran Real Estate Appraisal Ltd. is a boutique firm with about 25 years of experience in a wide range of subjects in the field of real estate appraisal, such as: fair value evaluation of properties owned by public companies according to binding accounting standards, advising on the subject of city building plans with balance and allocation charts, pre-purchase economic feasibility studies, credit securities, urban renewal, betterment levies and taxes, expert opinions in courts of law, etc.
The firm employs a team of expert real estate appraisers and economists under the leadership of Mr. Erez Aviran, a real estate appraiser and graduate of Tel Aviv University's Appraisal and Real Estate Management program.
The firm is certified to carry out appraisal opinions for credit securities according to Appraisal Standard 19 by the leading commercial banks in Israel, as well as insurance companies that offer loans in exchange for securing a collateral of their real estate rights. In addition, the firm is also entering the field of supervising and accompanying projects during the construction process.
The Firm's Advantages
The firm offers its clients a wide array of services in the field of real estate. It does so in a professional manner and with high availability, and the end result is that the clients maximize their property rights.
The fact that it is a "boutique firm" enables it to provide personal care to all its clients, especially in complex cases that require a high level of expertise and analytical skills. The firm's clients benefit from the extensive experience of its CEO, Mr. Erez Avitan, who is personally involved mainly in the firm's cases, while closely accompanying the client and assisting in business decision making.
The firm's staff was meticulously selected and includes experienced appraisers and economists who are highly professional creative thinkers and offer the clients maximal availability. The firm has accumulated expertise in almost every type of project over the years during which it has been active, due to the variety of assets and their location throughout the country. These projects include commercial centers and malls, cinema complexes, hotels, central bus stations, office and residential towers, urban renewal projects, large land tracts, logistic and industrial facilities, gas stations and special energy facilities, etc.
The variety of appraisal evaluation together with the wide distribution of assets, gives the firm an advantage in formulating a unique business databases, including up-to-date rental data, construction costs, relevant planning and licensing data at any point in time and, consequently, shorter schedules and accuracy in appraiser analysis.
Another clear advantage which differentiates Aviran from other firms is the multitude of fields of expertise:
• Consultation regarding appraisal evaluation prior to granting credit to most commercial banks, both to the bank's management and special credit department as well as to its various clients.
• Consultation to various public companies, including presentations and explanation to board members.
• Advising pertaining to city building plans regarding rezoning, including the preparation of balance sheets and allocation tables, maximizing landowners' rights, explaining and defending the plan when it is published for objections, and up to its enforcement.
• Testifying in court as an expert (over the years Aviran has been appointed an expert appraiser by various courts of law, including appointment as a consulting appraiser to appeal committees regarding betterment levies and devaluation/expropriation compensation – (prior to amendment 84).
• Appraisal consulting to local councils and mayors regarding economic feasibility, land betterment, compensation claims, etc.
• Appraisal consulting to settlements and kibbutzes and preparation of critiques of Israel Land Authority claims regarding capitalization/permission fees, including client representation at the critique committee's sitting.
The Firm's Clients
Over the years, the firm served companies from a range of sectors. Among the firm's clients are public companies, leading law firms, senior management of commercial banks, local authorities, energy companies, contracting companies, institutional bodies, private companies and others.
Main Fields of Activity
The firm encompasses three main fields of activity, each of which is managed by an expert appraiser with specific expertise and tools in that field. Thanks to the firm's characteristics, there is a great deal of structural flexibility and quality control that enable optimal, holistic service for each client.
Credit Securities and/or "Fair Value" According to Binding Land Appraisal and/or Accounting Standards - The firm is included on the lists of certified appraisers of Israel's leading commercial banks and performs appraisal valuations for the banks' clients according to Standard 19. The assessments are nation-wide both for existing projects and for tracts of land for which projects are being planned. In addition, the firm carries out annual assessments of properties' "fair value," consisting mainly of "real estate for investment purposes" for public companies that own extensive property. These assessments form the base of these companies' prospectuses and financial reports and are produced according to binding accounting standards, such as International Standard 40 (IFRS). As part of the assessment process, the firm's staff appears in front of balance sheet committees and/or boards of directors of public companies, providing explanations to the management, shareholder representatives and the accountant.
Betterment Levies - The firm represents companies and/or clients of law firms contesting betterment levies, regarding the implementation of all the types of rights defined by law. After preparing the assessment, the firm represents the client as needed in the process of determining a decisive appraisal and/or in front of judicial instances such as appeals committees, courts of law and others, until the final and definitive betterment levy is finalized.
Counseling City Building Plans and Preparation of Balance and Allocation Charts - The firm takes part in teams of experts and consultants that are occasionally convened by developers and landowners in order to promote city building plans for rezoning land from historical zoning (such as agricultural land) to intensive uses such as housing, commerce, etc. Participating in this team of consultants entails the preparation of balance sheet and allocation tables according to Appraisal Standard 15, which are approved as an integral part of the plan's documentation. Furthermore, the firm advises the planner regarding the maximization of the landowners' rights within the project's limitations.

Our Customers
Bank Leumi le-Israel B.M.

Israel Discount Bank Ltd.

Dor Alon Energy in Israel (1988) Ltd.

Yaacov Salomon, Lipschutz & Co.

Naschitz Brandes Amir & Co.

Harari Toister & Co. Law Office

Meshulam Levinstein Contracting and Engineering Group Ltd.

Hartavi Bornstein Basson & Co. Law Offices