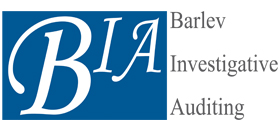 Barlev Investigative Auditing
Investigative Auditing

Company's Profile
| | |
| --- | --- |
| Established: | 1998 |
| Line of Business: | Investigative Auditing |
| Address: | Concord Tower, 21 Bar Kokhva, Bnei Brak |
| Phone: | 972-3-5198000 |
| Fax: | 972-3-5198001 |

Company Executives
Yaniv Buchnik

C.P.A. (Isr.), LL.M., Managing Partner

Barlev Investigative Auditing

View Profile

Yaniv Buchnik

Yom Tov Bilu

C.P.A. (Isr.), Managing Partner, Haifa and North Branch

Barlev Investigative Auditing

View Profile

Yom Tov Bilu

Yehudah Barlev

C.P.A. (Isr.) Managing Partner and Founder

Barlev Investigative Auditing

View Profile

Yehudah Barlev

Keren Saban

C.P.A. (Isr.), Team Leader, Matrimonial & Family Conflict Section

Barlev Investigative Auditing

Elinor Wolff

C.P.A. (Isr.), Team Leader, Investigative Auditing Section

Barlev Investigative Auditing

About Barlev Investigative Auditing
"Barlev Associates, Accountants - Investigative Auditing" (BIA) was founded in 1988 by Yehudah Barlev (C.P.A. (Isr.)), with experience as an officer in the elite unit of National Fraud Investigations Unit in the Israeli Police, who wished to integrate the white-collar investigations world with the accounting world.
The combination between these fields led Barlev to establish the field of Investigative Auditing. Yehudah is the de-facto founder of the Investigative Auditing field, which gained formal global recognition over the years. Investigative Auditing was coined by Yehudah as: prevention, detection and quantification of fraud, money laundering and terror finance and is the tactical and strategic answer to corruption.
The Practice Areas
Throughout its years of operations and to this very day, the firm has been a pure-play Investigative Auditing firm. Investigative Auditing was and is used to solve cases in the international arena, including North and South America, Europe, Africa, Middle East, Asia and Oceania. Nowadays, 30 years after BIA was founded, this field became an integral part of the accountancy practice, which is recognized by the academy, the Courts and the authorities.
BIA services in the Investigative Auditing area also integrate economic cyber, matrimonial (family, divorce and estate cases), valuations and expert opinion reports in Courts.
The Largest Investigative Auditing Firm in Israel
BIA is Israel's largest Investigative Auditing firm and is considered to be one of the leading and most esteemed firms globally.
BIA provides services to clients in Israel and abroad, including lawyers, accountants, CFOs, boards of directors, internal auditors, government ministries, public and private corporations, the Courts, public institutes, municipalities, NGOs, co-operative societies, public officials and private clients.
Handling Prominent Economic and Social Affairs
Over the years, BIA handled many hundreds of Investigative Auditing cases globally and in Israel. As a matter of fact, most of the major fraud cases in the Israeli economy were handled by BIA's team members. Among famous affairs it handled is the "Commerce Bank" investigation, the location and recovery of the properties of holocaust victims on behalf of the Knesset's investigation commission and later also for the Governmental Company for Locating and Recovery of Holocaust Victims' Properties.
Other affairs that were handled by BIA were in major real estate frauds, major conflicts in diamond, gold, chemicals and energy industry, in the telecommunication sector, fraud in Kibbutzim and in natural resources, pharmaceuticals and financial statements fraud. In addition, Investigative Auditing projects to foreign governments.
The firm is also training investigative auditors and enforcement units in the academy and made-to-measure courses to prevent fight corruption, fraud and money laundering.
The Company's Executive Team
Yehudah Barlev, Managing Partner and Founder: Yehudah, the BIA's founder, is considered to be one of the global leaders of the Investigative Auditing field. Yehudah worked in various enforcement units in Israel, managed wide issues of investigative audits of white-collar offences and corruption prevention on a national scale in various countries and in civil disputes in Israel and internationally. Yehudah lectures in the academy and in Israeli and international conventions on Investigative Auditing issues, economic crime, corruption, money laundering and terror financing. He is also the author of the book "The Foundations of Investigative Auditing" and dozens of articles in this field.
Yaniv Buchnik, Managing Partner: Served as a criminal investigator in the Investigative Unit of the Military Police and still serves in the reserves service as Fraud and Economic Offences Investigations Advisor in the National Fraud Investigations Unit of the Military Police. Yaniv heads the firm Matrimonial & Family Conflict Section.
This section led by Yaniv has vast experience in providing Investigative Auditing advisory in divorce and estates cases, including appointments as expert witnesses by Civil and Rabbinical courts. Yaniv is a C.P.A. (Isr.), with a B.A. in Business Management from the Academic College and an LL.M. from Bar Ilan University. Yaniv lectures in courses and seminars on Investigative Auditing in accounting studies programs of several academic institutes.
Yom-Tov Bilu, Partner/Manager of the Haifa and North Branch: Yomi heads the BIA's Haifa branch. He served as a criminal investigator in the Investigative Unit of the Military Police.
Before joining BIA, he was a partner in an accounting firm and a private detective who specializes in insurance fraud investigations. He is a C.P.A. (Isr.) with B.A. in Economics and Accounting from Haifa University.
Yomi has extensive experience in internal auditing and serves also as the internal auditor of various water corporations, associations and public companies.
The Firm's Structure
The main office is in Bnei Brak and practices in the following main areas:
Classical Investigative Auditing
Headed by Yehudah Barlev who oversees the Investigative Audit teams that usually include a certified accountant with expertise and experience in Investigative Auditing.
BIA is known for its innovative, creative and breakthrough solutions tailor-made in each case.
Matrimonial (Family and Divorce)
Headed by Yaniv Buchnik. The firm has vast reputation in this field and is appointed by Family and Rabbinical Courts for expert opinions, assets-rights balancing, valuations, asset location and more. As aforementioned, BIA also has a branch in Haifa in which all of its services in northern Israel are rendered.
The Firm's Vision
BIA's mission is the transfer of its accumulated knowledge to the next generation of accountants and professionals, with its principals as popular lecturers in numerous academic institutes and unique training facilities.

Company Rankings