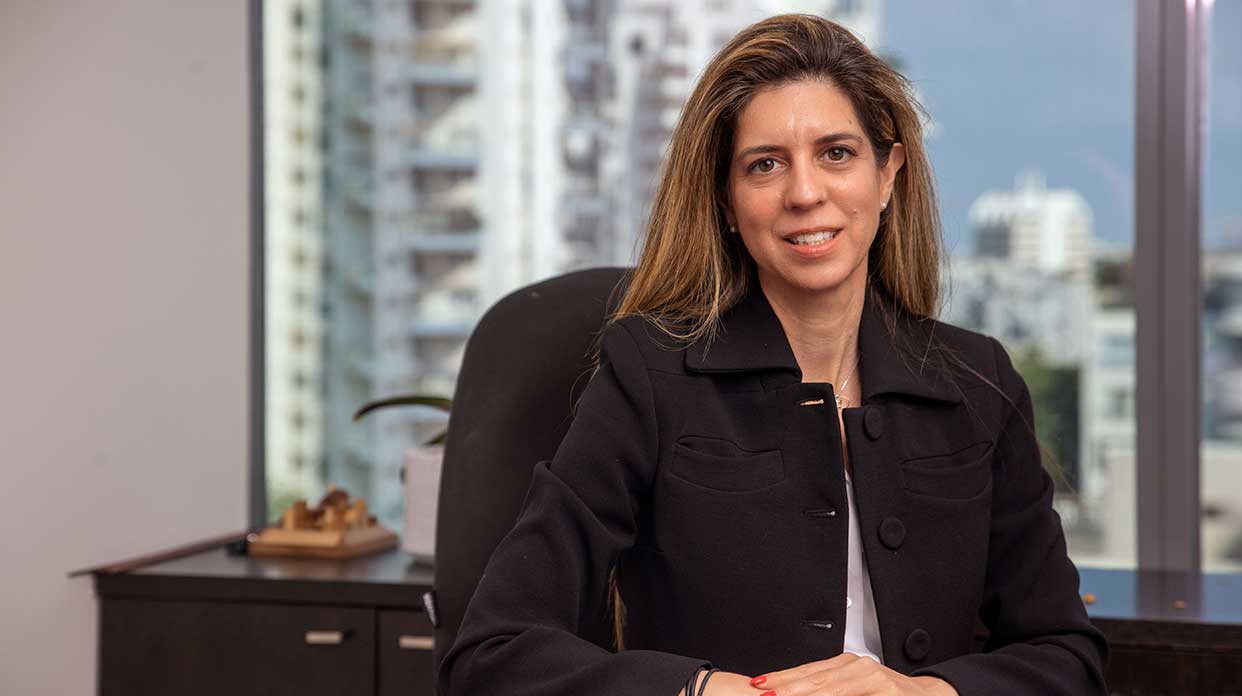 Company's Profile

Company Executives
Adv. Daphna Fuchs

Founder & Owner

Dafna Fuchs & Co. Advocates

About Dafna Fuchs & Co. Advocates
Daphna Fuchs & Co. Law Office was established by Adv. Fuchs, a senior jurist with over 17 years of professional experience in large and respected real estate firms. The Office specializes in all aspects of real estate – residential development, income-generating real estate, urban renewal, combination transactions, real estate transaction financing, and many others. Though formally young, the reputable Office has already managed to stand out in the field in the past year with a long list of clients that includes some of the biggest companies in the market, providing assistance to cases with very large financial stakes. Given her extensive experience as a hired attorney and partner in large firms, Daphna's private office offers the legal capabilities and proficiency of a large firm with boutique treatment of, dedication to and personal involvement with the clients.
One Stop Shop
As mentioned, the Office specializes in all aspects of the legal real estate sector, among others, in representing developers and landowners in complex combination deals, representing purchase groups and developers throughout the process of buying the land and construction, from transaction due diligence, managing negotiations to buy the land, financing agreements and banking assistance and promoting processes with authorities, to selling the apartments in residential projects or, alternatively, placing them for rental and handling tenants in income-generating real estate projects (offices and commercial areas). The Office's clients include construction, development, insurance and public companies, tenant representations, pension funds, agricultural entities and private investors.
Combination Transactions
The Office represents developers and landowners in complex combination transactions from locating potential developers and even representing landowners while assisting their location efforts, to project finish, including the stage of registering rights. The Office oversees and assists with solving the various problems that might come up during the entire process, as part of the overall assistance provided to landowners and developers by the Office in such transactions. As necessary, the Office makes sure to also refer the parties to relevant experts in the various issues related to the transaction, e.g., tax adviser and real estate appraiser, and helps them, in such manner that landowners who execute their first combination transaction will receive close assistance throughout the process until completion.
Urban Renewal
The Office represents developers and tenants alike in all types of urban renewal projects – development and constructions according to NOP 38 and evacuation & construction. When it concerns developers, the Office provides assistance to whole project in its entirety, from drafting the agreement between the parties, submitting the plan for a permit, through construction and to project finish and condominium registration. In cases where the Office represents tenants, it ensures to organize a tenant representation that is agreed by all rightsholders, publish a developer tender, draft the agreement with the winning developer and meticulously and constantly verify that tenants' rights are being maintained and that the considerations they received are the maximum they could have received under market terms, along with obtaining suitable guarantees from the developer to maintain tenant rights.
Return Transactions with Israel Land Authority
As an attorney who lives and breathes real estate, Daphna Fuchs accumulated unique experience in the niche field of return transactions with the Israel Land Authority (ILA). In this specialty, Adv. Fuchs represents agricultural land owners, rightsholders in land, funds or cooperative societies who have held agricultural lands for many years and are now being requested to return it to ILA due to the changed land designation in exchange for monetary incentives from ILA and the right to develop in the new plan that is materializing on the real estate. Adv. Fuchs provides legal assistance for the entire process with ILA representatives and ensures that her clients receive the considerations or incentives they desire.
Former Partner in a Large Reputable Law Office
Before establishing her own office and for many years, Daphna served as a partner and manager of the real estate division in one of Israel's largest law offices. Her responsibilities included directing and leading the division's legal team in handling real estate transactions, purchase and sale agreements, purchase groups, various construction agreements, sharing agreements, combination agreements, etc.
Prominent Cases
During her years of experience, Adv. Fuchs has represented projects very high valued. Among others, she represented the Amitim pension fund in its sale of various owned assets, the Nahariya Cooperative Society in a combination transaction for establishing a commercial center within the city, Yuvalim company in various residential and commercial projects, Almog group in urban renewal projects, various development companies in Yafo's Andromeda project, and many others.
Friendly and Cordial Treatment of Clients
With time, Adv. Fuchs has made a name for herself as a jurist who strives for professionalism in her fields of practice. However, she is also known for her warm and cordial treatment of clients by taking care of all their legal needs in every aspect of the transaction. Such treatment and sincere care for client interests have led to personal and friendly engagement with some clients, allowing her the ability to see the transaction from a bird's eye view while factoring in elements that are beyond legal elements. Moreover, the Office's clients are given the private cell number of Daphna and the advocates who work with her and they know that they have a real available contact at any time throughout the legal process.

Company Rankings