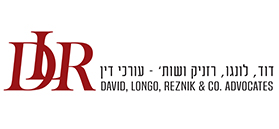 David, Longo, Reznik & Co., Advocates
Commercial, Real Estate, Litigation, High-Tech and Start-Ups, Technology Agreements, Information Systems, Internet Law, E-Commerce, Franchise Law, International Transactions, and IP

Company's Profile
Established:
2010
Line of Business:
Commercial, Real Estate, Litigation, High-Tech and Start-Ups, Technology Agreements, Information Systems, Internet Law, E-Commerce, Franchise Law, International Transactions, and IP
Address:
Amot Mishpat House, 8 Shaul HaMelech Blvd.,
Tel Aviv 6473307
Phone:
03-6966330
Fax:
03-6966350

Company Executives
Adv. Sagiv David

Partner

David, Longo, Reznik & Co., Advocates

Adv. Igal Longo

Partner

David, Longo, Reznik & Co., Advocates

Adv. Erez Reznik

Partner

David, Longo, Reznik & Co., Advocates

About David, Longo, Reznik & Co., Advocates
David, Longo, Reznik & Co. is a longstanding and leading boutique law firm, that has been practicing civil-commercial law, commercial litigation, real estate and business entrepreneurship for over a decade. The firm was founded by Advocates Erez Reznik, Igal Longo, and Sagiv David, all of whom formerly worked in large and well-known firms and have more than 20 years of experience in the legal profession. Over the years, the three partners developed diverse legal expertise, and the firm provides clients with extensive legal experience and knowledge, meeting all of the clients' needs as a one-stop-shop.
Tailored Service Alongside the Capabilities of a Large Firm
The firm was founded with the aim of realizing its partners' vision – to provide legal services of the highest level to the largest business clients in the Israeli market, framework of a boutique firm, which is characterized by uncompromising expertise, high-level of service, personal attention and full availability. The comprehensive legal service is expressed in a broad and diverse service offering and in creative solutions for unusual problems, alongside with a personal attitude, availability and complete dedication to the clients. The firm's clients receive the complete legal solution that they need, with a full involvement of the partners in the cases that the firm manages and in the transactions where it represents its clients.
Practice Areas
The firm has three main practice areas: commercial law, litigation and real estate. The commercial practice includes support and representation of clients in transactions of all types, such as investment agreements, M&A, incorporating companies, technology agreements, software licensing agreements, outsourcing agreements, distribution agreements in Israel and abroad, service agreements, hotel operation agreements and more. The firm's litigation practice includes diverse commercial litigation of large-scale cases, before all courts, in arbitrations and vis-à-vis various institutes, including administrative litigation and labor law related litigation, where the firm represents its clients as employers. In the real estate practice the firm accompanies its clients, developers, contractors and companies from all industries, in real estate transactions, some of which are complex and intricate, including real estate projects, asset-swap ("combination"), NOP 38, urban renewal, property sale and purchasing and more. The firm also has a unique expertise in the High-Tech industry and it provides a broad range of legal services to tech companies and startups. Over the years, the firm accumulated vast experience in representing early-stage entrepreneurs, and the firm outlines an initial roadmap for their companies and accompanies them throughout its entire lifecycle, from incorporation, founders' agreement, formulating the core questions of the shareholders' partnership, issuing stock options for employees, capital raising, investments in the company and up to an exit through the sale of the company or the technology it developed. The firm also specializes in providing service for large enterprises, including banking corporations and credit card companies, in complex technology contracts, IT systems purchasing agreements, and cross-organizational technology outsourcing agreements.
The Firm's Clients
The firm's clientele including banking corporations, credit card companies, yielding properties holding companies, development and construction companies, tech companies, real estate entrepreneurs, purchasing groups, holding companies, hotel companies, pharmaceuticals and more. A partial list of the firm's clients: Bank HaPoalim, Isracard, Israel Land Development Company, Seven Stars Mall, Bonei HaTihon, Davidson Group, M. R. S. Tourism, Euroband, Ziv Av Technologies, Maof Initiation and Construction, Idea Ltd., Petros Group, Agentek, Rayk Group, Raz Progress, Benish Group and many other companies.
The Human Capital
The firm's team comprises three partners and a team of associates, and the firm benefits from consistent growth and expansion, which didn't pause even during the coronavirus pandemic.
Adv. Erez Reznik, Partner - has vast experience in commercial law in the representation of various commercial transactions, including company acquisition agreements, investment agreements, distribution agreements, project execution and business entrepreneurship agreements. Adv. Reznik has a particular specialization in complex technology agreements, software licensing agreements, and IT services outsourcing agreements where he represents banking corporations, credit card companies, tech companies and large business enterprises. Another practice area of Adv. Reznik is litigation, where it represents clients in complex cases at a scale of tens of millions of Shekels. He represents its clients, inter alia, in contractual disputes, shareholders disputes, partners disputes, administrative petitions, public tenders law, insolvency proceedings and more. Adv. Reznik has an LL.B. and a B.A., Economics from Haifa University and has been admitted into the Israel Bar Association since 1999.
Adv. Igal Longo, Partner - specializes in all aspects of civil-commercial litigation. Over the years, Adv. Longo accumulated vast experience in representing clients in complex litigation cases before all of the courts and tribunals and in scales of NIS tens of millions, including shareholders disputes, real estate disputes, contractual disputes, administrative petitions, public tenders law and more. In light of his longstanding experience and proficiency, Adv. Longo's services include managing crises and disputes between partners in companies and partnerships and resolving them, both through negotiations and through legal proceedings. In addition, he provides legal counsel and representation for the firm's clients, which cases he manages, also in the commercial area beyond litigation, including ongoing legal counsel and representation in corporate law, labor law, IP law, various and diverse business contracts, transactions for selling and purchasing business operations, selling companies and private and commercial real estate deals. In addition, he has a particular expertise in all aspects of franchising law and of management companies for shared properties in various types of buildings. He has an LL.B. from Haifa University and is a member of the Israel Bar Association since 1999.
Adv. Sagiv David, Partner - specializes in the broad spectrum of commercial law matters, including representation in M&A transactions valued at NIS hundreds of millions, ongoing counsel and representation of local and international companies in every stage of their lifecycle, from incorporation, through day-to-day operations and up to various commercial agreements, such as M&A, investments, due diligences, technology, franchising and IP. He also has vast experience in real estate and extensive experience in real estate transaction and complex projects in scopes of NIS hundreds of millions, including, inter alia, commercial real estate, logistics centers, office buildings, handling bank finance agreements, representation before the land tax authorities and the Supervisor of Multioccupancy Houses and more. In addition, he accompanies real estate and urban renewal entrepreneurs and rights owners. Beyond his ongoing practice, Adv. David is a registered and serving arbitrator in the Israel Bar Association's Arbitration Institute. He graduated with an LL.B. from the Hebrew University, was admitted into the Israel Bar Association in 1996 and serves as military defense attorney in his reserves service.