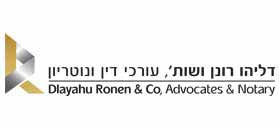 Dlayahu Ronen & Co., Law Firm
Notary, Family Law and Wills, Family Arbitration and Mediation Services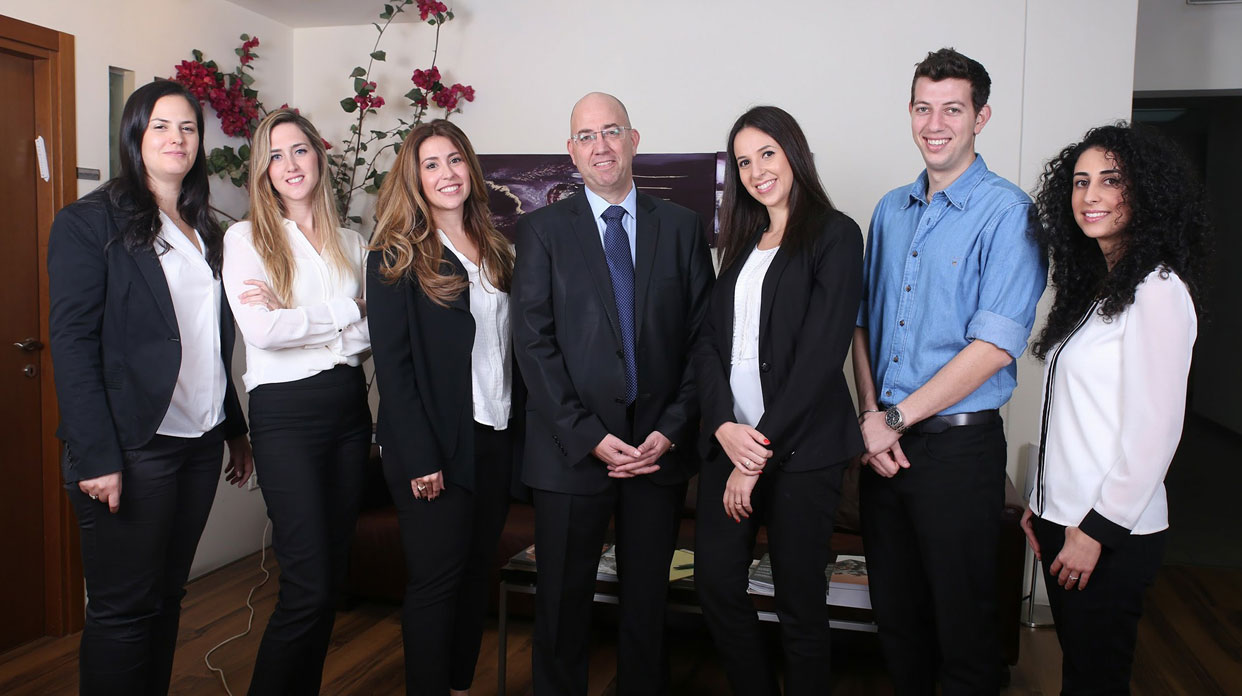 Company's Profile
| | |
| --- | --- |
| Established: | 1995 |
| Line of Business: | Notary, Family Law and Wills, Family Arbitration and Mediation Services |
| Address: | 8 Shaul Hamelech Blvd., Tel Aviv, Beit Amot Mishpat, 16th Floor. |
| Phone: | 972-3-6915678 |
| Fax: | 972-3-6915679 |

Company Executives
Adv. Ronen Dlayahu

Chairman, Israel Bar Association, National Forum for Family Law.

Dlayahu Ronen & Co., Law Firm

View Profile

Ronen Dlayahu
Associates
Hadas Zelkovich
Ina Morali-Finkelstein
Guy Rotraff
Omri Dlayahu

About Dlayahu Ronen & Co., Law Firm
Dlayahu Ronen & Co., founded in 1995 by the senior partner Ronen Dlayahu, is one of Israel's longstanding leading family law and wills firms. The firm handles family law and wills, personal status and real estate. The firm also provides arbitration services, family mediation, and "collaborative divorces". The firm has won significant legal rulings and precedents in courts, set by the Supreme Court. The firm supports clients from initial legal consultation to selecting the strategy to conduct the case until completion of the required legal handling including representation before courts (Family Courts, Rabbinical Courts, District Court appeals, High Court and Supreme Court petitions), preparing the legal case according to the issue, drawing up agreements and contracts, and acting with government authorities.
The firm has ongoing work relations with professionals and experts in the firm's areas of involvement such as private investigators, social workers, psychologists, land appraisers, financial experts, actuaries, etc. in order to ensure the best for clients who are the top priority in all the firm's activities.
Dlayahu Ronen & Co. has been ranked for many years by D&B and BDI as one of the top 10 family law firms and was chosen as one of the best family law and wills firms by a "Maariv" survey.
The firm has four lawyers, all specialists in their fields: Hadas Zelkovich, Inna Morali-Finkelstein, Guy Rotraff, and Omri Dlayahu.
Professional Vision
The firm aspires to creative and practical solutions for its clients, placing a special stress on supporting the client in every stage of legal procedures with uncompromising professionalism and determination, personal attention, and recognizing the client's difficult feelings in a time of crisis.
Uncompromising Professionalism, Integrity, Personal Attention
With a deep understanding of the sensitive field in which it specializes, Dlayahu Ronen & Co. pursues the client's benefit at all times. In a highly personal and private specialization, this requires a combination of uncompromising professionalism, and personal attention and client support throughout to reach the best and most professional results. Personal attention stresses the sensitivity of these legal matters and the firm consults with psychologists, therapists and others, mainly where children are involved.
Over the years, Dlayahu Ronen & Co. has gained a reputation for integrity and is particular in providing legal services of the highest order in terms of professionalism with close support from lawyers and constant consultations, and supervision with the firm's other lawyers, involving the client in all stages of procedures.
Practice Areas
Dlayahu Ronen & Co. is engaged in a broad range of areas: wills, inheritance and estates, child support and housing, parental and child custody, assets and financial claims, common law spouses, marriage and divorce, and ways to settle family disputes.
Wills
The firm provides legal services in drawing up wills, requests for wills' compliance orders and inheritance orders, managing estates in agreement with the inheritors, and contesting wills.
Child support and housing
The firm is engaged in child support, their housing, wife support and specific allocations, parental and child custody. The firm supports clients in adoption matters, surrogacy, same sex families, one parent families, emigrating abroad with minors, international child abduction according to the Hague Convention, joint and individual custody, custodianship for minors, paternity suits and examining DNA.
Financial relations and claims
The firm provides legal services on marriage certificates, receivership, family disputes on agricultural plots and land, assessing the value and reputation of family companies, family taxation issues, family torts claims, liquidation and sharing land and belongings, actuary balancing and dividing pension rights between couples, dividing future earning ability, prenuptial and divorce agreements.
Marriage and divorce
The firm supports clients in maintaining and violating marriage, prenuptial agreements, common law agreements, marriage prevention suits and bastards, marriage settlement suits, family libel suits, private investigations in divorce and protecting privacy, refusal to grant divorce and inter-faith marriage licenses.
On ways to settle family disputes
The firm is engaged in various suits authorized by the Family Court, in procedures in the Rabbinical Courts, in 'competing authorities' in various Family Court, District Court and Supreme Court procedures, in family agreements, arbitration, family mediation between couples and consensual divorces.
Adv. Ronen Dlayahu has also specialized over the years in the subject of dividing up "human capital" and "career assets," the field in which he completed his doctorate, and represents public figures and celebrities in these important areas.
Adv. Ronen Dlayahu
Is considered a litigator, arbitrator and mediator with a reputation in his field. B.A. Politics and International Relations, Hebrew University; LL.B. Tel Aviv University and LL.M. Bar-Ilan University and Ph.D. Law. He has been practicing law since 1995. He served for a number of years as Chairman of the Israel Bar Association's Tel Aviv District Family Affairs Committee. He is currently chairman of the Israel Bar Association's National Forum for Family Law and lectures at the Kiryat Ono Legal College and the Israeli government Welfare Ministry's Central School for Welfare Workers. He also lectures to the Israel Bar Association on other public matters.
He sits on a government committee headed by Emeritus Judge Yehoshua Gross examining reforms to the Child Adoption Law.
Adv. Dlayahu is a recognized authority in his field and presents a weekly legal program on Tel Aviv's Radio 102FM. In 2014, Adv. Dlayahu was awarded the Israel Bar fellowship for his major contribution to the development of studies and enhancement of Israel's family law sector.
Ronen also authored the book: "Where Love Ends".

Facebook Updates

Photo Gallery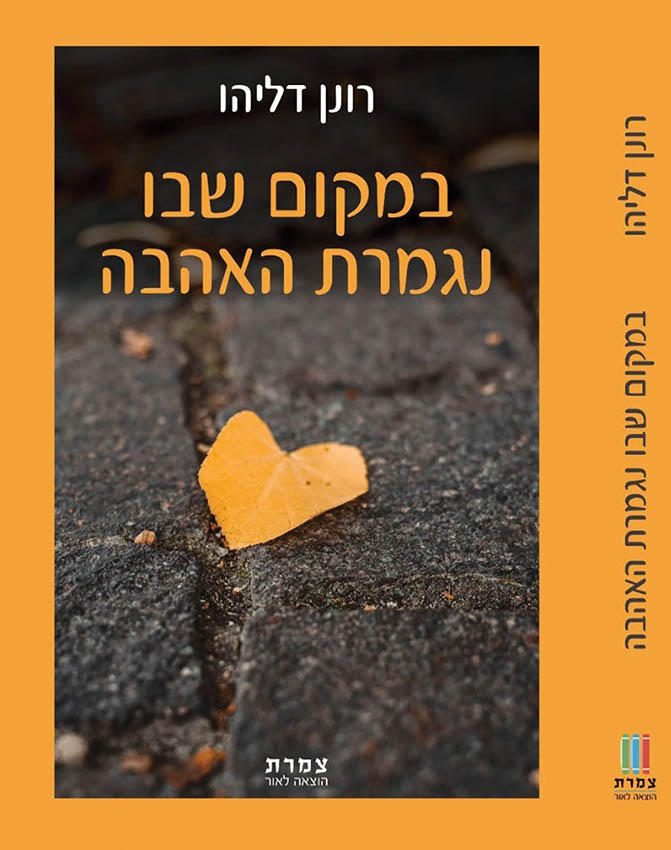 Company Rankings