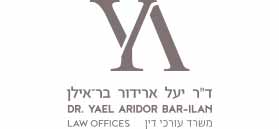 Dr. Yael Aridor Bar-Ilan Law Offices
Commercial and Corporate Litigation

Company's Profile
| | |
| --- | --- |
| Established: | 2016 |
| Line of Business: | Commercial and Corporate Litigation |
| Address: | 7 Metsada St., B.S.R Tower, 36th Floor, Bnei Brak, 5126112 |
| Phone: | 972-3-7781110 |
| Fax: | 972-3-7746771 |

Company Executives
Dr. Yael Aridor Bar-Ilan

Founder & Owner

Dr. Yael Aridor Bar-Ilan Law Offices

View Profile

Yael Aridor Bar-Ilan

About Dr. Yael Aridor Bar-Ilan Law Offices
Dr. Yael Aridor Bar-Ilan Law Offices is a leading boutique law firm specializing in commercial and corporate litigation.
The firm was established in 2016 by Dr. Aridor Bar-Ilan after years as a partner in a big law firm, with the aim of offering her clients personal and dedicated legal services. Dr. Aridor Bar-Ilan has extensive experience representing clients in complex cases before all tribunals, through a meticulous analysis of facts, in-depth legal research and a determination to succeed and to represent the client's case in an optimal manner.
The firm espouses values of excellence, creativity and integrity. Dr. Aridor Bar-Ilan has many years of experience representing clients in cases of complex commercial disputes and in consulting clients prior to legal proceedings. She also gained knowledge while teaching in her fields of expertise in legal academia.
The firm combines expertise in litigation with comprehensive knowledge of commercial law, the ability to delve deeply into legal questions and original legal thought. Clients enjoy personal and efficient representation by Dr. Aridor Bar-Ilan, who is involved with every stage of the process, together with the firm's top-notch and devoted legal team.
The firm's clients include public companies, leading commercial companies, international companies, financial institutions, public entities and individuals. The firm handles complex commercial disputes, disputes between shareholders, defends against requests to approve class action lawsuits and derivative actions and represents in appeals to the Israeli Supreme Court.
Dr. Yael Aridor Bar-Ilan, Founder and Owner
Dr. Yael Aridor Bar-Ilan holds a Doctorate degree in Law (S.J.D.) from Harvard Law School. She has an LL.B. from Tel Aviv University with Honors and a B.A. in Economics from Tel Aviv University with Honors. She is an external lecturer at Tel Aviv University and Reichman University (IDC Herzliya), lectures at professional training seminars and publishes articles on legal matters. Dr. Aridor Bar-Ilan serves as a mediator and arbitrator and she appears on the Israeli Institute of Commercial Arbitration's list of approved arbitrators.
Community Outreach
Dr. Aridor Bar-Ilan volunteered for six years serving as a member of the Israel Bar Association's Disciplinary Court for the Tel Aviv district, and served as head of a panel for several years.
Areas of Expertise
Commercial Litigation
The firm specializes in representing in commercial disputes, including disputes between companies, partnerships, disputes with respect to business contracts, investments, privacy protection and cyber security, libel suits, brokered deals and distribution agreements and more.
Corporate Litigation
The firm specializes in disputes involving corporations, including disputes between shareholders, lawsuits for the removal of oppression of minorities, requests to approve derivative actions and consultation to directors.
Corporate litigation requires both legal knowledge of the obligations for sound corporate behavior and experience in handling complex commercial disputes. The firm is experienced in handling precedential cases and Dr. Aridor Bar-Ilan has gained extensive knowledge by teaching the "Corporate Litigation" course for many years.
Appeals
The firm specializes in representing clients who appeal rulings, which requires strategic and creative thinking in order to put forward precedential questions.
Class Action Suits
The firm represents clients in the defense against requests to approve class actions in a variety of commercial matters, and has successfully brought about the dismissal of approval requests against its clients.
The firm handles defense against class action requests in commercial matters, accessibility and communication.
International Disputes
The firm represents international clients in disputes in Israel, as well as Israeli clients involved in international disputes. Dr. Aridor Bar-Ilan is experienced in representing clients in cases related to enforcing of foreign judgments in Israel and service outside of the Israeli jurisdiction and in international arbitrations, including through the framework of the ICC.
Regulation and Consultation
The firm provides expert representation before regulatory entities including government ministries as well as the State Comptroller and Ombudsman, in addition to advising our clients on various regulatory matters. The firm furthermore provides ongoing advice and representation to public entities and institutions of higher education. Additionally, the firm provides legal counsel and consulting to our Israeli as well as international clientele on legal issues that come up during the course of their regular operations.
Arbitrations and Mediations
The firm also represents its clients in arbitrations and mediations.
Dr. Aridor Bar-Ilan was appointed arbitrator and mediator in various cases, and was selected to be among the Israeli Institute of Commercial Arbitration's topnotch group of arbitrators.
Publications
"Document Disclosure as the Principal Battlefield in Derivative Action Cases," in the academic journal "Kiryat Hamishpat", vol. 11 (2018)
The article shows that in derivative action cases, the main battlefield switched from the request process for approving the derivative action to the disclosure process that precedes it. The article is cited in Supreme Court and District Courts' rulings.
"Justice: When Do We Decide?" 39 Connecticut Law Review 923 (2007).
A summary of Dr. Aridor Bar-Ilan's doctoral thesis was published in the prestigious Connecticut Law Review. It demonstrates that legal questions are resolved according to two perspectives of justice – before or after the event's occurrence. The article lists their characteristics and suggests ways to weigh the decision between these two perspectives by demonstrating and broadly analyzing various legal fields.
"Disputable Facts," Tel Aviv University Law Review 104 (2000) 131
The article deals with the way facts are presented in court judgments and the methods required for persuading through narratives. The article shows that when an appeals court reverses a lower court's ruling, the case's factual description frequently differs in the two judgments. The article was widely praised and was referred to in Supreme Court rulings.
University Courses
"Corporate Litigation" - Dr. Aridor Bar-Ilan has taught this course at Tel Aviv University since 2011.
"Law and Time" - A course created by Dr. Aridor Bar-Ilan based on her doctoral thesis, which was taught in Tel Aviv University (2006 – 2009). In addition, Dr. Aridor Bar-Ilan lectures at seminars, workshops and conferences and publishes opinions in newspapers.

Publications