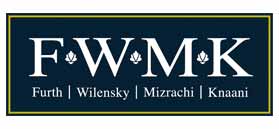 F.W.M.K (Furth, Wilensky, Mizrachi, Knaani) - Law Offices
Commercial Law, High-Tech, Litigation, Commercial, Insolvency and Real Estate, Labor Law

Company's Profile
| | |
| --- | --- |
| Established: | 2006 |
| Line of Business: | Commercial Law, High-Tech, Litigation, Commercial, Insolvency and Real Estate, Labor Law |
| Address: | 1 Azrieli Center, Round Building, 35th and 41st Floors, Tel Aviv 6702101 |
| Phone: | 972-3-6070800 |
| Fax: | 972-3-6097797 |

Company Executives
Boaz Wilensky

Founding Partner

F.W.M.K (Furth, Wilensky, Mizrachi, Knaani) - Law Offices

Udi Knaani

Founding Partner

F.W.M.K (Furth, Wilensky, Mizrachi, Knaani) - Law Offices

Erez Mizrachi

Founding Partner

F.W.M.K (Furth, Wilensky, Mizrachi, Knaani) - Law Offices

Ofer Furth

Founding Partner

F.W.M.K (Furth, Wilensky, Mizrachi, Knaani) - Law Offices

About F.W.M.K (Furth, Wilensky, Mizrachi, Knaani) - Law Offices
The FWMK Law Office advises an extensive roster of clients, comprising leading Israeli and foreign companies, such as publicly traded companies, high-tech companies, start-ups, technological incubators, private and institutional investors and entrepreneurs in a range of sectors.
Such clients benefit from our long and successful track record in managing complex cases, our excellence in strategic understanding, as well as our ability to overcome numerous legal and corporate obstacles that require innovation, professionalism, and the highest skill set.
FWMK combines, at all times, these firm traits with an unwavering commitment to the needs, objectives, and success of our clients.
FWMK is consistently and constantly ranked in Legal 500 among Israel's leading law firms and is attributed for "exceptional client service, and depth of industry knowledge", "exceptional advocacy skills, and an ability to find creative solutions to complex problems" as well as for its "ability to get a deal closed" (Legal 500 EMEA).
Practice Areas
Commercial Law
Our dealmakers bring substantial experience in handling a range of complex M&A agreements, purchasing of shares and assets, cooperation, financing and various other commercial agreements, both in Israel and abroad, and on behalf of buyers and sellers.
From the outset of any transaction, we are involved from its structure and strategy to its financial and tax planning, as well all other commercial issues vital to a successful completion.
High-Tech
FWMK is one of the leading Israeli firms in the field of high-tech and technological innovation.
The department focuses on providing legal support to high-tech and technology companies in various stages of development, and brings vast experience in handling technology and intellectual property deals, strategic partnerships and investments, financing and investment agreements, and working vis-à-vis the Israeli Innovation Authority.
Living and breathing high-tech, we are regularly called to assist venture capital funds, investors, start-ups, and entrepreneurs on a host of business and legal matters, as well as advise parties in dispute in this sector.
Litigation
FWMK's Litigation department is considered to be one of the frontrunners departments of its kind, in Israel, with our litigators having substantial hands-on experience in managing every aspect of civil-commercial legal issues, before all courts.
Always striving for the best possible commercial solution for our clients, the department's areas of expertise include corporate law, capital markets, contract law, intellectual property, banking, communications, and media. In the field of class actions, FWMK is one of the only firms that act on behalf of both plaintiffs and defendants. Furthermore, our department has extensive experience handling disputes of an international nature.
Insolvency
FWMK's rapidly growing Insolvency department handles a broad range of areas such as liquidations, receiverships, creditors' agreements, rehabilitation, and recovery procedures.
Our department is headed by Adv. Lior Dagan, appointed and recognized by Israeli courts as an authority on delicate and high-profile cases in the field. Such is the wealth of experience in the department overall that we are regularly selected to act as liquidators, special managers, receivers, and trustees in settlements, companies, and organizations, as well as associations in the midst of insolvency proceedings.
Real Estate
FWMK's Real Estate department acts for a number of leading realty organizations and parties and advises on a variety of business aspects in complex real estate deals. We are heavily involved in both commercial and residential projects of all sizes, and also specialize in urban renewal projects.
Labor Law
The Labor Law department offers legal support to local and international companies on a wide range of labor-related matters, including pension plans, dismissal procedures, collective labor law, counseling and service providers agreements, incentives plans, foreign experts' visas, as well as representation before various courts and tribunals, performance of due diligence processes and dealing with labor matters arising during M&A transactions. The department focuses on the practical approach which takes into consideration the unique features of each client's work environment.
Founding Partners
Boaz Wilensky - Adv. Wilensky advises Israeli and international clients on matters of commercial litigation, tenders, licensing, contracts, banking, securities, class actions, real estate litigation, estates, and much more.
Backed by many years of experience in appearing in court, he is widely renowned as an expert on analyzing and managing intricate and complex litigation cases.
Udi Knaani - Adv. Knaani's expertise focuses on representing local and foreign clients on M&As, raising capital, investments, and other related dealings.
Throughout his career, he has accumulated considerable experience in handling major, complex, financing deals, in Israel and abroad.
Adv. Knaani offers clients the most comprehensive service, including strategic consulting and tax planning.
Erez Mizrachi - Adv. Mizrachi specializes in representing and offering ongoing legal and commercial assistance to a wide range of high-tech companies, with an emphasis on start-ups in all stages of development, as well as in representing investors and funds. Furthermore, he supports and initiates collaborative partnerships, strategic investments, M&As for high-tech companies, licensing and software agreements, and technological deals involving the Office of the Chief Scientist.
Ofer Furth - Adv. Furth specializes in representing Israeli and foreign clients in commercial litigation, with an emphasis on corporate law, while providing a deep understanding and extensive experience in managing power struggles, shareholder disputes, and civil and contractual disputes between companies. Adv. Furth also has extensive experience in all areas of commercial law, including tenders, contracts and class actions.

Company Rankings