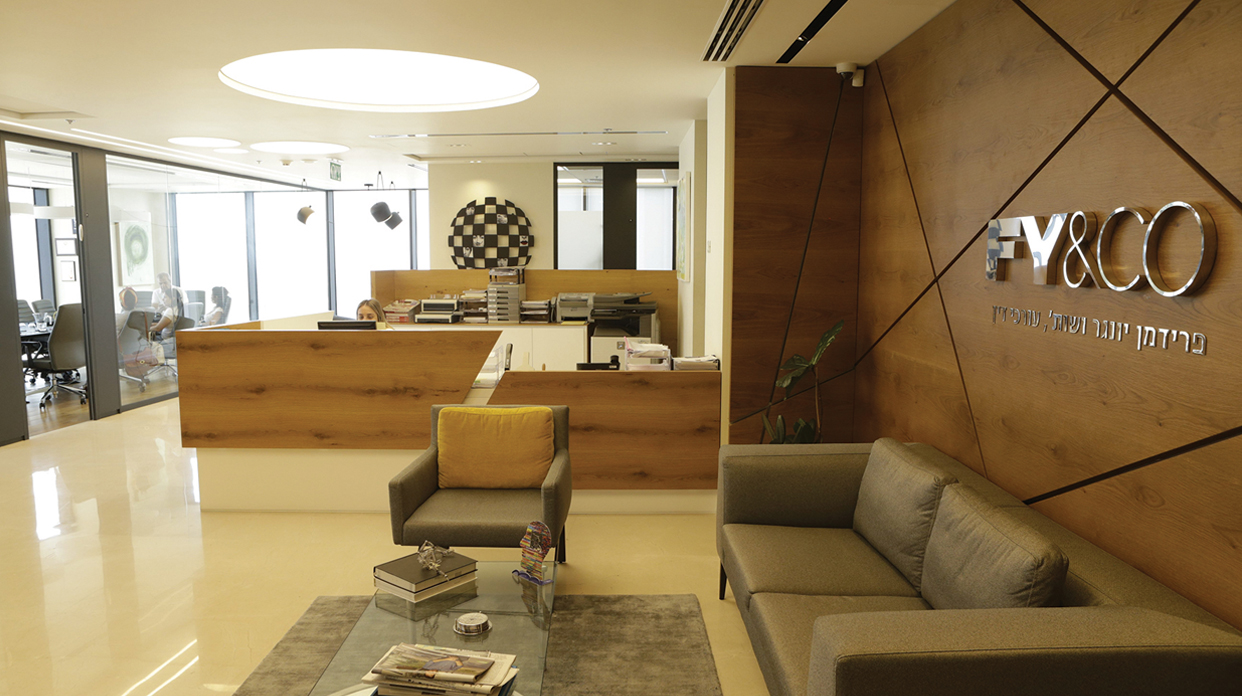 Company's Profile
| | |
| --- | --- |
| Established: | 2005 |
| Line of Business: | Law Firm |
| Address: | 144A Menachem Begin Rd., Midtown Tower, 38th floor, Tel Aviv 6492102 |
| Phone: | 972-3-6114977 |
| Fax: | 972-3-6114978 |

Company Executives
Itzhak Yunger

Founder

Friedman, Yunger & Co.

View Profile

Itzhak Yunger

Dan Friedman

Founder

Friedman, Yunger & Co.

View Profile

Dan Friedman

Yoav Zatorski

Adv.

Friedman, Yunger & Co.

Harel Gal-Yam

Adv.

Friedman, Yunger & Co.

Jonathan De Shalit

Adv.

Friedman, Yunger & Co.

Yshay Meirsdorf

Adv.

Friedman, Yunger & Co.

Oz Keinan

Adv.

Friedman, Yunger & Co.

About Friedman, Yunger & Co.
Friedman, Yunger & Co. (FY & Co.) Advocates was founded in 2005 by Advocates Itzhak Yunger and Dan Friedman and is an impressive boutique law firm, which is outstanding in its practice areas.
FY & Co. is a leading law firm in civil and commercial law, litigation, tenders law, and insolvency proceedings.
At the heart of the firm's activities, which include handling significant cases, are professional values of exceptional service, creative thinking, striving for perfection, high availability, effective actions, short response times, and dedicated personal attention.
The firm's clients include leading corporations and companies in the private and public sectors. FY & Co.'s clients enjoy close professional support from the senior partners who provide all their experience, skill and deep familiarity with the legal world, and thus assist in obtaining optimal results.
These values of professionalism and uncompromising service mean that FY & Co.'s clients can put their faith in the firm as a worthy professional body which is able to handle their most important legal affairs.
The firm's success also received the acknowledgment of leading ranking firms such as D&B and the international Legal 500, where FY & Co. was ranked as one of Israel's top 4 insolvency firms.
About the Partners
Adv. Itzhak Yunger has an LL.B. from the Hebrew University of Jerusalem, and was admitted to the Israel Bar Association in 1996.
Adv. Dan Friedman has an LL.B. from Tel Aviv University, and was admitted to the Israel Bar Association in 1996.
The firm's senior staff is personally involved in handling every case at every stage while seeing personal attention as a vital way to obtain the best results.
Human Resources
FY & Co. is rigorous in hiring professional and administrative staff of the strictest high quality. The lawyers employed by the firm excel in their fields and have graduated from chosen institutes.
The dedicated legal and administrative staff is available to the clients, with uncompromising professionalism, and full accessibility.
Practice Areas
Litigation
FY & Co. has expertise in representation and handling large scale legal procedures in courts and arbitration. The firm's staff express their professional talent in litigation in various areas of civil and commercial law including in commercial disputes, defending directors in liability suits, shareholder conflicts, class actions, and labor law.
The firm also has major experience in handling administrative law cases and Supreme Court petitions.
FY & Co's staff is able to provide effective and swift responses to injunctions, and other preliminary remedies.
Insolvency Procedures
One of the firm's main practice areas is handling insolvency cases, stay of proceedings and debt restructuring, liquidations, receivership and special arrangements at the highest level of legal capability. As part of these activities, FY & Co's partners are often appointed as liquidators, receivers and trustees in highly publicized cases. The firm also represents creditors, executives, and other parties in insolvency procedures.
Tenders
FY & Co. has special expertise in tenders law in the field of administrative law. The firm is involved in many administrative petitions, representing petitioners and respondents while obtaining significant achievements for its clients.
Commercial Agreements
FY & Co. has a broad and deep business understanding enabling the firm to act, with a lone quality, in all matters relating to the conduct of commercial transactions.
The firm has an advantage when conducting deals due to its extensive experience in litigation, which enables a broad perspective on the formulation of the deal's terms.
The firm has experience in handling and representing clients in large scale and complex commercial agreements with creative thinking, and swift responses.
Regulation
The firm represents its clients in various Knesset committees and vis-à-vis government ministries in legislative procedures.
Other Areas of Specialization
Real estate, banking, planning and construction law, municipal law, labor law and more.

Company Rankings