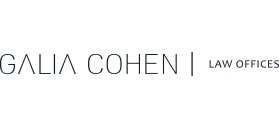 Galia Cohen Law Offices
Civil-commercial litigation, white collar offences, derivative and class actions, administrative law and antitrust

Company's Profile
| | |
| --- | --- |
| Established: | 2015 |
| Line of Business: | Civil-commercial litigation, white collar offences, derivative and class actions, administrative law and antitrust |
| Address: | 30 HaArba'a St. HaArba'a Towers, Tel Aviv |
| Phone: | 972-3-9595060 |
| Fax: | 972-3-9595080 |

Company Executives
Adv. Galia Cohen

Founding Partner

Galia Cohen Law Offices

Adv. Viki Ventura

Partner

Galia Cohen Law Offices

About Galia Cohen Law Offices
Galia Cohen, Law Offices is a leading litigation firm. The firm litigates in all areas of law, among which are: complex civil-commercial disputes, white-collar offences, control struggles in companies, derivative and class actions, administrative law, antitrust and defamation.
The firm is unique in its expertise in litigation in all areas of the law, thus enabling a comprehensive legal facilitation and broad perspective of complex disputes, and guaranteeing the formulation of creative solution in accordance with each case's unique characteristics, in order to achieve the best possible results for its clients.
The firm handles notable and significant cases including the representation of senior executives and prominent corporations in complex affairs where intricate and innovative legal issue arise.
Selection of Cases with Great Care
As a boutique firm, the firm is highly selective in the cases it chooses to manage at any given time. The limited number of cases that are handled by the firm, enables its team of lawyers to provide the clients with a thorough and optimal, personal and direct service, without limitations of time, work volume or use of external advisors, at the highest professional standards.
Practice Areas
Civil Litigation
The firm specializes in representing in complex civil cases where precedential legal questions and complex evidence issues arise. Such complex cases are usually characterized by their large financial scope and their precedential, cross-sectional or far-reaching implications. Such cases include, inter alia, large contractual disputes, shareholders struggles in private and public companies, complex real estate, banking and finance lawsuits, lawsuits concerning the capital markets, telecommunication, venture capital, etc.
Derivative and Class Actions
The firm specializes in representing defendants both during the stage of the court approval of class and derivative actions and in the management of the proceedings. The firm represent public corporations and senior officers (such as CEOs, CFOs and chairpersons of boards).
White Collar Offenses
The firm specializes in representing businessperson, public and private corporations, senior officers in such corporations and public officials (including executives in government-owned companies). The firm accompanies the clients from the early stages of the investigations (including arrest proceedings and temporary asset forfeitures) and also in the management of the legal proceedings themselves. These cases include government corruption cases, including bribery cases, securities offences, antitrust and money laundering.
Antitrust
The firm specializes in both the criminal and the civil aspects of competition and antitrust law. Inter alia, the firm accompanies suspects of violations of competition law and represents plaintiffs and defendants in civil litigation proceedings which include antitrust claims.
Administrative Law
The firm specializes in the representation of prominent figures and corporations in pre-litigation proceedings before various regulatory entities as well as in all courts of law, including the Supreme Court. In addition, the firm represents its clients in non-judicial administrative tribunals such as disciplinary courts in suspension proceedings, license revocation etc. and also in appeal committees.
Defamation
The firm specializes in the representation of public officials and leading executives, both local and foreign, in the media and in front of private parties. Additionally, the firm represents its clients during all stages of the high-profile case, before and after its publication, and specializes in handling sensitive matters in the press and the business arena.
The Firm's Team
Adv. Galia Cohen, Founding Partner
Graduated from the Law Faculty of The Hebrew University of Jerusalem (LL.B.) and the Law Faculty of Tel Aviv University (LL.M.). Admitted to the Bar since 2001. Adv. Cohen has more than 20 years of experience in the legal profession and has a particularly extensive experience in representing international and Israeli corporations and officers thereof, prominent businesspersons from Israel and abroad, public and elected officials including ministers, PMs and CEOs of government-owned and privately-owned companies in complex proceedings before all of the courts and in mediations and arbitrations. Adv. Cohen has expertise in representing in complex civil proceedings, criminal proceedings and administrative proceedings, and therefore has an extensive experience in providing a complete solution for handling crises.
Adv. Cohen participated in the creation of numerous and significant legal precedents in the civil-commercial litigation sphere and has made extraordinary legal achievements in other litigation areas. She interned in Danziger Klagsbald & Co. Law Offices and later became Adv. Dr. A. Klagsbald's partner in this boutique firm that specialized in Civil-Commercial litigation. Afterwards, she opened her private firm, which she heads to this very day.
Adv. Viki Ventura, Partner
Graduated from TAU's Law Faculty and School of Management. Admitted to the Bar since 2014. She gained her litigation experience, inter alia, in Adv. Klagsbald's firm, where she also met Adv. Galia Cohen, her current partner.
Adv. Ventura was selected by Globes Magazine as one of Israel's 40 Promising Youths for 2019.
Adv. Ventura regularly represents corporations, officers, entities from the public sectors and leading and prominent businesspersons.

Company Rankings