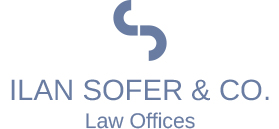 Ilan Sofer & Co. Law Offices
Civil and Commercial Litigation and White-Collar Offences

Company's Profile
| | |
| --- | --- |
| Line of Business: | Civil and Commercial Litigation and White-Collar Offences |
| Address: | 94 Igal Alon St., 2 Alon Tower, Tel Aviv |
| Phone: | 972-3-9468777 |
| Fax: | 972-3-9468788 |

Company Executives
Ilan Sofer

Partner and Founder

Ilan Sofer & Co. Law Offices

View Profile

Ilan Sofer

Elad Beker

Partner

Ilan Sofer & Co. Law Offices

Guy Wilf

Partner

Ilan Sofer & Co. Law Offices

Jonathan Dori

Partner

Ilan Sofer & Co. Law Offices

About Ilan Sofer & Co. Law Offices
Ilan Sofer & Co., Law Offices is a leading boutique firm that specializes in civil and commercial litigation and white-collar criminal defense. The firm, which is at the forefront of its practice areas and has been representing companies and individuals in some of the most high-profile cases in Israel, tailors its services to its client's needs, while holistically viewing all of their goals.
The firm, which specializes in litigation, handles disputes through outlining a uniquely-customized strategy, applying out-of-the-box thinking and meticulously maintaining close and personal communication with its clients, and providing them with a safety net at a time of crisis. The firm makes sure that each client is handled with personal attention while maintaining the highest professional standards. The Firm's unique proficiencies include the outlining of a tailor-made strategy, first class legal analysis and preparations of pleadings, and impressive court appearance and cross-examination capabilities.
The firm was founded in 2018 by Adv. Ilan Sofer, one of Israel's leading litigators, who served as a lawyer and as a partner in some of Israel's largest law firm, and has about 25 years of experience. The firm's professional and skilled team, which consists of partners and lawyers who worked in the largest law firms, has been accompanying Adv. Sofer for many years. This excelling and dedicated team enjoys its work and the firm's friendly atmosphere.
The firm's clients benefit from the unique combination between uncompromising professional standards, which continue the professional career of the team from the largest law firms on the one hand, and the intimate atmosphere on the other. The firm' s cohesion, an important factor in litigation, is enabled due to the firm's size, and the combination between the high and uniform professional level and the firm's work in large-scale cases, and creates the added value from which the clients benefit. The synergy between the firm's practice areas, civil commercial litigation and white-collar criminal defense, leads to the firm's unique strength and creates a significant advantage for the clients. The firm's clientele includes some of Israel's largest companies, including public companies, from the real estate, insurance, banking and finance, utilities, retail, tourism, high-tech and cyber, governmental companies, investors, law firms and accounting firms' senior executives and officers, and businesspersons from a variety of sectors.
Practice Areas
Civil and Commercial Litigation: The firm represents its clients in all aspects of civil and commercial litigation, including complex and international cases, large-scale contractual disputes, shareholders' struggles in public and private companies, arbitrations, lawsuits in the fields of real estate, insurance, banking and finance, capital markets, labor law, aviation, communication, copyrights and IP, Venture Capital, cyber retail and more.
Representation in White Collar Cases: The firm specializes in representing businesspersons, corporations and officers thereof in white collar cases, and accompanies its clients throughout every stage, from early investigation to representation before all the courts, including in cases concerning securities, antitrust, taxes, money laundering, labor law and more. In addition, the firm's lawyers have particular expertise in representing corporations and officers in administrative enforcement vis-à-vis various authorities, including the Securities Authority, Competition Authority, Ministry of Employment and Welfare and Consumer Protection Authority.
Derivative and Class Actions: The firm represents defendants in class action lawsuits and derivative lawsuits, including corporations and officers.
Administrative Law (including Bagatz petitions): The firm represents corporations in administrative petitions against the decisions of various authorities, and represents appellants and respondents petitions before the High Court of Justice (Bagatz).
Arbitrations and Mediations: The firm represents parties in arbitrated business and civil disputes, including in international arbitrations. In addition, the firm has extensive experience in representing parties in business and civil disputes in mediation proceedings. In addition, Adv. Sofer occasionally serves as a mediator in complex civil and commercial disputes.
Adv. Ilan Sofer, Founding Partner
Adv. Sofer, one of Israel's leading litigators, was included as one of Israel's "Four Promising Litigators under 40" by Chambers&Partners. He has about 25 years of white collar and civil-commercial litigation experience, and was involved in cases where significant precedents were set, including in civil, companies, tax, criminal and tenders law. Before he founded the firm, he served for about 10 years as the head of Commercial Litigation and White-Collar criminal defense department in one of Israel's largest law firms. He has extensive experience in representing businessperson, corporation, senior officers and public officials in complex legal disputes before all courts and in arbitrations, including arbitrations before international institutes such as the ICC, as well as representing shareholders in disputes in private and public companies, representing corporations and businesspersons in complex contractual and commercial disputes in various sectors, including real estate, insurance, securities, banking and finance, high-tech, communication, energy, construction and infrastructures and tourism. He has extensive experience also in defending corporations, directors and executives in public companies against derivative and class action lawsuits, and significant experience in representing businesspersons, officers and public officials against white collar criminal proceedings, including in the fields of securities, antitrust, taxes and more.
Adv. Sofer is currently the (co-)chairperson of the Israel Bar Association's Proceedings and Evidence (Criminal) Committee, and is a member of the IBA's National Ethics Committee. He was chairperson of the legislation team of the IBA's Criminal Law Forum. He regularly lectures on civil-commercial and criminal matters in various professional forums.
Additional Partners
Adv. Elad Beker: Graduated cum laude from the Law Faculty of Bar Ilan University (LL.B.), and has also a B.A., Political Science (cum laude).
Adv. Guy Wilf: Graduated magna cum laude from the Law Faculty of Haifa University, and also has a B.A., Economics from Haifa University and an M.B.A., Finance (cum laude) from Tel Aviv University.
Adv. Jonathan Dori: Graduated from the Law Faculty of Bar Ilan University (cum laude), and an M.B.A. from Bar Ilan University.

Facebook Updates