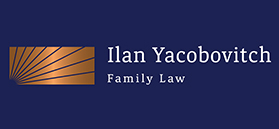 Ilan Yacobovitch - Family Law
Personal status and family laws, inheritance, wills and estates, mediation

Company's Profile
| | |
| --- | --- |
| Established: | 2014 |
| Line of Business: | Personal status and family laws, inheritance, wills and estates, mediation |
| Address: | 23 Menachem Begim Rd., Tel Aviv Levinstein Tower, 14th Floor |
| Phone: | 972-74-7013953 |
| Fax: | 972-77-3180797 |

Company Executives
Adv. Ilan Yacobovitch

Founder & Owner

Ilan Yacobovitch - Family Law

View Profile

Ilan Yacobovitch

About Ilan Yacobovitch - Family Law
Adv. and Notary Ilan Yacobovitch has been practicing family and inheritance law for 23 years. The firm was founded in 2014 and it specializes in representing men and women in the full spectrum of family and inheritance law matters, including divorce claims, alimony, child support, Ktuba and Divorce damages, parental alienation, children custody and visitation arrangements, division of property and balancing of resources, inheritance disputes, immigration cases, common law spouses, domestic violence, preparation of wills, contesting wills and more. In light of the fact that Adv. Yacobovitch also has experience and background in civil-commercial law, he provides his clients with an extremely broad umbrella of legal defense, with a clear advantage in complex cases such as cases that involve division of property in divorces between owners of vast and complex assets such as career and intangible assets, cases that include business issues such as dividing stocks and stock options, inheritance disputes, business disputes and family tort. In addition, he has longstanding experience in litigation and appearances before Israeli courts in family matters, in civil-commercial matters and in other fields. In family law cases, the firm makes use of a battery of first-class external professionals such as private investigators, accountants and economists, actuaries, therapists etc., in order to achieve optimal results for the clients. The firm's clients are represented by Adv. Yacobovitch with sensitivity and determination, in all instances: The family courts, the rabbinical courts, the magistrate and district courts and the Supreme Court. Adv. Yacobovitch also represents clients in negotiations and in mediation and arbitration proceedings.
Expert Family Counselor
Adv. Yacobovitch has a very broad and comprehensive academic education. He has an LL.B. (cum laude) from the Academic Program of the College of Management and an LL.M. (cum laude) with a specialization in commercial law from Tel Aviv University. He also graduated (magna cum laude and with an expert family counselor diploma) from the Family Studies Faculty of the Academic Program of the College of Management, which provides him with the capability and knowledge for handling highly conflictual divorce disputes, and also in the most complex child custody and visitation cases, such as cases of toddlers and cases that include issues of parental alienation, incitement, and contact refusal. In addition, he is a certified and experienced mediator, who graduated from the mediation and family mediation courses of the Israel Bar Association and also underwent a mediation practicum. Beyond his work as a lawyer and a mediator, Adv. Yacobovitch is also a certified life coach (since 2007) and has vast experience in coaching, participated in various workshops and has been involved in various frameworks in empowerment processes and assistance in achieving self-fulfillment and goals of numerous coachees and particularly people in divorce proceedings.
A Specialization in International Cases
In light of Adv. Yacobovitch fluency in English as a mother tongue, he represents numerous clients in cases that involve spouses from different countries or where one of the spouses wishes to immigrate to their country of origin after the separation, with their joint children. In inheritance and divorce cases, the firm handles cases that involve properties or financial assets abroad.
An Exclusive Counseling Service for People who are Contemplating Divorce
One of the unique services that the firm offers is preliminary counsel for men and women who are mulling over the question of whether to divorce or not. In the framework of this service, Adv. Yacobovitch reviews with the clients the opportunities and threats which are unique for their situation or typical in complex divorce proceedings, helps them reach a decision in their dilemmas, and assists people who have been contemplating for many years to make the decision that would be best for them. The process includes several meetings and is conducted with full discreetness and maximal sensitivity to the clients' personal situation.
Additional Practice Areas of the Firm
Beyond the legal support and counsel in marital status and inheritance legal proceedings, the firm also drafts agreements of all types in this field, including pre-nuptial agreements, common law spouses agreements, divorce agreements, parenting agreements and more. In addition, Adv. Yacobovitch has high negotiations capabilities and he negotiates on behalf of his clients in various stages of the dispute. Adv. Yacobovitch also handles breaking up of property ownerships including in receiverships and in various real estate transactions, in the framework of divorces and otherwise. Adv. Yacobovitch has vast experience in the field of compensation for holocaust survivors in which he was previously active, and also in representing involuntarily committed psychiatric patients, a field which he still practices nowadays through the Legal Aid Department.
Adv. Yacobovitch vast and unique experience in working with the elderly and in representing persons with mental disabilities, enables him to provide his clients with unique solutions for cases of present or future incapacitation. Thus, the firm specializes in preparing lasting power of attorney which enable a person to determine in advance who would take care of their interests and how, when said person would lack the capacity to do so. The firm also specializes in drafting wills in complex cases that are characterized by extensive and complex assets, various will provisions and defending the will against contesting it on grounds of lack of capacity or undue influence. In addition, the firm specializes in creating mechanisms for protecting the future inheritance rights of heirs who are minors or suffer from mental or emotional disability, including trust mechanisms for guaranteeing the future care for and preventing the abuse of heirs who are unable to manage their interests.
High Sensitivity and Alignment of Expectations
The firm's mission is to provide personal attention and service for every client with close personal support, unassuming communication and high availability, with alignment of expectation with the client, sensitivity to their needs and situation and a rigorous and thorough professional handling of any legal issue or topic which concerns the clients.

Company Rankings