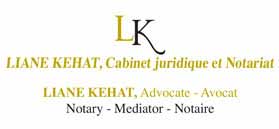 Liane Kehat & Co., Law Offices and Notary
Family and Inheritance Law, Representation of Foreign Residents

Company's Profile
| | |
| --- | --- |
| Established: | 1992 |
| Line of Business: | Family and Inheritance Law, Representation of Foreign Residents |
| Address: | 32 Touval St., Ramat Gan |
| Phone: | 972-3-6126367 |
| Fax: | 972-3-6121034 |

Company Executives
Adv. Liane Kehat

Founder & Owner

Liane Kehat & Co., Law Offices and Notary

View Profile

Liane Kehat
Hebrew Website
https://www.kehat-law.com

About Liane Kehat & Co., Law Offices and Notary
Liane Kehat Law Offices and Notary is a boutique law firm that specializes in family and inheritance law with an emphasis on private international law. The firm represents a wide variety of clients, among which are business people, public officials ansd senior employees in various sectors of the Israeli market.
The longstanding firm was established 25 years ago and is managed by Adv. Liane Kehat, one of the most prominent and experienced lawyers in this field, alongside other lawyers employed by the firm, jurists who have studied at French or other EU (European Union) Universities. Initially, the firm focused on real estate transactions. And since 2000, it has been specializing in family and inheritance law.
The firm has expertise in representation of foreign residents and new immigrants and in divorce and inheritance matters, and it has widespread connections in EU countries and France in particular. The firm represents clients before all of the courts, the Family Court, the Rabbinical Court, the District Court and the Supreme Court. The firm holds great respect for client-oriented service values and is a dedicated, trustworthy and committed partner, at the service of its clients.
International Activity, Focusing on New Immigrants and Foreign Residents
The firm's goal is to render reliable high-quality legal services to foreign residents and new immigrants to Israel, especially from French-Speaking countries. The firm maintains vast networks in France, Belgium, Switzerland, and England, and established a website regarding family and inheritance laws in French. Adv. Kehat, formerly an immigrant herself, is fluent in French. www.famille-successions.co.il
The firm represents foreign residents and immigrants, mainly from French-Speaking countries, regarding family and inheritance disputes, drafting and managing wills and estates for wealthy foreign residents, including managing and protecting their assets and property in Israel.
Adv. Kehat publishes articles in French in magazines and media channels oriented for the French-Speaking communities, such as "The Jerusalem Post" and "Israel Magazine". She is a member of the Israeli-French Chamber of Commerce - La Chambre de Commerce Israël-France, provides commentary on Qualita Radio and regularly lectures to the French public. Among the firm's published articles on Ynet are "How Do the French Divorce in Israel?" and "What Happens to French People's Inheritance in Israel?".
Areas of Practice
Family Law: representation of foreign residents and immigrants in family and inheritance matters that involve international law issues, such as foreign marriage agreements, foreign law application, managing parallel proceedings in Israel and abroad.
Division of Properties in Divorce Proceedings: division of financial assets, business assets, family companies, and liquidation of partnerships;
Lawsuits under The Hague Convention and immigration claims; Alimony; Divorce; Children Custody and Visiting Arrangements, Parental Alienation;
Domestic Violence; Miscellanea: marriage dissolution, paternity, guardianship, common law spouses, adoption, personal status matters;
Mediation: Advocates Kehat and Nahum are family and inheritance mediators;
Preparation of Agreements: divorce, nuptial, marriage, joint living and marital harmony agreements;
Drafting lasting power of attorney and medical power of attorney agreements, according to the Legal Capacity Law;
Inheritance Laws: representation in inheritance disputes;
Estate Management; wills and mutual wills, heir agreements;
Guardianship: guardian appointment (for entities and properties), representation of the elderly. Adv. Kehat serves as a guardian for various wards;
Real Estate: transactions for sale and purchase of properties, property management for foreign residents.
Recent Legal Achievements
Ashdod District Rabbinical Court (published on 18.5.2020), Rabbinical Judges Amsalem, Rabinowitz and Fried.
It determined the wife was to receive a divorce certificate in a long-term separation during a second marriage and enforcement of the Jewish marriage contract (Ktuba).
Tel Aviv Family Court, Judge Yehoram Shaked (published on 7.4.2020), an alimony ruling pertaining to joint custody of minors over the age of 6, following ruling 919/15.
Tel Aviv District Court, Judges Shochat, Shiloh and Ravid (published on 12.4.2020), winning an appeal due to the Hague Convention, return of abducted children.
Tel Aviv Family Court (published on 22.3.2020), winning a verdict due to the Hague Convention, return of abducted children, while instructing the mother to return the minor to his regular home in France. An appeal of the verdict was denied at District Court in a reasoned verdict of 12.4.2020. A request to appeal to the Supreme Court was also denied (16.4.2020). Our firm represented the father.
Great Rabbinical Court (published on 13.11.19). A decision according to which the wife should divorce with no compensation. This followed a prior decision made several years earlier by the Great Rabbinical Court, according to which the wife should be compensated. After all of the joint possessions were shared and the wife received a considerable amount due to property equalization, the court decided that the wife should divorce with no additional compensation. Thus, the court canceled her right to alimony. Our firm represented the husband and began to represent him only during the final appeal to the Great Rabbinical Court.
Family Court (Petah Tikva 15.12.19) The court disqualified evidence which the husband wanted to present during legal proceedings, as it was obtained while violating the wife's privacy. Our firm represented the wife.
The Firm's Team
Adv. Liane Kehat - notary and mediator, she holds an LL.B. from the Tel-Aviv University, and is a member of the Israeli Bar for more than 25 years. Studying for an LL.M. (private international law, family and inheritance law) in Lille University, France. Adv. Kehat is an active mediator and a member of the National Family and Inheritance Law Forum of the IBA, remains abreast and trains in leading academic courses. Among the opinion articles on Ynet, Calcalist and Psak-Din: The Appropriate Way to Breakup Stocks Partnership, Will Cancelation Due to Unfair Influence, Will Cancelation Following the Involvement of a Heir in its Preparation, and more.
Adv. Gilor Nahum, LL.B., M.B.A., has ten years of experience and vast legal knowledge and experience in family law.
Adv. Iris Rochel, LL.M., LL.B., has 18 years of experience and extensive legal and practical knowledge including in managing complex estates, funds and trusts, family and inheritance law, legal capacity and guardianship.
Adv. Ira Mualem, LL.B., worked in the civil service.
Jurist Shelly Pavel, LL.B., LL.M. (from Belgium), completed a training in Israeli Law.
Ms. Ruth Miran, the firm's administrator since its inception.
Contribution to the Community
Adv. Kehat's objective is to facilitate new immigrants' adaptation to the Israeli society, and she volunteers in various activities on behalf of the Jewish Agency's for French speaking new immigrants in Israel.

Facebook Updates

Company Rankings