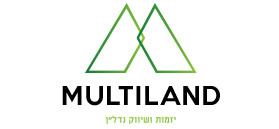 Multiland group
Real Estate Initiation, Marketing and Development

Company's Profile
| | |
| --- | --- |
| Established: | 2007 |
| Line of Business: | Real Estate Initiation, Marketing and Development |
| Address: | 7 Menachem Begin Rd., Ramat Gan |
| Phone: | 972-3-5241416 |

Company Executives
Moshe Katan

Co-Owner

Multiland group

Joseph Guy Moseri

Co-Owner

Multiland group

Arie Hoffmeister

VP, Development and Engineering; Partner, Multiland Urban Renewal

Multiland group

About Multiland group
Multiland Ltd. is a leading real estate development, marketing and initiation company which was founded in 2007. The company specializes in initiating and executing residential and commerce projects in Gush Dan in general and in Tel Aviv in particular and it benefits from proven economic strength and very extensive experience in promoting and executing complex real estate projects such as urban renewal projects (Tama 38 Seismic Retrofitting and Tama 38 Demolition and Reconstruction) and conservation of historical buildings. In parallel with its residential development operations, the company is also active in marketing lands in various stages of planning in the areas of Tel Aviv, Herzliya, Hod HaSharon, Holon and Bat Yam.
Urban Renewal
The company is active in the urban renewal field through its subsidiary, Multiland Urban renewal, and is currently responsible for 12 projects in various planning and execution stages in Tel Aviv. Naturally, due to its status as a boutique company with a lean management structure, Multiland's team dives deep into the finest details in every project that the company takes upon itself: from the review of the land potential, through the execution stages (which utilize first-class professionals and construction materials of the highest quality) and up to the delivery of the property keys to the satisfied customers.
The Triple Thread
The secret to the group's strength stems from its experienced and diversified executive team:
Moshe (Mootzie) Katan, Co-Owner: Moshe brings to the table his vast experience in operations and financial management. He is a director and co-owner of the publicly-traded Brimag Ltd., a company which was founded by his father in 1967 and was publicly listed in 2005. Brimag is the exclusive Israeli importer of the electrical products brands: LG, Beko, Kenwood, Sony and more. Moshe brings to Multiland a longstanding track record of management and business development.
Adv. and Notary, Joseph Guy Moseri, Co-Owner: Joseph Guy Moseri is a legal expert with 25 years of experience in the legal profession, and the owner of the law firm Joseph Guy Moseri and Moran Haviv & Co. which specializes in real estate law. Adv. Moseri has vast real estate expertise and he facilitates complex projects, including asset-swap transactions, urban renewal, conservation and support for initiators and groups of property owners, for both private and commercial persons and he contributes his vast experience to promoting Multiland and implementing its vision.
Arie Hoffmeister, VP, Development and Engineering: Arie serves as VP, Development and Engineering of the Multiland Group and is a co-owner of Multiland Urban Renewal. By education he is a construction practical engineer and a certified construction supervisor and over the years he accumulated very extensive experience in the field of engineering management, construction and facilitation of complex projects from planning to delivery (architectural conservation and urban renewal), which greatly assists the company in applying to and succeeding also in particularly complex and intricate engineering projects.
Reliability, Transparency and Personal Responsibility
The company sees the apartments owners as full partners in the construction process and the company provides them with full transparency throughout the entire process – from the initial feasibility checks and up to the construction completion and the maintenance of the renovated building, in order to preserve its renewed condition. Throughout every project, all of the building's residents' needs and desires are reviewed thoroughly and the renewal process is conducted through a full, personal and ongoing dialogue with the residents in order to create a pleasant living environment, which would considerably improve their living quality and level. Furthermore, each of the residents knows in advance what would be the personal consideration that they would receive in the project, which creates a clear alignment of expectation, without any surprises, thus creating Multiland's clear advantage.
Groundbreaking Designs
The company works with leading architecture firms such as the firms of Prof. Nizza Samuk, Gidi Bar Oryan, Yaniv Prado and Price Piltzer Yawitz Architects, with the clear aim of creating projects with a unique and impressive visibility. In addition, in many of its projects in the city of Tel Aviv, the company integrates modern elements with conserved historic elements and the vast experience it has accumulated over the years in this design-orientated and aesthetic construction style creates a unique and particularly impressive design line in all of the projects it builds, including demolition and reconstruction projects.
Prominent Projects
38-40 Nordau St., Tel Aviv: A Tama 38 demolition and reconstruction project where the company is evicting two old buildings and reconstructing a new 6-story building with a partially-occupied roof floor and 22 apartments. The project includes "White City" motifs and is currently pending population.
102 HaYarkon St., Tel Aviv: one of Tel Aviv's most spectacular architectural conservation projects. The project is located a stone's throw away from the sea, near the Dan Hotel, and would include the conservation of two of the building's floors, while a new 7-story building with 27 apartments, a commerce floor and subterranean parking would be built at its backside. The project was planned by the architecture firm of Yaniv Prado.
57 Shabazi St., Tel Aviv: A project which offers high living quality in one of Tel Aviv's most popular and colorful neighborhoods. The company changed the original apartments mix and transformed the building's façade into a commerce area, while building 6 new apartments. Completed and Populated.
33 HaRav Kook, Tel Aviv: A conservation project in the Kerem HaTeimanim Neighborhood, which was recently completed. This historic building was designed in an eclectic style in 1925 by Arch. Joseph Tishler and the company's planning includes an additional floor with the same architectural style and two additional receding floors. Populated during 2020.
Employment and Commerce Park, Herzliya Pituach: The company is one of a group of 4 developers which acquired lands (which are valued at NIS 380 million) in Herzliya for the purpose of building an employment park. This 7.3-dunam lot is located near Road 2 and has buildings rights. Permit granted.

Photo Gallery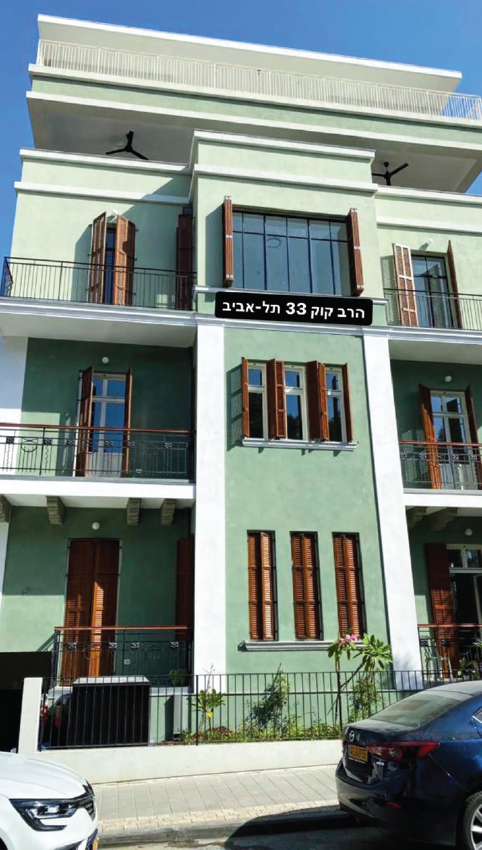 33 HaRav Kook, Tel Aviv
pr photo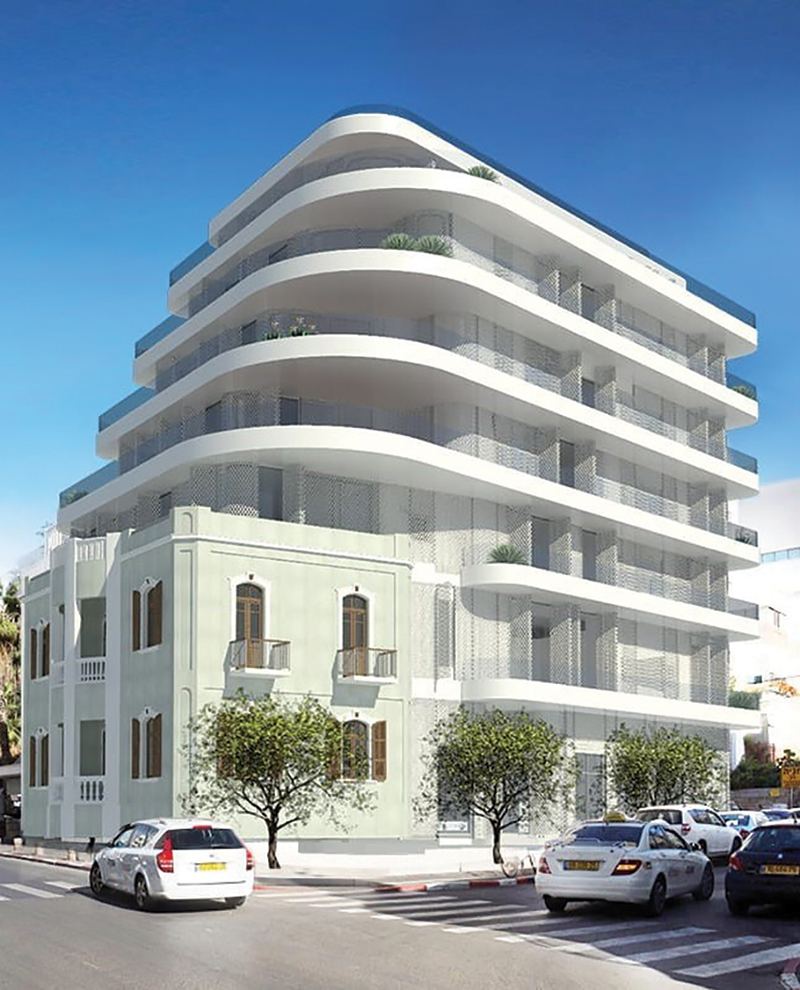 102 HaYarkon St., Tel Aviv
PR Photo