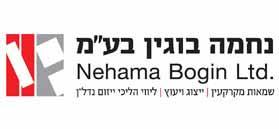 Nehama Bogin Ltd.
Real-estate appraisal, representation and consulting, accompaniment of real-estate initiation procedures

Company's Profile
| | |
| --- | --- |
| Established: | 1991 |
| Line of Business: | Real-estate appraisal, representation and consulting, accompaniment of real-estate initiation procedures |
| Address: | 72 Pinkhas Rosen St., Top Dan Building, P.O.B 43232, Tel Aviv 6143102 |
| Phone: | 972-3-6442484 |
| Fax: | 972-3-6442485 |

Company Executives
Nehama Bogin

Founder and Owner

Nehama Bogin Ltd.

View Profile

Nehama Bogin

Shemi Moyal

Partner

Nehama Bogin Ltd.

About Nehama Bogin Ltd.
Established in 1991 by Nehama Bogin, land appraiser and jurist, agronomist and MBA, her firm is one of Israel's leading land appraisal firms and is ranked among the top ten firms in the Urban Renewal Index of Globes and Madlan, and in Duns 100 and Takdin's ranking tables.
Nehama Bogin's boutique firm carefully maintains an attentive, personal service with a warm family-like atmosphere and with full transparency and involvement of the client.
The commitment to professionalism, integrity, and excellence, along with a diverse and rich experience in the various topics of the real-estate field, enables the firm to provide its clients with comprehensive professional support.
The firm's staff includes certified land appraisers with a diverse complementary education – economics, law, geography, business administration, etc.
Nehama Bogin, Land Appraiser and Jurist
Nehama has a B.A., Agronomy, from the Hebrew University (Magna Cum Laude); B.A., Land Appraisal and Property Management, Tel Aviv University (Magna Cum Laude); M.B.A., Swinburne University (Magna Sum Laude); and an LL.B., Ono Academic College (Magna Cum Laude). She is a court-appointed expert; arbitrator and mediator; Member of the Israeli Real Estate Appraisers Association; Member of the Academy for the Research and Application of Land Appraisal; Associate of the American Appraisal Institute; former Member of the Appeal Committee for property tax and compensation fund. Nehama is also a Tester and an organizer of the certification tests for the Israeli Land Appraisals Council; a former Member of the central committee of the Israeli Real Estate Appraisers Association; and a member of various committees: training, foreign relations, legislation, assistance to young appraisers. She is a popular lecturer in a wide range of academic institutions, government and public agencies, professional training, real-estate and construction centers and professional associations, including the Tel Aviv University and the Technion, The Federation of Local Authorities, The Association of Architects and Engineers, The Israeli Bar and more. Nehama also took a part in the writing of the "Real-estate Management" book; she is the editor of the "Land Appraisal and Development" column in the bi-monthly journal "Real-estate"; she published various articles on real-estate in journals and newspapers; and serves as a real-estate commentator in television, radio and newspapers.
Practice areas
Urban Renewal - the firm specialize in the urban renewal field, and it supports large scales Tama 38 and Pinui-Binui procedures. The firm supports residents from initial stages, through the request for tender for selecting the developer and up to the execution stage, including estimates of the appropriate considerations for the residents and the developer, Standard 21, Allocation charts of the future apartments and more.
Planning - The firm provides comprehensive services in the planning and building field, including supporting planning procedures, reviews and support for betterment charges, claims under section 197, balance charts (merging and division) and support of rezoning procedures and complex long-term projects.
Appropriations - the firm handle claims concerning appropriation compensation in large scales, accompanies owners of appropriated lands and properties, from the mitigation and planning objection stage, up until the submission of a compensation action and appraiser representation in all of the required judiciaries including the courts.
Agricultural Sector - the firm has a longstanding expertise and experience in the countryside/agricultural sector (Kibbutzim, Moshavim, cooperatives), including retroactive approvals for unauthorized usage, execution of rights in estates in Moshavim, "apartment allocation" in Kibbutzim, appeals on payment to the ILA – discounted fees, usage fees, permit fees, rezoning fees and agreement fees.
Various Evaluations - the firm carries out a wide variety of evaluations and reviews for individuals, corporation, banks and government agencies. This includes supporting combination transaction and the division of rights between owners and developers and themselves, specializing in procedures and appeals before the ILA, appraisal of bank guarantees, IFRS, financial supports, expert opinions for courts, arbitrations and mediations, and opinions for legal proceedings such as liquidation of partnerships, owners' arrangements, evacuations, etc.
Selected projects
Specializing in the representation of owners of appropriated lands amounting to tens of thousands of dunams all across Israel, representation of the settlements along Road 6 in the appropriation claims, support and representation of the "Gaza Surrounding" settlements in the negotiation for compensation against the appropriation of about 20,000 dunams in the Disengagement Process.
Representation of the Tel-Aviv Hotels Association in various appraisal issues, and evaluations of numerous hotels and tourism projects across Israel.
appraiser support to planning and rezoning proceedings – large annexations to the Ganey Tikva local authority, zoning plans in Jaffa, Hod-Hasharon (the "Beit HaNa'ara" plan), Petach-Tikva, Rishon-LeZion, Even-Yehuda and more.
Consult and support for large organization, such as the Airport Authority, The Ports Authority, Hebrew University, Tel Aviv University, the Histadrut Assets, Real Estate Participation, Hapoalim Bank, Union Bank, The KKL's Heimanuta and more.
Accompaniment of Pinui-Binui procedures in the Florentin Neighborhood in Tel-Aviv (hundreds of housing units) and in "Pninat HaMalben" Givatayim, HaHistadrut Complex Givatayim, Namir-Dafna complex in Tel-Aviv and more.
Appraisal works for the Israeli Ports Company, including asset purchases amounting to hundreds of millions of Shekels and supporting zoning plans in areas of hundreds of dunams.
Evaluation of Bezeq's assets, worth hundreds of millions of NIS, for the Government Companies Authority, as a basis for the company's privatization.
Economic Appraisal support for the evacuation of the "Wholesaler Market" in Tel Aviv.
Evaluations for the implementation of IFRS reporting for Hachsharat Hayishuv Insurance, and more.
Support of the planning and development of "New Even Yehuda" in the extent of about 20,000 housing units, including discussions with the planning authorities and relevant government agencies.

Facebook Updates

Photo Gallery
Namir-Dafna Complex, Tel Aviv
Yesodot Development and Urban Planning Ltd. Architect: Moshe Zur

Projects