Nissim et Cohen-Nissan, Law Offices and Notaries
Torts, Infrastructures and Local Authorities Law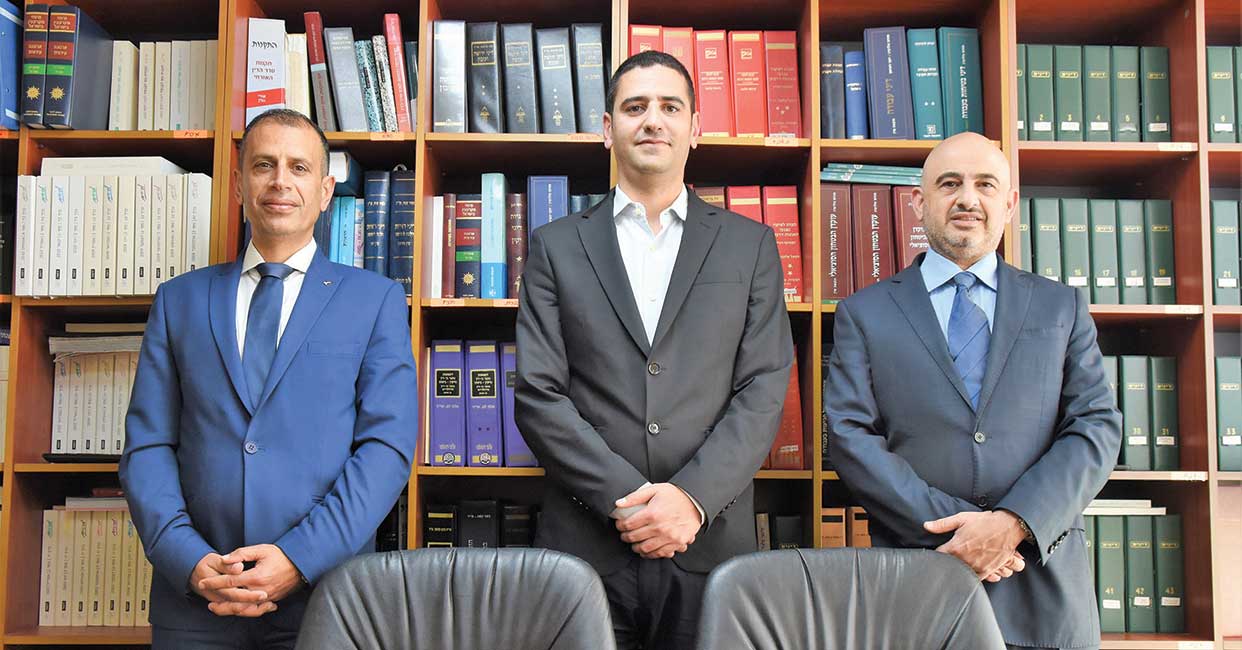 Company's Profile
Established:
1996
Line of Business:
Torts, Infrastructures and Local Authorities Law
Address:
Haifa Office: 39-41 HaMeginim, Haifa
Givatayim: 6B Tfuzot Yisrael St., Givatayim
Phone:
972-4-8512612
Fax:
972-4-8512812

Company Executives
Mordechai Cohen-Nissan

Founding Partner and Owner

Nissim et Cohen-Nissan, Law Offices and Notaries

View Profile

Mordechai Cohen-Nissan

Zohar Nissim

Founding Partner and Owner

Nissim et Cohen-Nissan, Law Offices and Notaries

View Profile

Zohar Nissim

Elad Didi

Partner

Nissim et Cohen-Nissan, Law Offices and Notaries

View Profile

Elad Didi

About Nissim et Cohen-Nissan, Law Offices and Notaries
"…Try Not to Become a Man of Success but Rather Try to Become a Man of Value…"
Albert Einstein
Nissim & Cohen-Nissan is one of the leading firms in the civil-commercial field and the municipal sector in particular. The firm's founders, Advocates Cohen-Nissan and Nissim, started their careers with private law firms and in the civil service. These days, they manage the firm and are active partners in its success. The firm was founded in 1996, and for over two decades it has gained expertise and experience in representing diverse and well-known clients, including government ministries, public entities, major governmental corporations, municipal authorities, NPOs, and private clients.
The firm gained unique expertise in transportation infrastructure after dealing with municipal authorities and various other bodies in the State of Israel. The firm provides its clients with close and professional legal service and support in a wide range of sectors, including civil law, commercial law, administrative law, torts, libel, real estate, taxation, municipal government law, tenders law, litigation, and notary services.
The Firm's Team
Adv. Mordechai Cohen-Nissan is also a Notary and a graduate of the law faculty of UEL University in London, England, and a member of the Israel Bar Association (1996). He heads the firm's civil department and has experience in all judicial instances. Adv. Cohen-Nissan serves his clients with devotion and loyalty and offers his personal, professional, and quality solutions. He also serves as legal advisor to several of Israel's most significant public corporations, as well as legal advisor to several municipal authorities.
Adv. Zohar Nissim is a member of the Israel Bar Association (1996) and is also a notary and mediator. Adv. Zohar Nissim graduated from Faculty of Law at the University of Sheffield, England, and also holds an LL.M., from the University of Haifa. He served, for many years, as a senior assistant to the Income Tax Authority's legal advisor, and he now heads the firm's tax department. He has proven experience in dealing with complex tax issues in the criminal and civil fields, including tax assessments and litigation, vis-à-vis the various tax assessing offices and the courts.
Adv. Elad Didi is a graduate of the Law Faculty of Sha'arei Mishpat College and a member of the Israel Bar Association (2009). He specializes primarily in planning and construction, real estate, tenders' law, complex infrastructure projects for governmental and public companies, litigation, monetary claims, contracts, and torts. He manages the firm's litigation dept. and provides ongoing legal counsel for large government infrastructure companies, as well as legal opinions to municipal companies and corporations.
The firm's team also consists of 10 skilled practitioners who aspire for excellence, professionalism, and personal attention to all clients. The friendly and fruitful synergy created by the firm's team ensures its client with the most dedicated and quality service.
Main Areas of Expertise
Municipal Authorities – The firm has unique expertise in providing counsel and representation on a range of issues related to municipal government – legal counsel for municipal authorities and corporations. Advocates Cohen-Nissan and Nissim serve as external legal advisors of many municipal authorities as well as of municipal entities, and offer ongoing legal support, regular participation at meetings at managing committees and board of directors meetings, litigation in the judicial instances, drafting and preparing tenders, preparing court documents, including administrative petitions, damages (property and body) suits, defamation suits, monetary claims vis-à-vis municipal taxes, parking and sanitation, and the provision of ongoing opinions.
Real Estate, Planning, and Zoning – The firm provides counsel for many complex real estate transactions, from the negotiations stage towards the drafting of a contract, onto the contract signing, and ending with the registration and transfer of legal rights to private commercial properties. The firm's advocates have extensive and diverse experience in real estate taxation in various aspects, construction defects, real estate transactions, and large-scale sales transactions. The firm represents developers and tenants in the field of urban renewal. In addition, the firm provides legal services in the field of planning and construction to public and private clients on a wide range of subjects, while providing representation at planning committees and the courts.
Infrastructure Transportation – The firm manages complex projects in the field of transportation infrastructure for some of Israel's most significant public bodies in the economy. This includes legal procedures vis-à-vis the planning authorities, handling objections, handling claims for value impairment, executing expropriations, publishing tenders and advising the various tender committees, land registrations and drafting of mapping plans, as well as drafting complex contracts and coordinating with suppliers, authorities and various other interested parties. The firm represents the projects in the courts and various planning institutions as necessary.
The firm provides legal services in the field of planning and construction to public and private clients in a wide range of subjects, while providing representation in the respective planning institutions and judicial legal instances.
Commercial Litigation – The firm represents a wide range of private clients, commercial companies, public bodies, local authorities, and more. The firm specializes in civil-commercial law and is proficient in litigation before any judicial instance in Israel, including the civil service disciplinary courts, arbitrations, mediation and conciliation proceedings, and negotiations for resolving disputes outside the courts.
Taxes – Much of the firm's work deals with complicated tax issues in both civil and criminal proceedings, including real estate taxation, value added tax issues, income tax, customs, capital gains, levies, etc., while thoroughly analyzing the issue, reviewing relevant case law and legislation, with intensive care to the satisfaction of the client.
Damages – The torts department specializes in the thorough and reliable handling of torts, including claims for bodily injury, property damage, work accidents, road accidents, nuisances, defamation, and reputation damage. The firm's advocates have extensive experience and knowledge in the field, providing professional service at the highest of legal standards, all to secure the client's social and financial rights and to strive for a common goal, that is, restoring the situation to its previous status and providing appropriate compensation. The firm represents a wide range of clients in the field of torts, both private and institutional clients, government companies, and municipal authorities.
Labor Law – Part of the ongoing work of the firm revolves around disagreements that have are tied into employer-employee relations. The firm provides ongoing guidance to municipal corporations, municipalities, private companies, and non-profit organizations in the field of labor law, including representation in hearings, disciplinary committees, and the handling of complex litigation cases in labor courts. The team of advocates involved in the field has extensive and extensive knowledge in the field, which assists them in finding the appropriate legal solution for complex legal issues.