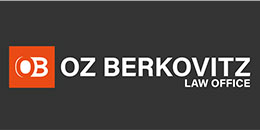 Oz Berkovitz, Law Office
One of the leading law firms in Israel engaged in the fields of insurance and torts

Company's Profile
| | |
| --- | --- |
| Established: | 2013 |
| Line of Business: | One of the leading law firms in Israel engaged in the fields of insurance and torts |
| Address: | 11 Moshe Levy St., Rishon Lezion 7565828 |
| Phone: | 972-3-9518141 |
| Fax: | 972-3-9518142 |

Company Executives
Oz Berkovitz

Advocate, Founder and Owner

Oz Berkovitz, Law Office

View Profile

Oz Berkovitz

Natalie Yechieli Berkovitz

Advocate, Founder and Partner

Oz Berkovitz, Law Office

Oz Romano

Advocate

Oz Berkovitz, Law Office

Damien Katok

Advocate

Oz Berkovitz, Law Office

Zvika Cherniak

Advocate

Oz Berkovitz, Law Office

Odelia Meiri

Advocate

Oz Berkovitz, Law Office

Rachel Stefansky

Advocate

Oz Berkovitz, Law Office

Or Yamini

Advocate

Oz Berkovitz, Law Office

Avital Pinchasi

Advocate

Oz Berkovitz, Law Office

Hemi Haviv

Advocate

Oz Berkovitz, Law Office

Alin Gelfand Haluba

Office Manager

Oz Berkovitz, Law Office

Maayan Zaguri

Administrative Assistant

Oz Berkovitz, Law Office

About Oz Berkovitz, Law Office
Oz Berkovitz Law Office is a boutique law firm specializing in the fields of insurance and torts. Established in 2013, the firm is headed by Adv. Oz Berkovitz, who has been practicing insurance law and tort litigation for many years, and provides its clients with legal services on all matters and issues related to insurance, including liability insurance (bodily injury/property damage), special risks, product liability, business, apartments, contracting work, health insurance, nursing, life and compensation for road accident victims. The firm handles the litigation aspects and represents its clients in court, while implementing professional excellence, extensive knowledge of the law, many years of experience, and personalized service.
The firm's clients are mainly insurance companies, pension funds, local authorities, and leading corporations in the Israeli industry, including public companies and large private companies. Furthermore, the firm's clients include private clients, insurance agents, and insurance agencies.

In every case managed by Oz Berkovitz Law Office, it strives to provide a professional and excellent service, as well as the most efficient and timely settlement of the lawsuit, while maintaining the interest of clients. In essence, the firm's team of lawyers serve as an extension of their clients. Thus, the professionalism, integrity, creativity, service, dedication, efficiency, and fairness with which all the firm's lawyers operate are clearly reflected in the cases managed by the firm in the courts of Israel.
Furthermore, Oz Berkovitz Law Office provides ongoing legal services, including risk management and claims handling, to insurance companies and large insureds, with the goal of reducing exposure and risk in future claims and eliminating the risk with the least expense and in the shortest time possible.
In order to achieve the best results for all its clients, Oz Berkovitz Law Office works in collaboration with leading medical experts, safety experts, appraisers, investigators, and insurance consultants.
Adv. Oz Berkovitz - Founder and Owner
Adv. Oz Berkovitz holds an LL.B. and has been a member of the Bar Association since 2009.
Adv. Berkovitz began his career in insurance and torts with a leading firm in Israel, where he represented private clients.
Adv. Berkovitz gained extensive experience in handling private plaintiffs on a wide range of issues while handling insurance cases on their various branches.
Later, Adv. Berkovitz joined the leading law firm in Israel in the field of representing insurance companies and foreign reinsurers from abroad. In this position, he gained extensive professional experience in everything related to representing Israeli insurance companies and reinsurers in complex claims in large financial volumes, including claims under diamond policies, liabilities, third parties, life insurance, mortgages, disability insurance, accident disability insurance, and serious illness insurance.
With a wealth of professional experience, extensive knowledge, and proven success, Adv. Berkovitz established Oz Berkovitz Law Office in 2013, which specializes in providing legal representation for Israeli insurance companies, many reinsurers, and even foreign insurance companies. In addition, Adv. Berkovitz serves as a member of the Insurance Committee of the Tel Aviv District Committee of the Israel Bar Association as part of his public activities.

Facebook Updates

Company Rankings