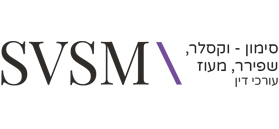 Simon-Vekslar, Spierer, Maoz Law Office
Infrastructures and Project Finance, Public Tenders and Administrative Law

Company's Profile
| | |
| --- | --- |
| Established: | 2019 |
| Line of Business: | Infrastructures and Project Finance, Public Tenders and Administrative Law |
| Address: | 96 Yigal Alon, Building A, Tel Aviv 6789140 |
| Phone: | 972-77-8803030 |
| Fax: | 972-77-8803010 |

Company Executives
Adv. Ayelet Simon Vekslar

Founding Partner

Simon-Vekslar, Spierer, Maoz Law Office

Adv. Shira Spierer

Founding Partner

Simon-Vekslar, Spierer, Maoz Law Office

Adv. Shmuel Maoz

Founding Partner

Simon-Vekslar, Spierer, Maoz Law Office

Adv. Galia Scherf Shmuel

Partner

Simon-Vekslar, Spierer, Maoz Law Office

About Simon-Vekslar, Spierer, Maoz Law Office
Simon-Vekslar, Spierer, Maoz is a boutique law firm with a unique specialization in infrastructure, project finance, public tenders and administrative law. The firm was founded in 2019 by Adv. Ayelet Simon-Vekslar, who has 25 years of experience in the field of infrastructure projects, public tenders and administrative law; Adv. Shira Spierer, who has 15 years of experience and Adv. Shmuel Maoz who has 14 years of experience in the same practice areas.
The firm is ranked in the BOT and Project Finance practice areas by leading Israeli and global legal guides.
The firm's team has been involved in the most significant transportation and water projects in Israel in the past couple of decades. It is currently supporting some of Israel's largest and most complex infrastructure projects in a wide variety of fields, including transportation (roads and railways), water (desalination, treatment, filtering and transportation), energy (electricity, gas and wind energy), technology, defense and services providers. The firm has a particular specialization in advising on complex international public-private partnership (PPP) projects.
The firm's clientele includes Israel's largest governmental infrastructure companies including Cross-Israel Highway Ltd., NTA Ltd., The Israeli Ports Company, Mekorot Ltd., The National Roads Company of Israel and Israel Railways.
Practice Areas
The firm specializes in advising on projects for design, build, operation and maintenance of infrastructure projects, project finance, legal services throughout the procurement and tender process, including prequalification and selection of bidders, execution of the contracts and financial closure. Its lawyers support the construction projects from their initial stages including representation in dispute resolution by negotiation, mediation, expert determination, arbitration and litigation. The firm's team has extensive and diverse experience in large-scale infrastructure projects and complex PPP/PFI/BOT projects. Most of the firm's experience is in supporting the public entity procuring the project works including comprehensive advisory to tender committees, sub-committees, and the professional team. The advice begins with review of the technical specifications, drafting the tender and contract terms and conditions, supporting the clarification proceedings, evaluation of the bids and the award of the project. During the contract phase, the firm handles the implementation of the contract's mechanisms, change instructions, schedules adjustments, contractor claims, settlement of disputes and any other aspect arising during the project's execution and ongoing operation.
The firm also has extensive expertise in administrative litigation and it successfully represented its clients in many appeals in the administrative courts and the High Court of Justice.
The firm is recognized as a leader in its practice areas and was involved in the drafting of the Standard Form of DB Contract and the Standard Form of Contract with Bill of Quantities which serve as the legal basis for public tenders of numerous governmental companies.
The Partners
Adv. Ayelet Simon-Vekslar
Adv. Simon-Vekslar is one of Israel's leading public tenders and infrastructure projects' lawyers with over 25 years of experience. She specializes in PPP infrastructure procurement and project advisory and accompanies complex dispute resolution proceedings in the framework of implementing the project.
Adv. Simon-Vekslar is ranked as a prominent lawyer in this practice area in all of the leading legal guides and rankings.
Adv. Simon-Vekslar has an LL.M. (magna cum laude) from Tel Aviv University (the Berkeley Commercial Law Program) and an LL.B. from the Hebrew University.
Adv. Shira Spierer
Adv. Spierer has extensive experience in administrative law, infrastructure projects and public tender law. She specializes in PPP transactions and infrastructure project finance, advising and supporting governmental and private entities in complex public tenders, drafting commercial contracts and administrative litigation. She has an LL.M. (magna cum laude) from Bar-Ilan University and an LL.B. from the Hebrew University.
Adv. Shmuel Maoz
Adv. Maoz specializes in administrative law, public tenders, infrastructure projects, and project finance law and litigation. He was involved in numerous public tenders initiated by the State of Israel and the largest governmental infrastructure companies. In this framework, he has been supporting some of Israel's largest and most complex infrastructure projects, including in various transportation fields, water, technologies, services logistics and procurement. He advises private entities participating in public tenders. In addition, he supports public and private entities in the formulation of commercial contracts and transactions.
He has an LL.B. and a B.A., Business Administration (specialization in real estate) from the Interdisciplinary Center in Herzliya.
Adv. Galia Scherf Shmuel
Adv. Galia Scherf Shmuel has wide-ranging experience in supporting governmental companies and private clients which are involved in the procurement, design and execution of complex international infrastructure and construction projects, and in dispute resolution in these fields.
She is dually qualified as an Advocate in Israel and a Solicitor of England and Wales, and has an LL.B., an LL.M. and an M.B.A. (magna cum laude).