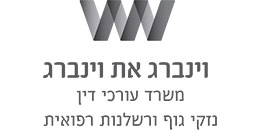 Weinberg & Weinberg Law Offices
Medical malpractice, bodily injuries, traffic and work accidents, and torts

Company's Profile
| | |
| --- | --- |
| Established: | 1950 |
| Line of Business: | Medical malpractice, bodily injuries, traffic and work accidents, and torts |
| Address: | 2 HaTeumim Tower, 9th Floor, 35 Jabotinsky St., Ramat Gan 5251108 |
| Phone: | 972-3-6132361 |
| Fax: | 972-3-6132364 |

Company Executives
Adv. Israel Weinberg

Owner and CEO

Weinberg & Weinberg Law Offices

View Profile

Israel Weinberg

About Weinberg & Weinberg Law Offices
Weinberg & Weinberg is a leading boutique firm that is one of Israel's oldest handling torts, bodily injuries, medical malpractice and insurance. It has enjoyed an excellent reputation for over five decades. Indeed, for over 50 years, the firm has excelled in maintaining a family tradition of providing superior legal services for claiming compensatory damages due to injuries. The firm usually represents the injured, including those who were victims of various types of medical malpractice, traffic, and work accidents and other bodily injuries, such as from building collapses, falling and drowning. Occasionally, doctors also choose to be represented by the firm.
The firm is responsible for significant legal changes in Israeli law and has set important precedents in Supreme Court rulings, which are quoted in other courts and are studied at universities. In the last few years, the firm has been ranked by Dun & Bradstreet among the most prominent firms in Israel in the field of torts and medical malpractice, including the management of pregnancy and childbirth, birth defects, IVF, neurological damage, negligence in diagnosing cancer and a variety of other medical specialties.
In the field of torts, the firm handles bodily injuries, traffic accidents, work accidents and other types of injuries such as those incurred from smoke inhalation, chemical hazards, falling, the collapse of buildings or other structures, and drowning.
The firm was founded in 1950 by the late Adv. Leah Weinberg, one of Israel's first female attorneys. She was president of Israel's Women Lawyers' Association and was the first female lawyer in Israel to win the Israel Bar Association's 'Women in Law' prize for special achievements in the field of law as well as professional and personal excellence, promoting the status of women in the profession. Adv. Weinberg received the prize together with Supreme Court Justice Miriam Ben-Porat. Adv. Leah Weinberg was responsible for numerous precedent-setting rulings that served as the basis for lawsuits and was considered a trailblazer in her field. Adv. Weinberg was also nominated to be the General Secretary of the International Federation of Women Lawyers, represented Israel at various forums around the world, and was appointed three times as a judge in Israel's district courts, although she relinquished the positions for personal reasons. In addition to founding the firm, the late Adv. Weinberg was also involved in the community and contributed large amounts of money to social organizations and the disenfranchised. She was a mentor to dozens of lawyers, some of whom were even appointed judges.
Today, the firm is headed by its Owner and CEO, Adv. Leah Weinberg's eldest son Adv. Israel Weinberg, one of the most experienced lawyers in Israel in the field of torts and medical malpractice, with over 45 years of experience.
Throughout the years, Adv. Israel Weinberg has set numerous legal precedents, including one of the first rulings that used the evidential damage doctrine, a doctrine that reverses the burden of evidence and eases the burden for victims of medical malpractice for proving their claim. He won such a lawsuit three times in the Supreme Court.
In the lawsuit in question, Amar Smadar V. Clalit, which was handled by Adv. Weinberg, an enormous amount of compensation was ruled, amounting to approximately NIS 12 million at today's value. In addition, the well-known ruling was given by the former president of the Supreme Court, Prof. Aharon Barak, Rachel Yehezkel V. Eliyahu Insurance Ltd., canceled a ruling that was rooted in Israeli law for decades, and which accelerated estate rulings thanks to Adv. Weinberg. In this case, Adv. Weinberg also succeeded in extending the dependency period of the heirs of deceased accident victims.
The firm handles large scale tort lawsuits, and in recent years it handles the estate claims of the late Ari Nesher's, son of the known director Avi Nesher, next of kin. A complex and interesting case, which received great media attention.
The firm also handles cases of great public significance and represents teens and students in abuse claims against the various authorities and educational facilities in said abuse claims as well as the treatment educational facilities provides its students regarding it.
The firm's legal staff works together to provide clients with comprehensive and outstanding legal counsel, consisting of five experienced and professional lawyers who have also achieved prominent accomplishments over the years, including Adv. Dr. Michael Tzur, a specialist medical doctor who has extensive experience and connections in the medical community.
The firm has obtained compensation valued at hundreds of millions of shekels for its clients. It represents claimants in injury cases and has a special forte in cases of medical malpractice where others have despaired. Other law firms frequently refer clients to Weinberg & Weinberg, including firms that handle these types of cases. The firm has a long history of rich experience in tort law and its lawyers have spent thousands of hours representing clients in court, managing cases and successfully negotiating with insurance companies, health funds, and the government.
Adv. Israel Weinberg
For over 45 years, Adv. Weinberg has been specializing in torts law, focusing on medical malpractice, traffic accidents, work accidents, exposure to hazardous substances and exposure to noise. Adv. Weinberg is the 10th generation of his family in the Land of Israel and is a scion of the Chida (Chaim Yosef David Azulai) and Mandelbaum families. He graduated from Tel Aviv University's Law School in 1975 and received a scholarship for excellence during his studies. He clerked at Haim Zadok's law firm (the former Minister of Law), at Barzel Deuel Shtriks and Weinberg & Weinberg. Adv. Weinberg is a member of the Israel Bar Association since 1976.
Adv. Weinberg is considered a "fighter" who works tirelessly to obtain the best possible results for his clients. He is known as one of Israel's most prominent litigators in the field of torts and medical malpractice law. Thanks to his thorough and well-planned courtroom investigations, he succeeds in bringing the best doctors in the country as well as other defendants to retract things that they claimed.
Adv. Weinberg is active in the Israel Bar Association and served in the past as the Chair of the Bar Association's Committee on Medicine and Law, as well as being a member of the Bar Association's Torts Forum, and a lecturer on torts and medical malpractice at Bar Association and other forums. He also served as the academic director of an important professional enrichment seminar on medical malpractice offered by the Bar Association's seminars institute. Adv. Weinberg received a certificate of appreciation from the Israel Bar Association for his significant contribution to promoting the values of education and enrichment studies among Israel's lawyers and received numerous thank-you letters for the organization of this seminar.
Community Service
Adv. Weinberg is involved in community outreach projects as part of his membership in the international Round Table organization. He is currently an honorary member of the organization thanks to his activities in support of disadvantaged people in society.

Company Rankings